Hard Rock Live is a theater style 7,000 capacity indoor arena at the Seminole Hard Rock Hotel & Casino, located in Hollywood Florida, a city 10 miles i.e. 16 km south of Fort Lauderdale, and 25 miles i.e. 40 km north of Miami. The Hard Rock Live show was announced on Oct 14, while the Rolling Stones were on the tour in Los Angeles. It was scheduled for Tuesday Nov 23, three days after the originally last show of the tour in Austin Texas Saturday Nov. 20.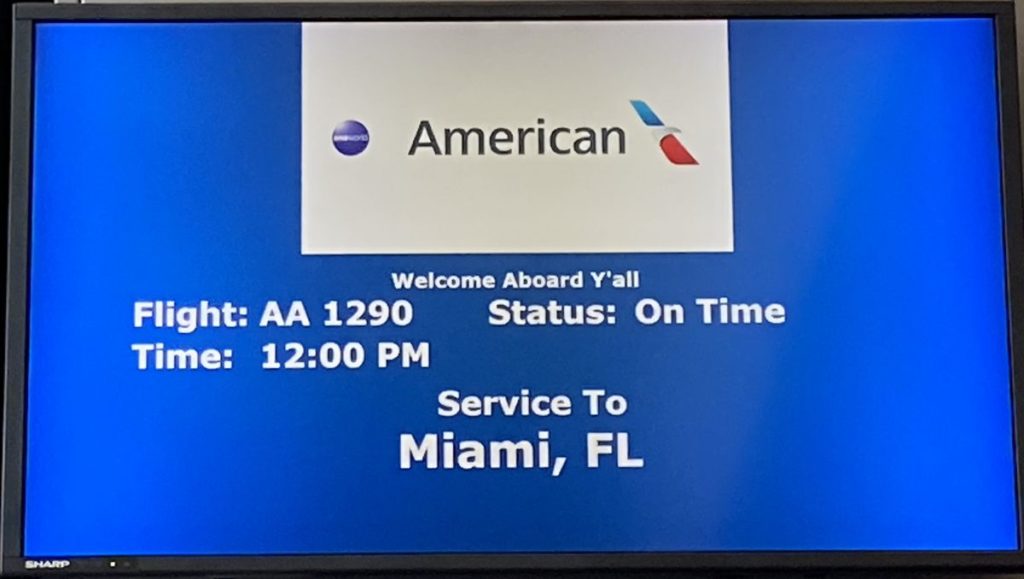 I was on the noon flight out of Austin Texas to Miami Florida, the day after the Austin show. American Airlines had four or so direct flights, also there were direct flights by Southwest from Austin to the nearby Ft Lauderdale airport. As I boarded my AA flight, there were many Stones fans, friends as well as other fans I did not know. I would say there must have been 50-70 Stones fans on that flight, dressed with Stones shirts, jackets, socks, tongues and souvenirs, out of the 200 or so people on that flight. It was indeed a Stones flight.
Ever since I booked two nights at the Hard Rock Hotel & Casino on the day the show was announced, I was not sure if that was the right place to be. I find casino areas stressful, packed with people, few or no masks, smoking is permitted, and there would be lots and lots of fans. I was tired, I could not spend two full days on party there. I needed rest. Also, the rate of the stay was crazy, it was $1200 for two nights. My first night was at the Sheraton Airport hotel. The plan was to stay at Sheraton one night, then two nights at the Hard Rock, including the night after the show. As I got more and more tired at the end of the tour, in Austin, I finally decided to cancel Hard Rock and to stay three nights at the Sheraton Airport, a great four star hotel, rate total $330 for three nights, i.e. just $110 per night, lowest price of the entire tour.
Sheraton Airport sits right next to the MIAMI airport. The MIA Mover free airport train tok me to from the airport the hotel in minutes. Then a short walk, there was an airport shuttle too. I knew The Rolling Stones were staying in Miami too, so I wanted to be near Miami. Then it was a quick half hour car ride to the venue before and after the show. I was home sick, I wanted to be close to the airport, for going home, I had just one task now, to see the show at The Hard Rock Live venue Tuesday evening Nov 23. Then home.
Arriving Sunday 21 in the late afternoon, I just relaxed at the hotel. There is a river canal outside, poolside, and next to it there is a large golf area, green and nice. The Miami Airport runways are far away, you hardly have any noise at this hotel, very unlike the hotels I had in Los Angeles, at the LAX airport, where there were runway paths right across my head, also right above the SoFi Stadium. Back to Miami – there were sings in the hotel garden saying do not go close to the canal river, there might be snakes, and who knows, may be even an alligator, like any other canal in Florida. You don't swim with alligators.
The day before the show, on Monday Nov 22, I went over to an area in Miami called Little Havana. It is a bit touristic, but not as bad really. Immigrants from Cuba have settled there, and you could get a feel of Havana. I just needed to stress down, rest, and kill time until show day tomorrow evening.
Show day. I am at my airport hotel. Trying to rest. Shortly after noon a show meal. Then as the clock is ticking I am getting the show nerve. I am half an hour drive away from the show. I know doors open 7pm, warm up act Ghost Hounds are on 8pm, and The Rolling Stones will be on 9pm. The casino will be packed by thousands of fans, very busy. I leave my hotel around 3pm, heading by a car to the venue. Heavy traffic, lots of queue, but finally, shortly before 4pm I at the Hard Rock Casino, and shortly after by the venue. Many people hang around the entrance. I try my best to find out about what is happening where, about entrances, tickets, early access, passes, all of that.
The following is from my show report, for the rest please see the reports link below.
Doors open 6:55pm. I am first through one of the metal detectors, call it a mix of luck, routine and a wish to be up there fast. Inside, I was on the front rail Keith side, some 8 people to the right of the center ramp. I had Darryl in front of me, Keith next to him, nothing blocking, the stage floor was so low, I looked down to see their shoes, the stage floor was approx 1,50m i.e. 5 ft high, may be less. When the security people in front of us got chairs, and were sitting down on these chairs during the show, they were all below the stage floor, so indeed it was a great low floor, like the club shows I have been attending in the past.
For show reports and pictures see the link below:
The Rolling Stones
Hard Rock Live
Hollywood FL USA
Tuesday November 23, 2021