Florida seems to be popular for Rolling Stones touring these days. In 2019 they visited Florida two times out of their fifteen stops and seventeen shows, in Jacksonville and Miami. This time, during the 2021 tour, they were booked with a show in Tampa Florida, then they added an extra show in Miami, at the 7,000 capacity Hard Rock Live venue at the end of the tour. This is the story of the travel to the Rolling Stones show in Tampa Florida 2021.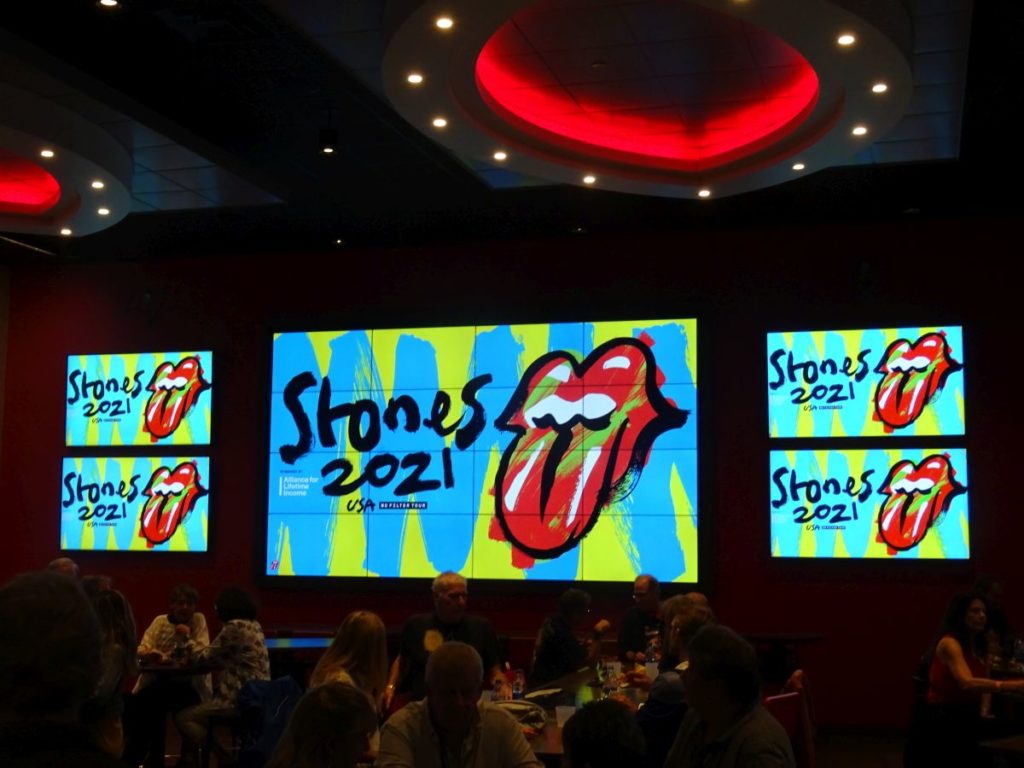 The above picture is taken in the VIP Lounge of the Raymond James Stadium in Tampa Florida approx two hours before show start. They had great screens with large display graphics, and Stones music was played. Due to Covid-19 I have to limit how many I meet up close and unmasked, also I use mask most of the time in the public, close to others, but some times you just have to meet some people. It was great to meet an old friend from Argentina, who visited me at home in Norway many years ago, also friends from San Francisco, Philadelphia, New York, and other places in USA, also the Europeans on tour, not many so far, may be counted on one hand or so.
I arrived from six cold days in Minneapolis into much warmer Tampa Florida. Luckily a friend from Europe, who happened to be on the same flight as me into Tampa, hired a car at the airport, so I had super service of driving with him all the way to the door at my Clearwater hotel for three days out of four in the Tampa Bay area, at Sheraton Sand Key Hotel. It was a half hour drive across lots of water, and some bridges, to the west sandy beach side of Tampa Bay and Florida. The plan was to rest up at the resort for three days, but I did never stay on the beach or by the pool really. Busy busy busy, work, bad weather, water failure one day, and sick from food, it was really not what I planned.
Day number two of my stay in Clearwater, Wednesday October 27, was said to be the only day with nice weather, as there was bad weather coming in from the west on Thursday. So I headed for Clearwater downtown by the Trolley bus, and left it for walking early afternoon. I had just one mission, to post my postcards to my family back home. So I started walking, looking for one of the blue mailboxes from United States Postal Service. They were nowhere to be found, I did eventually find one mailbox 2-3 hours later, but meanwhile I found many other interesting places.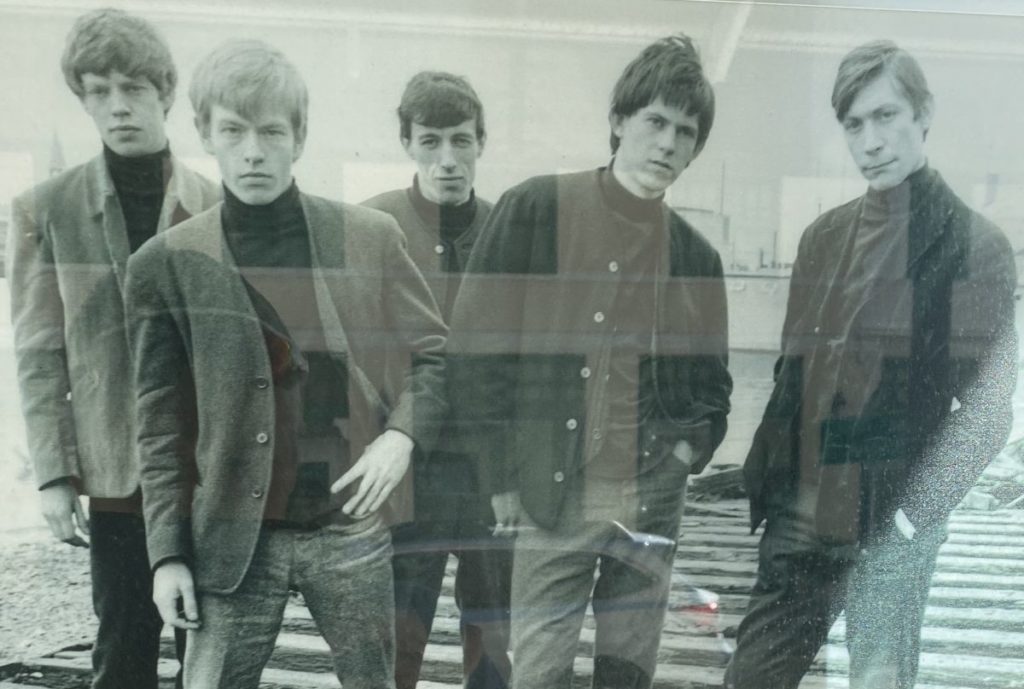 When walking by a building downtown Clearwater I noticed a display poster featuring The Rolling Stones dated 1965, by the local newspaper St. Petersburg Times, including a picture of The Rolling Stones (above), a facsimile from their issue dated Friday May 7, 1965, and a short summary regarding the story of Satisfaction, the song, and the Rolling Stones concert and stay in Clearwater, for the show on Thursday May 6, 1965.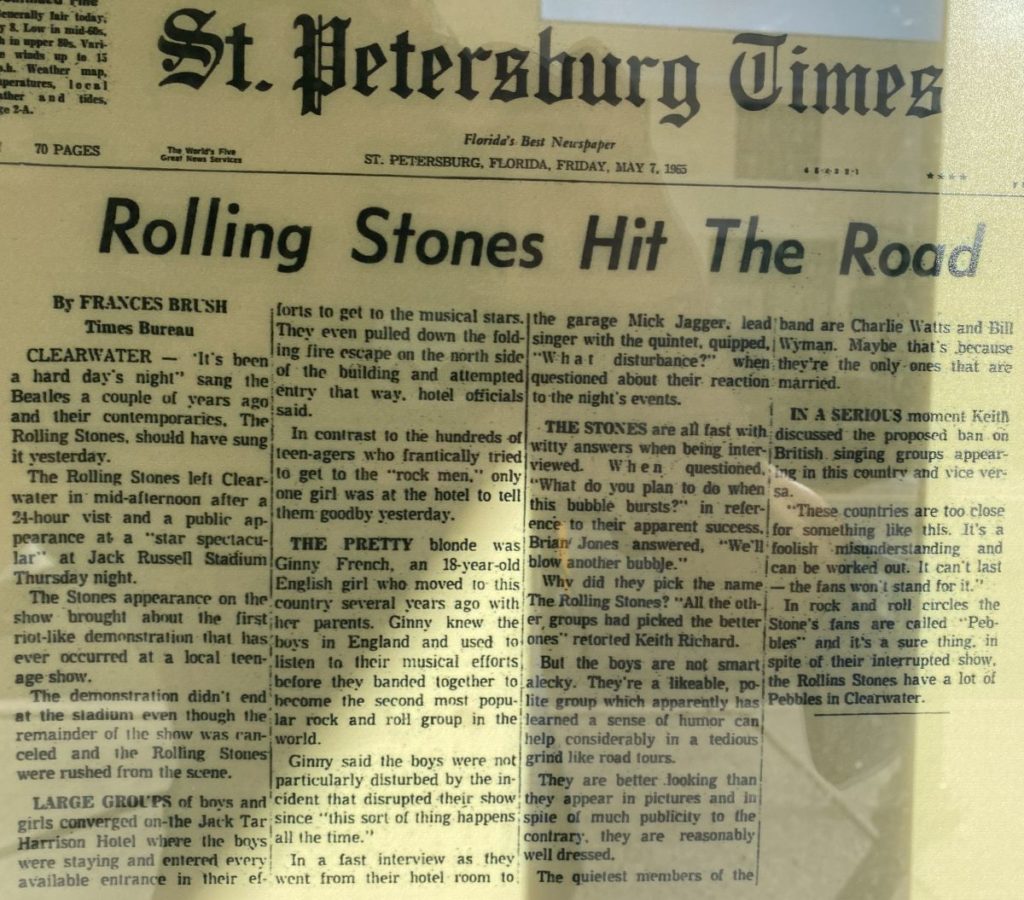 So while I was looking for the mailbox, I walked around all streets and places of Clearwater, including the nearby Fort Harrison Hotel. It is no longer a hotel. When trying to walk in there, two persons with masks opened the locked door, told me I could not get in, but they could talk to me. I asked if this was a hotel, then they told me it was a "religious retreat". I had noticed that the large building across the street was a Scientology building, so they were both part of that complex. Mick Jagger did actually mention the scientologs taking over the hotel The Rolling Stones stayed at in 1965, for the show in Clearwater, at the show in Tampa. Still, I am told that others, like Bill Wyman, claim they stayed across the bridge, in a now taken down hotel on Clearwater Beach. The story is saying Keith Richards woke up during the night having the riff of the song Satisfaction right there in Clearwater, that night after the show, it's a great story, wherever they stayed.
Next stop for me was Jack Russel Stadium, just outside Clearwater downtown. More walking. It's still there, a small 5,000 capacity baseball stadium, in a residential area. I walked around it, and could imagine the Stones show there 56 years ago. Everything seemed to be like back then in 1965, including the residential area, the stadium, the entire area. Most places they played 50-60 years ago are taken down or changed these days, this was like a museum place for me, great to be there. They sold 2,657 tickets at $2 each, and into the fifth song of the show, a few hundred of the fans stormed down from the seats to the field, and the show ended, according to the story That time the Rolling Stones almost wrecked Clearwater by Axios Tampa Bay. I could imagine the teenager fans back then milling around after the show, waiting for their parents to pick them up. The shows usually lasted for 25 minutes back then, with the show interrupted after four songs, or so I assume it was over in just 10-12 minutes. Those were the days of the early 60's fans and Stones mania.
On show day I checked out of the Clearwater San Key hotel and moved over to the hotel "Country Inn & Suites by Radisson, Tampa RJ Stadium". It is such a hazzle to change hotels, stressful, in and out, two times per city, so I don't do it every city, but this time it was all worth it. The distance to the stadium was may be 10-15 minutes walking. The airport was just nearby. Everything was there, even McDonalds, a 30 minutes walk each way, and many other places to eat, so I could have stayed there all four days, but then I would never had seen Clearwater and that area, so some times you have to do some extra work to experience a bit.
Show day afternoon, a meal nearby, safe food, lots of water and ice tea, and preparing for the show, then walking the 15 minutes over to the stadium shortly before 6pm. I was still unpacked in my new hotel, hardly any updates on the IORR web site done during the day, my PC and luggage was still unpacked when I returned after the show. I worked into the night, published some pictures from the show, slept four – 4 – hours that night, and went to the airport next morning at 9am, for the noon flight to Dallas. Busy days!
For show reports and pictures see the link below:
The Rolling Stones
Raymond James Stadium
Tampa, FL, USA
Friday October 29, 2021