The Rolling Stones first show in Detroit was on June 14, 1964, i.e. 57 years ago. They performed at the Olympia Stadium, an arena used by the NHL team Detroit Red Wings up to 1979, now demolished. At the show on this No Filter Tour USA 2021, Mick Jagger mentioned The Rolling Stones have been performing 21 shows in Detroit, including the Superbowl special appearance in 2006. The show on this tour was on Monday November 15, and we all knew what the weather might be like mid November in Detroit, so we prepared for cold days.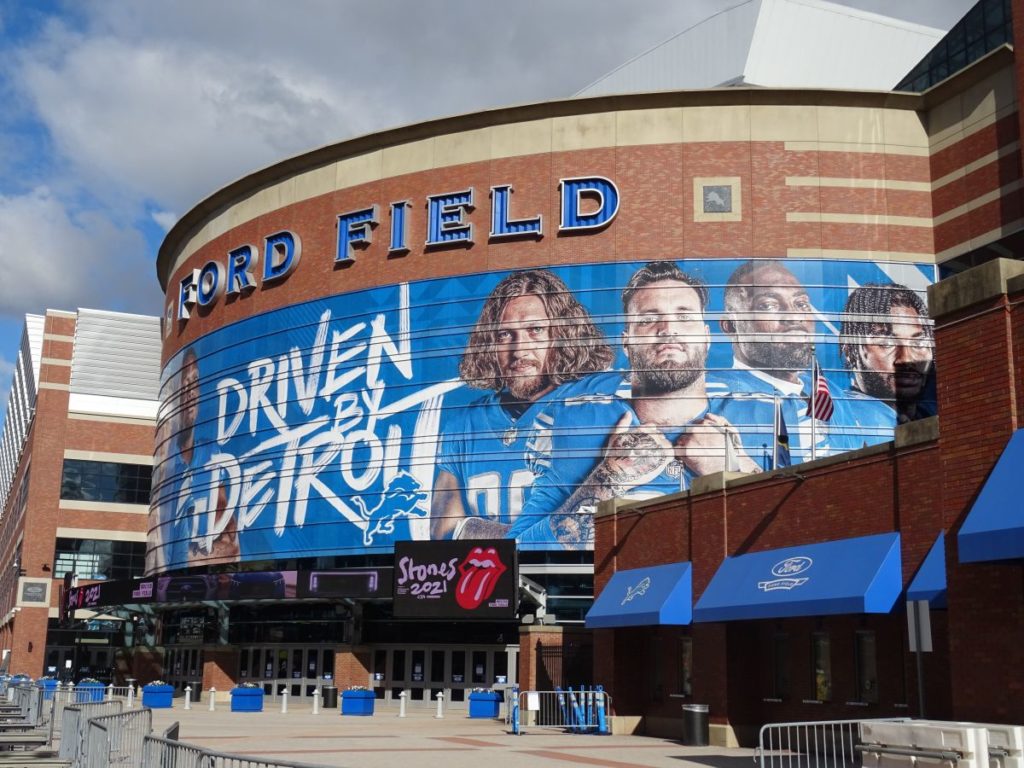 I stayed two days extra in Atlanta, both because I love Atlanta, and because I expected Detroit to be cold. I travel light, I have carry on luggage only, of 8 kg i.e. 18 pounds, that's all, no winter cloths, so Detroit cold weather would mean I would have to stay mostly inside. Travel from Atlanta to Detroit took all day, with changing planes in Chicago. The first four pictures below are actually from the O'Hare Airport in Chicago, an airport I have been using numerous times during my Stones travels over the years. When I looked out through the windows at the airport, I noticed there were white dots in the air – snow flakes! So they did a de-ice procedure on our airplane ahead of departure from Chicago to Detroit. Welcome to the winter tour!
A quick 25 minutes drive from the airport to my hotel downtown Detroit. I was booked at the Hilton Garden Inn Detroit Downtown. It is just 2-3 short blocks walking to Ford Field. It took me 3 minutes to walk to the stadium, and a bit more, like 5 minutes, after the show. I don't think it is possible to stay closer, unless you stay inside the venue…
Mick Jagger use to visit interesting places in the city at strange hours, making pictures to be posted on social media. A few of the pictures below are from those places. I just walked by the venue, the street art was next to my hotel, and then I walked down to the Marriott hotel for breakfast every morning, no breakfast at my hotel due to "staffing problems", a common problem now during the late Covid days.
The Marriott Hotel sits right next to Detroit River. Across the river, you see Windsor – Canada. Since the USA borders opened up more on Monday November 8, it made it easier for fans from Canada to cross the border, and to see the show here in Detroit. Cleveland Ohio is a short 3 hours drive, and Chicago Illinois is 5 hours or so by car. Then fans from all over the state of Michigan arrived to the show of course. During the show, you could feel the excitement, and so many fans knew the words to every song, even if they were way younger than me, born long time after most of the songs were released initially.
Anyone who arrive into Detroit Downtown will soon see the steam coming out of manholes in the streets. The steam is harmless, except some times, during the morning, the steam clouds were all over the streets, you could not see the traffic lights, you could not see the cars. Some times they added pipes some places, then the steam got elevated approx 3-4 m i.e. 10-12 feet, but still, you had to be careful some places.
The day after the show I wanted to visit the hotel The Rolling Stones stayed at during their first tour in 1964. Back then it was called Holiday Inn, now it is named Trumbull and Porter. It is a boutique hotel in Detroit's Corktown neighborhood, they have opened their legendary "Rolling Stones" suite for public booking. See a separate report with video from The Rolling Stones Suite – Room 132 at the Trumbull and Porter hotel.
My stay in Detroit was short but still sweet. I did freeze a bit, in fact a lot, but the three nights and two full days I had in Detroit were all very interesting, not just because of the show, but also because I got to walk the streets at daytime, also I got to meet fans and friends arriving from Norway into this show, as well as from other places. Wherever Stonesland is, fans and friends will arrive.
A final note about the travels… During the past weeks, there have been a lot of Halloween decorations around. As I arrived into Detroit, they had started to decorate for the holidays, what we call Christmas decorations. I guess they are made in time for Thanksgiving, which is Thursday next week, Nov 25, two days after the final Stones show in Hollywood Florida on Nov 23. I love the lights and the season decoration. As it is getting dark early, like at 5pm in Las Vegas, and 6pm other places, all the lights and the decorations make it a bit warmer. And… it makes me more home sick. As I write this, I am six days away from being at home with my family. Meanwhile, two more Stones shows to go!
For show reports and pictures see the link below:
The Rolling Stones
Ford Field
Detroit MI USA
Monday November 15, 2021