The Rolling Stones returned to Texas, for what was originally the last show of the tour, on Nov 20 at Circuit of the Americas, a Formula One race track field 14 miles ie. 22 km outside Austin downtown. They performed the first show in Texas on this tour just 18 days earlier, on Nov 2 at the Cotton Bowl in Dallas. It seemed that many fans arrived into Austin from the Dallas / Ft Worth area, as well as other parts of Texas, and of course from Austin.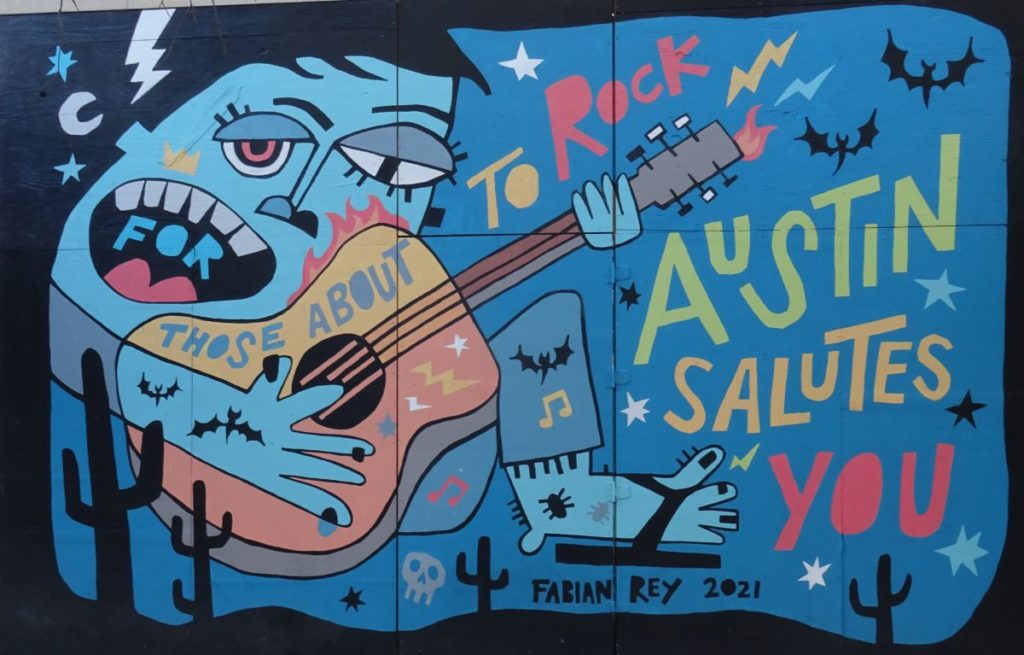 I arrived into Austin Texas in the evening, following a full day of travel. Like several times on this tour, I had United with a change of planes some place on the way, this time in Chicago. It is exhausting, but the next and final flight in USA should be direct!
My hotel this time was Hampton Inn & Suites Austin-Downtown/Convention Center. I was there four days, great location, great room, and just two blocks from the Four Seasons Hotel, which was located on Colorado River. It was a short walk there to see friends and other fans.
Austin downtown is easy to walk, and unlike many other downtown areas on this tour, it was not like in lockdown state. Right across the street of my hotel there was a P F Chang, great Chinese seafood and more, I had several meals there, made it easy as I did not have to walk around for food.
I walked the two nearby bridges. Congress Avenue Bridge is famous for all the bats. During season, as many as 750,000 bats live under the bridge. I walked by the bridge during sunset on Thursday Nov 18. Just a couple of minutes before 6pm, while it was still sort of twilight, thousands of bats left the bridge for the night hunt of insects, like mosquitoes. It was a magic sight, but my photos does not really tell much, the bats are fast, they are dark, and so was the sky. Anyway, it was a great experience.
Austin is the capital city of Texas, so there is a great large Capitol building there, with many monuments. I walked around and could sense the history as it was told through the monuments.
There was lots of construction works in the city, I noticed many concrete trucks passing by at all times, all over. A city building for the future, very few abandoned buildings downtown actually.
Show day I was so lucky to have transportation to and from the show. This is from my show report:
This show in Austin was the one I have been worried about for a long time. Far away from the city, no organized transportation, and it was supposed to be the last show of the tour, until they added the Hollywood Florida show. Luckily a great friend had a car, and we were a group of "tourists" from Chicago, Norway, Finland and Sweden on our way from Austin downtown at 3:15pm. The drive would normally take less than half an hour. We arrived shortly before 4pm. As we walked out of our car in parking lot F like "Fanstastic close to the venue", I could hear "It's Only Rock'n'Roll". At first I thought it was from one of the parked cars, but as we passed more and more cars, the sound was still crystal clear, in fact it got better and better, we had made it for the soundcheck!
I was told by friends they did "Let It Bleed" just before we arrived. After IORR we got the soundcheck of "Rocks Off" – may be they will do it in Hollywood FL, then they did bits of the intros to "Ghost Town" and "Gimme Shelter". Then at the end there was harmonica and guitar, Rambler B-stage souncheck. We were behind the stage, so we could see the backstage exit, with the ramp and the stairs where the band was going in and out. First Keith left, waving at us, walking down to his car, taking him the very short ride to the backstage tents. Then Ronnie walked down, he waved too, and then Mick appeared, he did not bother to go by car, as he took the stairs and hiked the short distance to the tents. So we had a great soundcheck warmup in the afternoon.
For the rest of my report, as well as other reports, and pictures, please see the IORR reports pages related to the Austin show:
The Rolling Stones
Circuit of the Americas
Austin TX USA
Saturday November 20, 2021