The Rolling Stones SIXTY tour arrived into Germany for the 2nd time this year, when they played a show at Veltins-Arena in Gelsenkirchen on Wednesday July 27, 2022. Germany is their largest market in Europe, often they performed 9, 10 or 11 shows per tour in Europe in the past. This time, with just 14 shows or so per tour, they still do three shows in Germany, finishing in Berlin on August 3. There are so many Stones fans in Germany!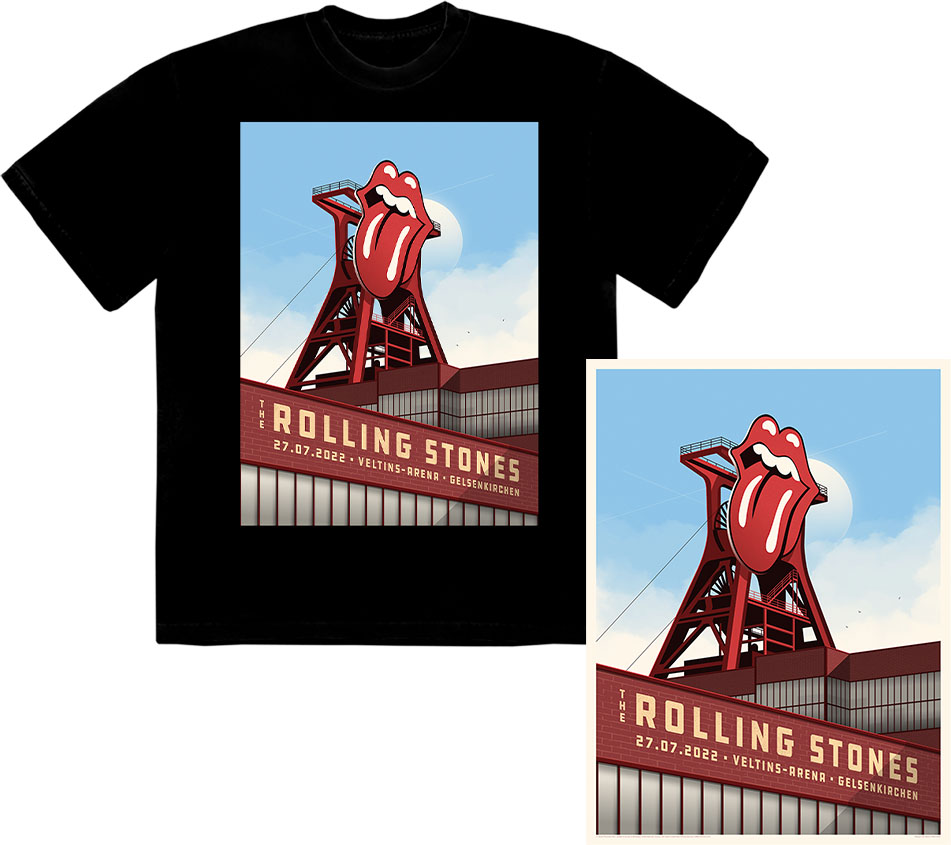 I was on a 14 days ground level travel now. Train from Vienna to Lyon, then train to Paris, and now train to Düsseldorf, which is just 45 minutes away from Gelsenkirchen. We left Paris Gare du Nord at noon the day after the Paris show, and arrived into Düsseldorf four hours later, at 4pm. Then a short five minutes walk to my hotel Mercure Düsseldorf City Center. Train travel from city center to city center is just amazing. No waste of time, fast in and out, and much more relaxing that airports, security controls and all of that. I worked on the Paris show reports on the train all of the four hours, it can not get more efficient. As I walked out of my hotel room soon after being all settled in for the next two days, and went over to the old town in Düsseldorf, I was on time work wise, and I could relax for a bit.
The Ruhr area in Germany has been visited many times by The Rolling Stones. They have been playing in Düsseldorf and Cologne several times, also Gelsenkirchen, also in Oberhausen, just 20 km from Gelsenkirchen. The cities are many, and the fans are plenty.
Mick Jagger said on stage in Gelsenkirchen that this was their 117th show in Germany. So they have played roughly 5% of all their shows in history in Germany – not bad!
After staying two days in Düsseldorf, where The Rolling Stones stayed as well, I moved on to my near stadium hotel – "Stays by Friends Gelsenkirchen". It was right on the stadium area, just 5 minutes walk to the stadium, and 10 minutes walk to the station of the tram to the city. Perfect place to be, also great service, may be the best hotel 0n the tour so far, especially following the tiny little hotel room I had in Paris.
The design of the Gelsenkirchen tour poster and shirt fascinated me. I was told it was taking inspiration from one of the nearby coal mines. After some research I found out it was taken at the nearby Zollverein UNESCO World Heritage Site. I went over there both on the day I arrived into Gelsenkirchen, also the next day, on show day. It is a large industrial area, with coal mines, factory buildings, all preserved and taken care of, so that future generations may see how all these coal mines in the area were major parts in building the industry and progress at the time.
Show time is getting closer. I walk over to my entrance, and I am inside the stadium soon after. Great show. Great days. Great tour!
For show reports and pictures please see the IORR reports pages:
The Rolling Stones
Veltins-Arena
Gelsenkirchen Germany
Wednesday July 27, 2022