The Rolling Stones show in Lyon France Tuesday July 19, 2022 was show number two of my four shows travel not going home, starting in Vienna, ending in Gelsenkirchen, where I would stay on the tour for two weeks, and not even take a single flight. Trains are great, slow, comfortable, and you do not waste time with security, boarding, logistics in and out of airports.

A direct flight from Vienna to Lyon would take a bit less than two hours, but most of my friends on this tour flew through Paris. By car it is a 1200 km (700 miles) drive, taking 12 hours minimum non-stop. There were different train options, through Munich and Paris, but I wanted a scenic route through Austria and Switzerland, also I wanted to minimize travel time. The entire trip would take 17 hours or so, too much for me on one day, so I split the travel in two days, and made a stopover in Zurich, where train change was to happen anyway. That saved me a few hours of "lost" waiting time, and I could enjoy a short evening and a night in Zurich.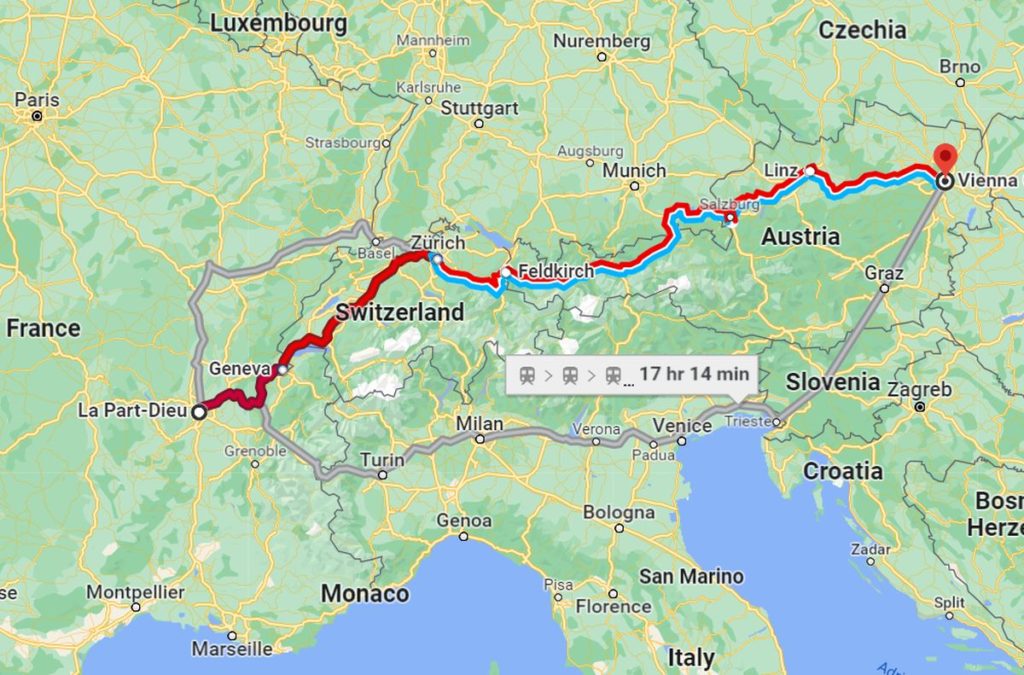 My first train left Wien Hbf at 9:20am the morning after the show in Vienna. We should be in Zurich 8 hours later. The first five hours we passed by the Austrian cities Linz, Salsburg, Innsbruck, Feldkirch. I wanted to do a stopover at Bodensee, in Bregenz, a beautiful place I have been to before, but that would have added a few extra hours to my travel, so I stayed on the train. Then the train crossed through Liechtenstein for a bit, and we were in Switzerland. I had worked on my PC doing Vienna show updates for the first five hours, but as we got closed to Zurich, there was so much to see, the mountains got higher, and the lakes nearby were beautiful. As we passed by the Zurichsee during the last part of the day, I just watched the nature passing by as the train approached Zurich, right on time, at 5:20pm.
Next day it was time for two more train trips, passing by the great and beautiful lake "Lac Leman", a.k.a. Lake Geneva. First three hours to Geneva, then changing trains, and two hours to Lyon Part-Dieu. Then trying to figure out how to get to my stadium hotel, then finally I was at my hotel after two days of travel, at 5pm in the late afternoon.
The Kopster Hotel was just a great place to be, as seen in the picture on top of these pages. It is placed right on the Groupama Stadium area, max two minutes to walk. Even if you are walking through the stadium, it takes you max 10 minutes from the stadium to the room. After the show in Lyon, I made a record I will never break, as it took a total of six – 6 – minutes from I was in the PIT A and watched the final bow, walking fast back to my hotel room.
Lyon was the warmest place on the tour so far. On show day, it was 37 C (100F) in the shade in the city, and indoors the aircondition did not manage to cool down, we had 28 C (82F) most places. I was drinking liters and liters of bottled water, making sure I would not be dehydrated for the show.
The show was great, but I think it was a bit too hot for the band. This is parts of what I wrote about the show in my reports:
It was a brutal day, weather wise. They say the show must go on, rain or shine, so sure they could not cancel, but fans as well as the band did struggle with record temperatures way above +30C (86F) all through the show in Lyon. Daytime Lyon it was around body temperature i.e. 37 C (100F), and it was still that way as the show was on.
Before they did "Start Me Up" Mick was over to Bernard making signals saying he needed backup on the singing. From that song and on Bernard did quite a bit of Mick vocal overlapping. Hopefully Mick is fine for the next show, but having a fan blowing air into your face for two hours sure is not the best for the well being really. There was only one encore, as they did not play "Gimme Shelter", even if it was on the set list. I guess it was just too much heat, very hard working conditions, the last three songs were done in 21 minutes, and people were taken out to resucue through the show, even before doors opened. Sure it was a brutal weather, but The Rolling Stones did their best, we were all happy.
For show reports and pictures please see the IORR reports pages:
The Rolling Stones
Groupama Stadium
Lyon France
Tuesday July 19, 2022