Two days after the show in Milan Italy back in June, on Thursday June 23, The Rolling Stones announced an additional and final show of the SIXTY tour at Waldbühne Berlin Germany on August 3. The Waldbühne is a natural outdoor amphitheatre with a capacity of 22,000 people. The show sold out in minutes, and on show day, many people tried to get tickets to the show. It was a dream place to see The Rolling Stones, and the show turned out to be a dream show.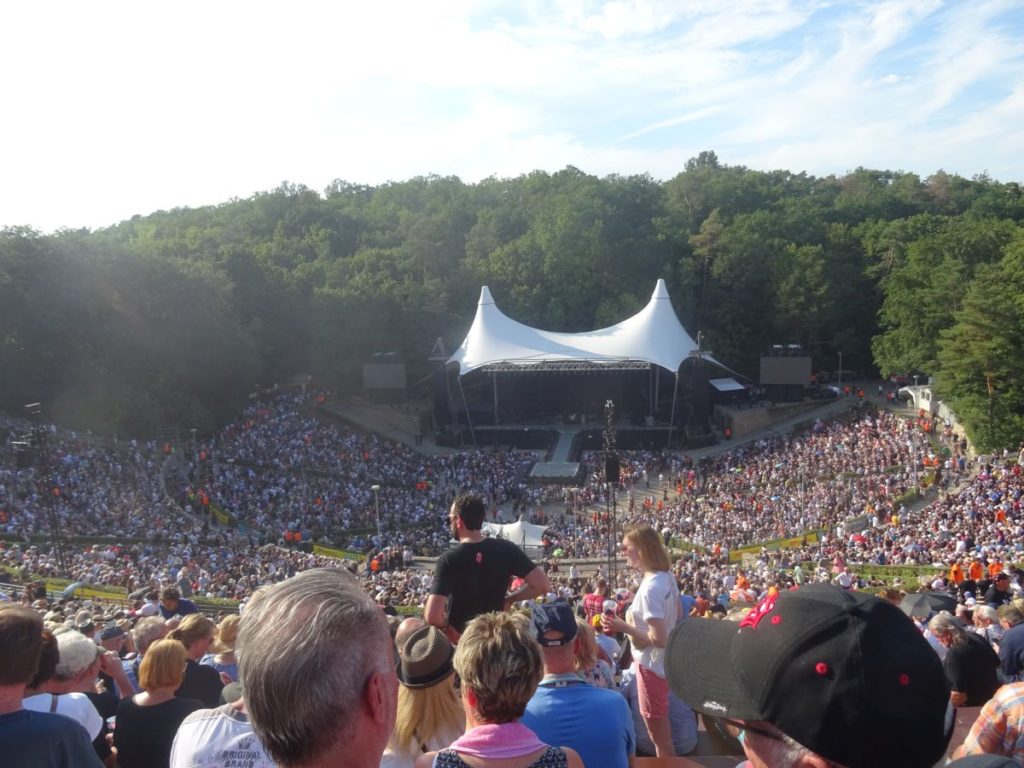 There was a direct flight by Norwegian Air from Stockholm to Berlin at noon the day after the Stockholm show. Most of the passengers on this flight were fans who saw The Stones in Stockholm, and they were on their way to the next and final show in Berlin. It was a real Stones flight, and I could see familiar faces and friends all over on that flight. You knew you were heading the right way.
I took the train from my stadium hotel to Arlanda Airport in Stockholm. When I arrived to Stockholm two days ago, I spent almost two hours messing around from the airport, via Arlanda Express, the city center, a metro, then walking around in Solna and Råsunda, then finally arriving to my hotel. Now, on my return, I knew the area, it was a short 10 minutes walk from my hotel to Solna Train station. Then a train to the Arlanda Terminal. Easy, cheap, comfortable. The Norwegian flight was an hour or so late, but I worked on show reports and pictures at the terminal, so I did not bother at all about the slight delay, in fact that delay gave me more time to publish pictures and reports from the Stockholm show.
We landed at the new Berlin Brandenburg airport approx one hour late at 3:10pm. Then I had my "9 Euro Ticket", valid for regular (not high speed) travel on bus, train, tram and metro in Germany all of August, a fantastic DB promotion this summer, and I did just what Mick said he did at the Stones show in Berlin two days later, he said he paid 9 Euro to get from the airport to his hotel… For me it took two hours, by a slow train, and by a tram, then 10 minutes walk, but it was cheap, and environment friendly. In fact, I have not used taxi or UBER or any other types of car for any travel I have done on my own on this tour, all travels have been by public transportation, cheap, easy, takes a bit time, but you get to see people, how mask mandates have being working, and you get there, no worries about a driver having covid, or a driver who drive to much, or talk too much…
My hotel in Berlin was Hotel Villa Kastania. I booked it as soon as I knew there would be a show in Berlin, and I worked hard on finding a great place, not just a cheap bed but a nice place to stay, to end the tour in a nice and comfortable way. The hotel turned out to be one of my best on the entire tour, and the area was great. It was approx 3.2 km (2 miles) away from Waldbühne, but it was an easy 40 minutes walk, and it was way better that the rooms I had in Stockholm and Paris. I was happy. The room is a home while I am on travel, I needed a "good home" for this show.
Dining the first evening I asked the front desk manager at my hotel about where to dine. He said there were many great places in Berlin City. I told him I was sick of downtown city areas with overpriced busy places with slow service and not so good food, also I did not want to spend the 40 minutes needed to get to Unter den Linden… Then he adviced me of the local Italian style "Ristorante Piccolo Mondo", just three minutes walk up the Kastanienallee, where I was. I did the walk, and the restaurant turned out to be one of the two best places of the entire tour, same quality as Ristorante Trotter in Milan Italy. Service and food was done seamless, everyone took care of me, even if I was on my own, they served my needs in-between handling two other larger parties. I am not an easy customer, I have special requests, any restaurant is challenged by all my endless food intolerance list, and requests for meals and drinks. The food was outstanding, I managed to return the olives with almost invisible garlic oil (dangerous to me!), no place is safe, I must be on alert at all times. Still, I will remember this place as a great restaurant, well worth travel, if I ever get back to Berlin.
I did two quick daytime trips to Berlin city center. Berlin used to be the largest construction place in the world in the 90's and on, so many cranes and construction works all over. Now the main train station is finished, the airport is finished, and Berlin is a large and beautiful city. Normally I would walk around in the city for hours, but we are at the end of the tour, I am already tired, and home sick, also, I know it will be very hot on the show day Wednesday evening, I need to slow down, save energy, eat and drink well, typical show preparations. This is the most important show of the tour, everything must be right, and I must be well prepared.
Show day, I meet many friends, also a group of local fans from the German fan club Stonestreff, when we had our pre-show meal at the Bavarian style outdoor restaurant Tiroler Stuben Berlin, just a ten minutes walk away from the Waldbühne venue. The Tiroler Stuben had a great beer named König Ludvig Hell, I knew it from my visit the day before, and I made sure I got plenty of water to drink as well. Then we left for the Waldbühne at around 3:30pm.
There were so many fans and friends I know at this show, just as many as I met in Stockholm. It was almost like a "home show", so many fans who travel, also many fans I have got to know from Germany over the years, of course. I tried to stay in the shade most of the waiting time, mostly on Ronnie side, as the Keith side was hot hot hot in the sun. The 200 or so steps down from the entrance and down to the pit of the venue were steep, but it seemed that most fans had no problem going down, and after the show, it moved well, even a guy on crutches made it easily back up all the stairs.
The show was magic. The crowd was great. The set list special, with "Fool To Cry", one of my all time favorites, also several "Exile" songs, including "All Down The Line", "Rocks Off", "Happy", and the more regular "Tumbling Dice". I was so happy. The show started at 8:44pm, and lasted for 2h 16 min, until the clock ticked a few seconds past the curfew of 10pm, then the final bow, and the highly successful SIXTY summer tour in Europe ended.
This is parts of what I wrote in my Berlin reports:
The Rolling Stones performed their first show at the Waldbühne in Berlin Germany on September 15, 1965. I was ten years old then. They returned to perform four more times at this legendary natural amphi theatre in 1982, 1998, 2014, and now during their SIXTY tour. Three generations on, they still engage, new generations arrive, it's like an eternal machine of great rock music, still with Mick and Keith from the original lineup, with all the "new kids", including Ronnie, to support them.
I walked the 185 steps down from the Keith side entrance to the floor of the amphi. It is deep, steep, and old, rock solid stairs. May be the wooden seat benches have been upgraded since 1965, but most of the venue looks like it may have been during the first show back in 1965. What a great place to end the SIXTY tour.
…..
The "final four" songs were stretched to the maximum, we got long versions of "Jumping Jack Flash" and "Satisfaction". It was like they never wanted to leave the stage. As the clock ticked past 10:00 in the evening, Mick made a nod to Keith, Ronnie and Steve Jordan, and soon after, Keith walked up and finished off the show, a great way to end the tour this summer.
Final bow, Mick slide in between Ronnie and Keith. Mick is leaving the stage first. Keith is sort of standing up front on his own, don't want to leave. Ronnie is walking back stage, while pointing both hands to the the back of his jacket, with the logo saying "It's Only Rock'n'Roll".
For show reports and pictures please see the IORR reports pages:
The Rolling Stones
Waldbühne
Berlin Germany
Wednesday August 3, 2022