After ten days in sunny California, the tour moved on, and next stop was Minneapolis in the state of Minnesota. I was booked for six days in Minneapolis, and already as I walked out of the airport, I regret not staying a couple of more days in much warmer Los Angeles. Still, I need to be where the next show is, general strategy. In case of strikes, bad weather, storms or any other problems, I like to be close by where the next show is, early on.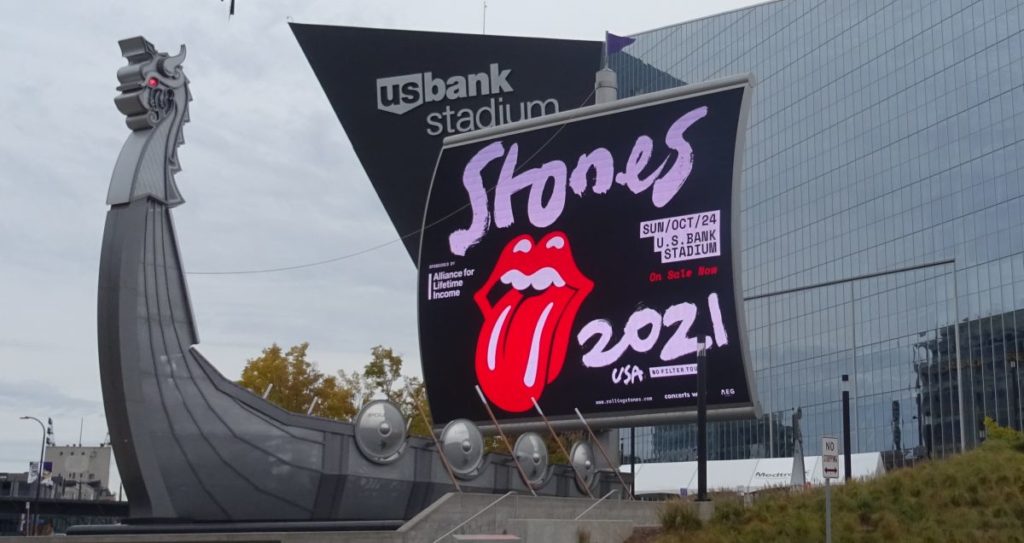 I was booked for six days at Holiday Inn Express & Suites Minneapolis Downtown, same hotel as I stayed at six years ago in Minneapolis, when the Stones were here last time. Some times it is great to have an on site guest laundry in the hotel, I travel light, with just 8 kg i.e. 18 pound total in my carry-on, that's all, so self service laundry is a great bonus in any hotel. Also, next door was the five star Ivy Hotel, they do offer all the services I need like a lobby bar, and meeting friends on tour who stay there.
It cost me one dollar to get from the airport to the Minneapolis city center, then a quick ten minutes stroll across a few blocks to my hotel. That was the only time I used public transportation in Minneapolis, except for the return travel to the airport six days later. The blue train seemed to be great and efficient, also the bus systems, in case I needed them, but I walked most of the time.
First on the agenda was finding a place to eat, for lunch and dinner. Downtown Minneapolis was completely empty. Hotels were operating on very limited lunch menus, and their restaurants opened eiter 5pm or 6pm late afternoon. By then I had been starving since lunch hours, so I went to the store and got some bread, bananas and food to keep in the hotel room fridge. It saved my day quite a few times.
Brit's Pub was a safe haven, I went there several times for Fish'n'Ships, as they were open all day. Some times they were completely packed – I was offered to sit at the bar, but I am still concerned about covid-19, so then I went to my room and checked for sea food places in the area. I found a place called Stella's Fish Cafe, it was in Uptown, so I got a car to get me up there, quick ten minutes ride that cost me ten dollar, not bad. Stella's would be my favorite place, returning there later on also.
Uptown was the place to be. Right nearby Stella's there was a building named "Sons Of Norway", with plenty of Norway flags. I later found out it was an insurance company, with roots from Norway, and they did have a lot of Norway stuff on display at their floor level, enough to get me home sick.
I spend all day out in Uptown, also walking to the nearby lakes. I have been missing the fall colors back home, that is the greatest part of living in Norway, the four totally separate seasons. Cold winter, great spring with all the green leaves coming out, summer often warm, and then the fall colors, red, orange, yellow, all sorts, all over. So far I had not seen any fall colors on my US travel, but as I arrived into Minneapolis, there were colors. Not as bright as back home, but enough to get the fall feeling.
Norway was a poor country some 100+ years ago. There were fishermen and farmers, but farms were small and families were large. Many left for the new large countries in west – North America – USA mostly, but also Canada. My own grandfather on my mother's side went to North America during his young age, but he returned home to Norway, otherwise I would probably have been living in Canada or Minnesota myself… Anyway, Minnesota was one of the main hubs of immigration from Norway to USA, Norwegian immigrants went to the United States primarily in the latter half of the 19th century and the first few decades of the 20th century. There are more than 4.5 million Norwegian Americans, according to the most recent U.S. census, most live in the Upper Midwest, according to the Wikipedia article Norwegian Americans. So I felt sort of at home in Minneapolis, especially when I took a walk over to Norway House, where they had lots of Norway culture and pictures on display, well worth a visit for anyone!
Minnesota Wild is the hockey team of Minnesota. They play their home games in Xcel Energy Center, St Paul, twin city of Minneapolis, just a quick 20 minutes drive from Minneapolis. The two cities are located on each of their sides of the Mississippi River. After having seen "my" team Minnesota Wild in Los Angeles last week, I had to see them one more time, on home ground. The day before the Stones show – Saturday October 23 – I went the 20 minutes ride to St Paul, and spent the afternoon there, visiting the great St Paul Cathedral, walking by the Missisippi River, and of course watching the game, where Minnesota Wild won in overtime vs Anaheim. Lots of smiles as we walked out of the venue. People invited me out for drinks and beers, but I had a show to go to next day, so I went "home" to rest ahead of concert day.
Since the downtown Minneapolis area was completely empty, hardly any restaurants open daytime, I walked a lot from downtown and into east, west, north and south, at various times. There were good areas and not so good areas. One time I walked for 20-30 minutes to find a McDonalds restaurant. That area was not any good at all, so I had to walk another way back. Two times I went to Uptown, then I walked back to the downtown every time, along Hennepin Ave, a great long walk of an hour.
Show day, the hotels are filling up, the breakfast area is full, also next day, then the day after that everything is back to normal, very few guests at the hotel, except for me and a few others, same with the streets and a lot of the area around. Too bad covid-19 and other reasons have made so many changes of the downtown area of Minneapolis, now downtown is mostly hotels, banks, offices, while many seems to have moved out some places.
Walking to the Stones show at US Bank Stadium took some 20 minutes. It was so cold, I do only have light dressing, but I survived. It was all worth it – they performed another great show, with songs including "Monkey Man" and "Fool To Cry".
For show reports and pictures see the link below:
The Rolling Stones
US Bank Stadium
Minneapolis, MN, USA
Sunday October 24, 2021