Some acts have been performing in Las Vegas again and again, many times, like Elvis, Celine Dion, and many more. When you move around in Las Vegas, you do see names of bands on boards, bands you thought were long gone, but they do still perform in Las Vegas. They say "What happes in Las Vegas stays in Las Vegas". My first trip to Las Vegas was for The Rolling show at The Joint Feb 15, 1998, where magic happened. Then I have returned many times. These are the memories from the 2021 travels to Las Vegas, to see The Rolling Stones show at the Allegiant Stadium.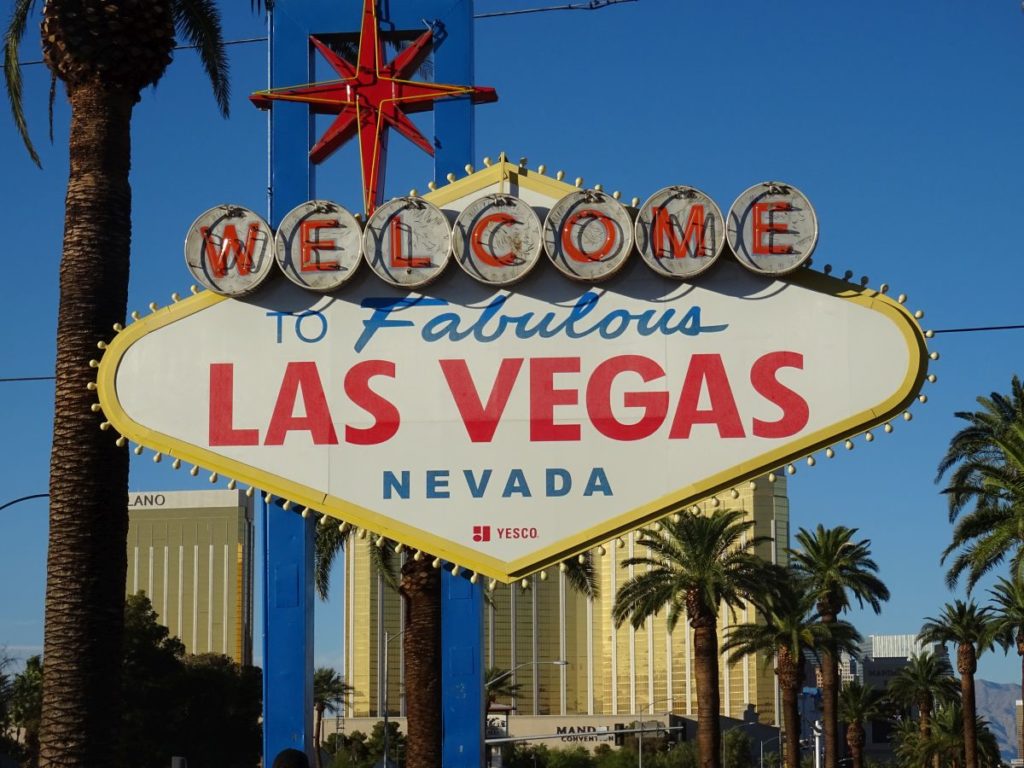 As soon as you walk off your plane in Las Vegas, and enter the terminal building, you see a machines you may gamble on. Many. You know you are in Las Vegas. I do still remember one of my first trips to Las Vegas, arriving from Los Angeles. There was a young couple, no luggage at all, nothing to carry, they went to Las Vegas to gamble and have fun, they did not even have a hotel room, returning home next day.
I had the choice of staying at Mandalay Bay, some 20 minutes walk to Allegiant Stadium, or at one of the two star hotels just across Russel Road, just 10 minutes walk. Mandalay Bay room rates were relatively cheap, knowing it is a four star casino resort, but I knew breakfast, dinner, staying there would add a lot. I booked two nights at Holiday Inn Express Las Vegas South, on Polaris Avenue, at zero cost, because I have points with IHG. Then I booked 2+2 nights more later on, so that I had a total of six nights in Las Vegas. A long stay is always great, and I had the option to cancel any time after 2 and 4 days, if I did not like it.
Allegiant Stadium looks great, both daytime, and in the dark. It is brand new, great in all ways, and I walked by it many times, as there was absolutely nothing near my hotel. So I walked to The Strip i.e. Las Vegas Boulevard every day, to McDonalds on Four Seasons Drive, to Four Seasons and Mandalay Bay, where friends stayed. Also, I found a great area to walk to – Town Square Las Vegas – it was 3 km i.e. 2 miles across the highway and south, it took 40 minutes to walk there each way, with plenty of dining places and shops to choose from.
Walking in Las Vegas on The Strip you see a lot, a picture may tell more than thousand words. I had to pilgrim places I have been to in the past, like New York New York, where I stayed for the Stones show in 2016, and the MGM, where I have seen shows at the MGM Arena, it is easy to walk around in that area, but very crowded, so I had to use my masks at all times on the sidewalks.
Great friends of mine made it possible to see more than just The Strip and The Rolling Stones in Las Vegas. We did a trip to Red Rock Canyon, amazing red rock mountain areas, where not even a picture can tell how magnificent it is – a must see place. Then another day we went to Hoover Dam, impressing massive engineering work, knowing it was opened in 1935! Also, we managed to visit the Neon Museum, where old Las Vegas signs are resting.
Then the show with The Rolling Stones. I just loved it. Like I wrote in my report – see link below: "The show finished 11:35pm. As soon as the final bow was over, I moved out of the pit, headed to the rear of the stadium, and was out of the building in five minutes. Ten minutes later, I was at my hotel. For such a large stadium, it was just perfect. Great show, great logistics, and I will stay two more days in Las Vegas. After all these years, even such a special city, can't help loving it!"
For show reports and pictures see the link below:
The Rolling Stones
Allegiant Stadium
Las Vegas NV USA
Saturday November 6, 2021