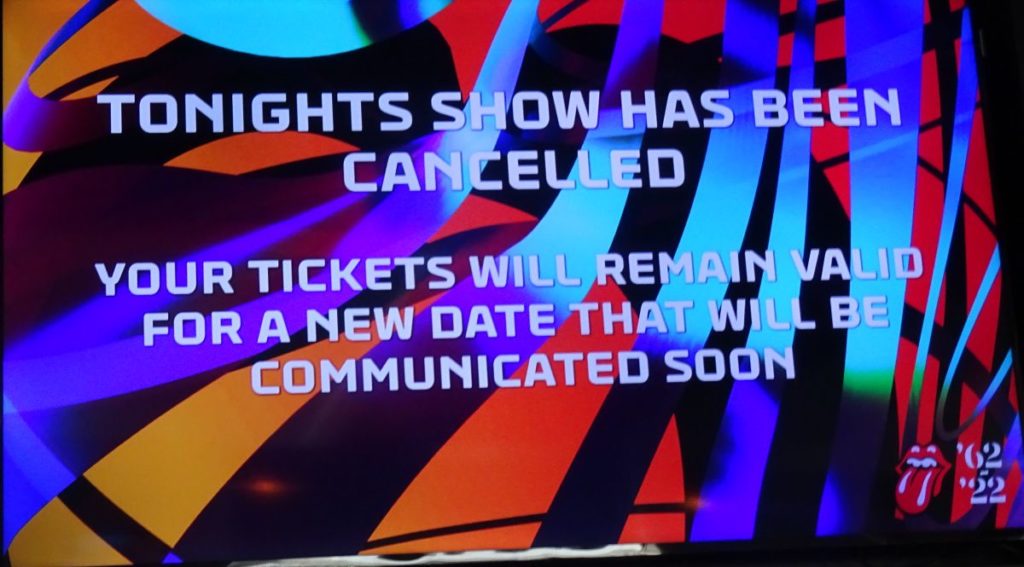 The Rolling Stones were scheduled to be performing at Johan Cruyff ArenA in Amsterdam The Netherlands on Monday June 13. I arrived the day before, stayed at Holiday Inn Amsterdam Arena Towers, just 400 meters i.e. a five minutes walk from the venue. It was a great location to be at.
I had been in Amsterdam last month, in May, for the pre-tour rehearsals, so I was already ready with a metro/train card, also knew what trams and trains to take. It was a great day on show day June 13. Lunch on Rembrandtplein, a great place, and some walking around in the city, then heading for the show in the afternoon.
I could hear a soundcheck of "She's A Rainbow" and "Connection" while walking around outside, some time after 4pm. I was inside the stadium at 5:25pm. Doors seemed to open around 5pm, but as I stayed so close, there was no rush in getting inside the venue early. Show start was expected around 8:45pm. Then, at 6pm, there was an announcement saying "The show is cancelled" – "Mick has got Covid" … It took a while until I realized it, it was a fact. We had to leave. Then dinner with friends nearby.
Then at 10pm I changed my plan to take the train from Amsterdam to Bern, a ten hours train ride. I had already booked the ticket at some Euro 200 the day before. Lost money. I booked a direct flight back home next morning, and after some hours on Schiphol Airport, I was back home at around 2pm in the afternoon, the day after the cancelled show.
The show in Bern on Friday June 17 was cancelled while I was at the airport in Amsterdam, like I expected. The Milan show on Tuesday June 21 was still on, in my hopes, so I headed home for nearly a week of rest.
There will be more about the Amsterdam show here next month, as there is a new date for the Amsterdam show on Thursday July 7. Meanwhile, some other shows in Milan and London.