The Rolling Stones show in Brussels Belgium was four days after the postponed show in Amsterdam. With the current travel situation in Europe, the only natural way was to stay on the tour, and to go by train from Amsterdam to Brussels. The Rolling Stones have been performing in Belgium on most European tours, but often they have been doing shows at the remote festival site Werchter. It is near the city Leuven, but still a long long walk! Luckily they were now scheduled to perform at the King Baudouin Stadium, in the city of Brussels.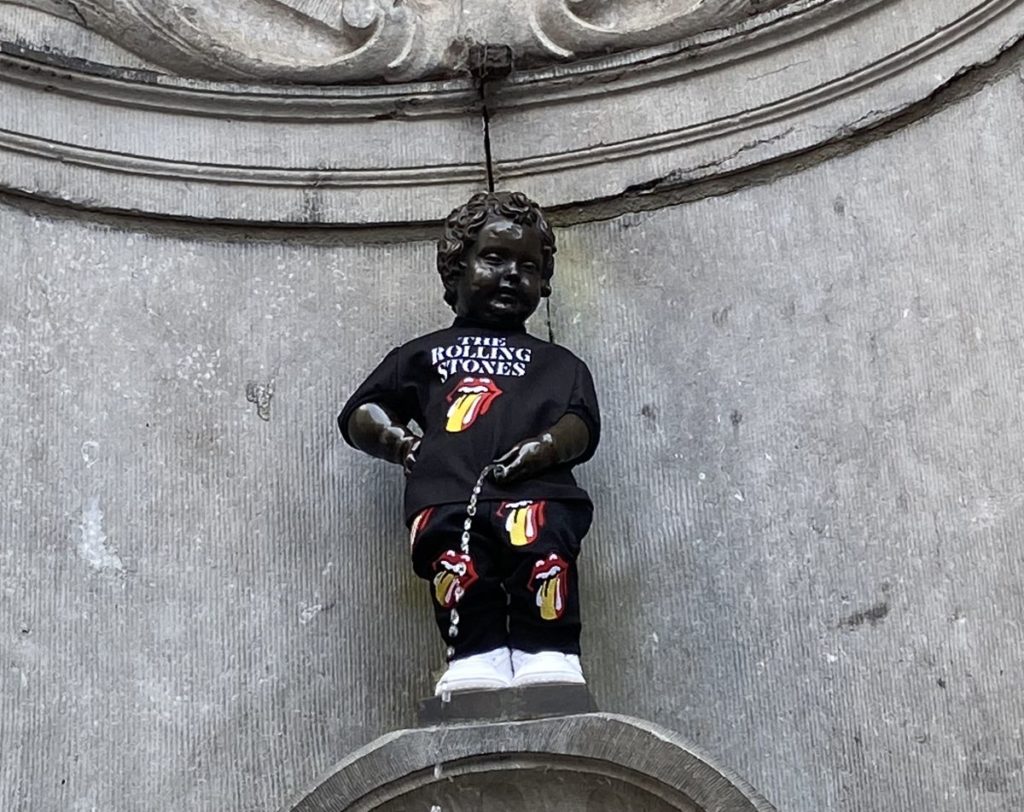 Train travel is so easy and pleasant. I left my room in Amsterdam by the ArenA at 11am on Friday July 8, the day after the show in Amsterdam. The train to Brussels left Amsterdam Central at noon, and I was at Brussels Midi by 2pm. One hour later, after a short local train ride, I was all set in my hotel in the center of Brussels. No need for security checks, no need to get rid of water bottles. For sure I will do more train travel on this tour.
I was four days in Brussels, and with the short train ride, I hardly lost any time at all on travel day. For my first two days I was booked at a hotel just two minutes walk from Grand Place – Hotel Warwick Brussels. It is a great classic style hotel, five star, a bit over my budget, but on a 2+ months summer tour, two days in one booking out of total 24 hotel bookings does not make that big difference. I wanted to be right on Grand Place, also close to the train station.
Grand Place is just stunning beautiful. Wherever you look, there are beautiful buildings. No picture may tell how great it is looking, but I will give it a try still. Grand Place is on the UNESCO list of World Heritage Sites. Sure it is crowded with tourists, but still, it is a must see. Then I walked the few blocks to where Manneken Pis is.
Manneken Pis is a remarkable little fellow. He is on display just a few blocks from Grand Place, and is one of main attraction in Brussels. The statue was created in 1619, i.e. more than 400 years ago. The original statue is preserved in the Maison de Roi on Grand Place, while the "tourist version" is a replica, still thousands come by to see him every day, some times dressed up in one of more than 1,000 costumes. Two days before The Rolling Stones show, Manneken Pis was dressed up in Stones-cloths! Mick Jagger did even mention Manneken Pis during the show, he said he was going to do some selfies, but somebody had stolen the cloths, so "there goes my Instagram moment", he said!
After two days in the center of Brussels, I moved on to my "show time hotel". Total time from leaving my room at the Warwick, taking the tram, walking 15 minutes, then checking in and being all settlet at my next place, it all took just an hour, and I was all set in my next hotel "Ibis Brussels Expo-Atomium", which is just a 15 minutes walk from King Baudouin Stadium. To get hotel rooms that close to the venue, at a low rate, you need to book fast, if possible before dates are announced. For this tour I was lucky to be able to book most show hotels just in time, so that I could walk "home" to my room nice and easily after the show.
Brussels show day Monday July 11 it is warm day, I rest in my area right next to the stadium most of the day. There was a great Italian restaurant "Heysel Brasserie" just five minutes walk from my hotel, on the way to the stadium. I went there for late lunch and early dinner, in the afternoon, and had two liters of water plus food and desserts, warm weather and standing in the pit for hours do require planning, energy and liquid.
Then walking to the stadium. On our way there, we passed by signs leading the way to a Registration Centre for Ukrainian Refugees in the Expo area. I have been living in a tour bubble since May, but this was a reminder about the real world, it reminded me about the importance of peace, democracy and life in freedom, we should never forget those who do not have the freedom we take for granted.
The show in Brussels was great, they are all at a high standard these days. Then a short walk twenty minutes or so back to my hotel. I drank another liter of water, still hot, then worked until 1am with pictures and editorial IORR show updates. Happy days – it is great to be on tour, even if it can be a bit exhausting!
For show reports and pictures please see the IORR reports pages:
The Rolling Stones
King Baudouin Stadium
Brussels Belgium
Monday July 11, 2022