Munich is a great and beautiful city south in Germany. The Rolling Stones go to Munich on almost every tour in Europe. Summer time in Munich means packed beer gardens, lots of tourists, and may be some rain at times!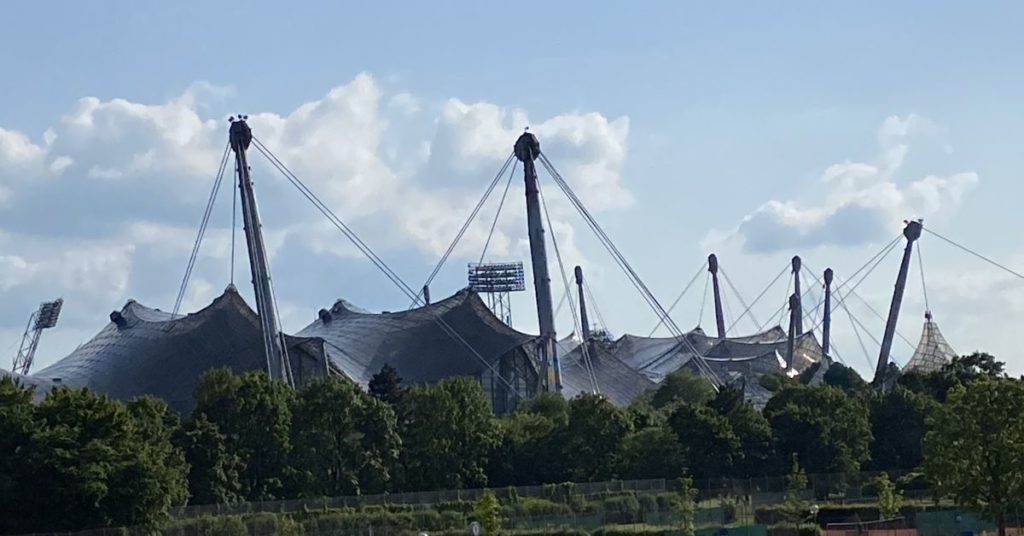 I had ten great days during the tour start in Madrid. Now I was on a much shorter three days stopover in Munich, in fact three nights but just two days, as I was arriving really late, and leaving very early.
Munich was not really very welcoming, as our late afternoon flight from Madrid Spain on Friday June 3 was en route to Munich Airport. Some 10-15 minutes before we were supposed to land, I was following the flight path, and we were going towards Salzburg Austria, not really Munich Airport. Then we were doing circles on a holding area half way between the Munich Airport and Salzburg. After a while the pilot told us the Munich airport was closed due to heavy thunderstorms. After 30-40 minutes doing circles, quite a long holding time, we were cleared for landing, and half an hour later, after still some 10-15 minutes hold before ground control were allowed to work, we were on Munich ground. Some times a flight is not just another flight.
I had booked a hotel near the Olympiastadion, Leonardo Royal Hotel Munich. With great memories from the Leonardo hotel in Hamburg during the tour there in 2017, I thought that hotel chain was a great one. Well may be not… The hotel was large, but ok. The room was ok, the distance from the venue was just 15 minutes walking through the Olympiapark, but the service was just terrible. It was a two hours wait to get food, and I just gave up on the hotel, and went other places for dining.
Munich city center is like a museum, so many great buildings and stunning architecture. I took the U-Bahn to Marienplatz, and walked around in the Old Town. Even if the area was packed with tourists, it was still a pleasure to be there, just to see it all, like on every visit to Munich. Then I needed a meal, no chance for any seating outside, so after a while I studied the map, and found out I had to leave the center for some walking in the park.
The English Garden (Englisher Garten) is a great large park spanning some 6-7 km i.e. more than 4 miles just near the Old Town. It is not really a garden, but a large park, lots of old beautiful chest trees, and other trees, beer gardens, and traffic is so far away you do not hear anything else than the birds, you see people relaxing, enjoying the summer. I spent several hours walking the park, it reminded me a bit about Hyde Park in London, both are large, both give the people a lot of space and relaxing.
Show day, there were forecasts of rain, I was on hold in my hotel, working, until after gates opened late. I did not leave my room until 6:35pm, by then most of the rain had stopped. Then a fast walk 15 minutes, and I was inside the stadium within 5 minutes. Less than two hours later The Rolling Stones were on stage, and gave us another great show. For reports and pictures see the link below.
The Rolling Stones
Olympiastadion
Munich Germany
Sunday June 5, 2022