The rescheduled Rolling Stones No Filter Tour USA 2021 was announced July 22, to start officially with a stadium show in St. Louis Missouri on September 26. I arrived from the rehearsals in Boston into St. Louis September 21, and spend a week in St. Louis. These are some memories from the week with The Rolling Stones in St. Louis.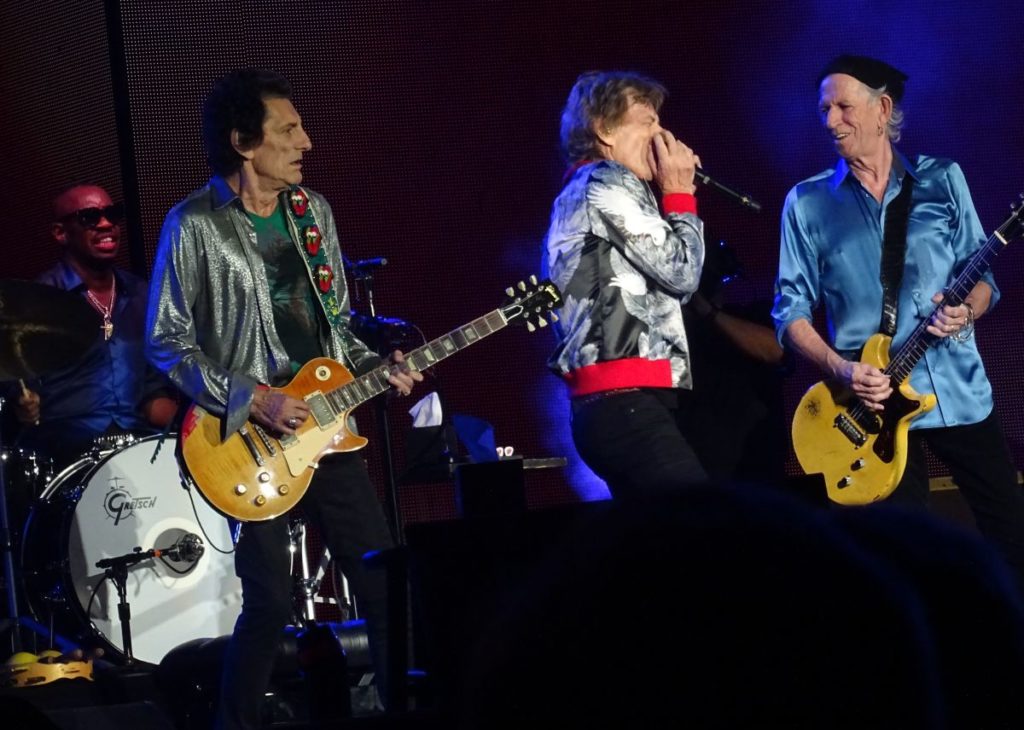 Usually The Rolling Stones do two days of soundcheck and production rehearsals at the first venue of a new tour. I was ready to be there and listen to the songs outside. Unfortunately the Dome in St. Louis is completely closed, with multiple layers of brick and concrete. I was outside at the band entrance, and luckily both Mick and Ronnie was passing by with their car windows down as they arrived those days I was there, but that was all I heard and saw of them before the actual tour start.
While waiting for the tour start I spent time walking around in St. Louis. I lived right next to the Dome, and I was told that was an unsafe area. Sure it was unsafe late hours, like 10pm or so, but I spent most of my walking day time, before it got dark. I had three things on my list here: 1. The Rolling Stones. 2. Budweiser Tour with fresh beer tasting. 3. To see Mississippi River close up.
My one week public transportation pass took me around from and back to the airport, to the Budweiser Brewery, and other places, like The Rolling Stones hotel slightly outside the downtown. My first stop was Budweiser. Every time I go to St. Louis I have to go to their head office right here in St. Louis, where they have their Clydesdale horses, and where you actually may see the production lines with bottles, cans, and at the end of the tour, you get a fresh beer in a bottle, plus a tasking glass of daily fresh brewed beer. Nothing is like tasking day fresh beer, when it comes to beer!
Mississippi River will be on my tour map not just here in St. Louis, but also later on, when The Rolling Stones arrive into Minneapolis in Minnesota. The large rivers used to be the backbone of many cities across the world, so also Missisippi River. I just love to see those great rivers, the bridges, and all I can do is imagine what is was like in the old days, when ships were going up and down the river with all sorts of essential transportation. These days a lot of this is done by trucks I guess.
With the tourist bit done, the main reason for my visit into St. Louis was arriving. Show day Sunday September 26, 2021. The following is the first part of my report from that show. The rest of my and other reports may be seen in the link below.
The show tonight was an emotional roller coaster ride for me. After 35 days away from home, with the goal to see The Rolling Stones live on tour tonight, the day was finally here. So long wait, so many emotions. As I walked to the Dome in St. Louis, a short five minutes walk from my hotel just across 9th Street to the Entrance D on Cole street, my stomack was in big pain, I was hit by a sudden nervous pain I have never experienced before. Then once inside, I met with friends in the VIP lounge, and my pain was gratually going away.
At 7pm I went down to the pit area, Pit 1 i.e. Ronnie side, the place was half empty, but it would fill up during the next hour or so. More friends to meet, the pain was not there anymore. Then at 8:46, the lights went ot, and drums started to sound all over the stadium. It was Charlie drumming, soft, hard, gentle, great pace, just like having Charlie in the venue. Various images of Charlie were on display on the large screens. My emotional roller coaster ride had started, and it would last throughout the show, all the way back to my hotel. The Charlie intro lasted for two minutes. A great tribute, but so sad.
For show reports and pictures see the links below:
The Rolling Stones
The Dome at America's Center
St. Louis MO USA
Sunday September 26, 2021
Pictures from St. Louis September 2021