This was the second stadium show of the No Filter USA Tour 2021. I am told they have one set of trucks only for this tour, I counted 23 or so trucks in St. Louis, the trucking time from St. Louis MO to Charlotte NC is eleven hours, through Nashville TN (to be visited soon on this tour), while some fans on tour, including myself, used the 1:30pm departure Southwest flight taking just under two hours non-stop.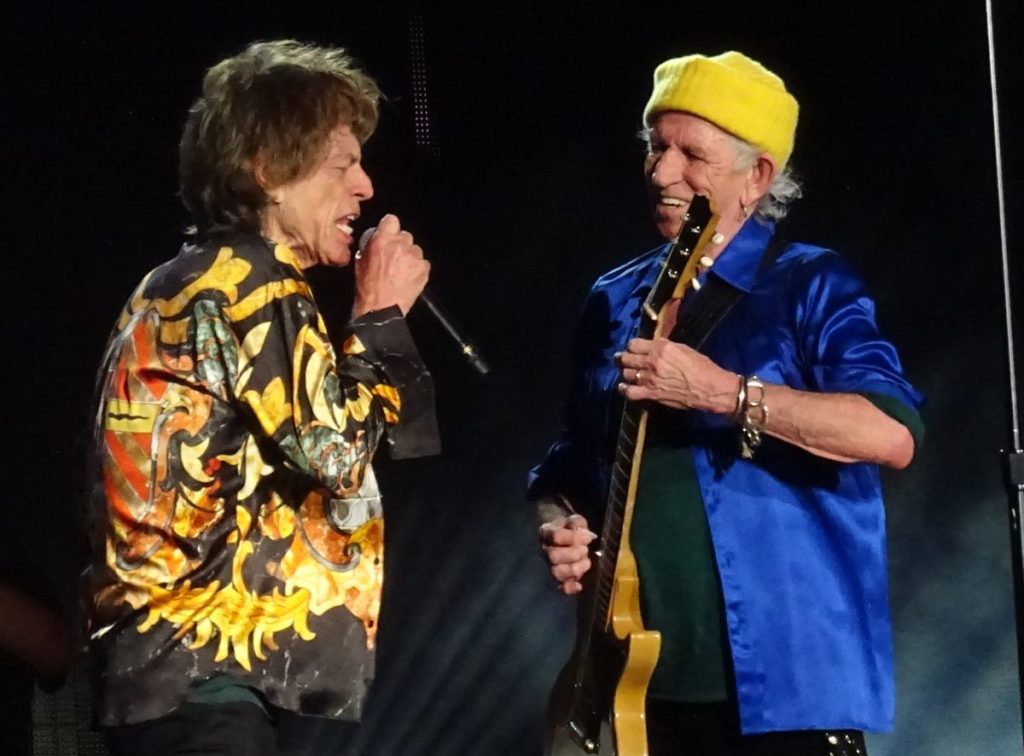 When I first saw The Rolling Stones live in Charlotte, back in 1997, at Ericsson Stadium, now called Bank of America Stadium, I loved it so much I declared Charlotte one of those cities I just had to return to on every tour. Since then I have been returning to North Carolina on every tour, also, when they played Raleigh North Carolina in 2015, I made it through Charlotte, visiting Grandfather Mountain in the Appalachian Mountains.
Unlike the show in 1999, when the show was at Charlotte Coliseum, way outside the center, this time we were once again to see The Rolling Stones in the Charlotte city center, at Bank of America Stadium, so I booked a hotel right in the center, with 20 minutes walking to the stadium. I was four days in Charlotte. As the show got closer, the city was filling up with fans.
I took the bus from the airport to my hotel. I was the only "tourist" on that bus. You get to see the locals, while I understand most others do arrive by car. As I arrived into the bus station, I did recognize the Burger King and that station, where I have been on past tours, taking the bus, and getting my Big Fish sandwiches.
The Rolling Stones show in Charlotte was with all the energy we got in St. Louis MO, but without the goose bumps and sadness from missing Charlie Watts. For reports and pictures from the show see the links below.
The day after the show Mick Jagger posted a picture on social media where he was having a beer at the nearby "Thirsty Beaver Saloon". So as a faithful Stones fan, I set off to walk over there. It was a walk of 1.5 miles (2.5 km), and it took me 35 minutes walking each way. As I arrived, I walked in there, and asked for the same beer as Mick had. Then the girl at the bar said: "We are not sure, but we think it is this one"… Then she took one of the many bottles she had in the cooler – "Coors Edge – Non-Alcoholic Beer". I took my pictures, a selfie or two, and left. Meanwhile, two other fans arrived with the same mission, to pilgrim Mick's bar, and to make pictures.
There are "live threads" where fans may talk about the shows online on IORR.org. Then there are other topics, like about songs – "Brown Sugar Track Talk" and so on. During the St. Louis show, there were some comments about "Brown Sugar" missing, but most fans expected it to re-appear in Charlotte. It did not.
While I had been at the show in Charlotte, and while I had been enjoying the last bits of the city of Charlotte, including my "Coors Edge" at the Thirsty Beaver Saloon, there was a "Brown Sugar war" online at the IORR forum pages. I was happily unaware of the mess until I arrived back to my hotel room i.e. my "office" late afternoon the day after the show, on October 1. From then on, until the early hours, way after 2am in the morning, I was working on getting rid of hundreds of hostile, angry, offending and racist posts related to Brown Sugar. Why did they not play it? Why should they care about Black Lives Matter? Why should they have any moral standards at all? Wasn't this the band who gave us "Street Fighting Man", "Under My Thumb", and other not so nice songs lyrics wise? The comments were spinning way out of any proportions, and I just had to sort it out, before it took completely over, scaring normal fans not really into all these politics and anger.
I had to implement a complete ban of any mention of the song "Brown Sugar" on IORR.org, in order to survive the editorial part for the next few days. Life is too short, and I do not want to get involved in politics, BLM, song selections, lyrics, and all those special words used by those who still think Mick Jagger should be able to say and sing about anything he likes on stage.
"Brown Sugar" has been the backbone of most Rolling Stones shows since they released the song on the "Sticky Fingers" album in 1971 i.e. fifty years ago. There have been no official comment from the band about set lists or why they do not play this song, or other songs, but it seemed like most fans had their own opinion those 24 or so hours I walked around in Charlotte not knowing almost WW III fan wise was going on in the IORR forum pages.
I had to make a separate statement, about "Brown Sugar", it was read more than 3,000 times before I took it away a day or so later, as I had arrived into the next city Pittsburgh. This was my statement:
Brown Sugar related posts will be deleted – posting access to be deleted as well
I was contacted by fans who felt unsafe. Many people who post their opinion does not think – or care – about others. They may be macho, they think Mick Jagger and The Rolling Stones are timeless, eternal and far above any moral or social standards. Luckily the above post worked. For a while I thought seriously about shutting down the IORR forums completely, but the fans got the message, so IORR is still online with all the discussions about songs, set lists, guitar riffs, new songs, old songs, all the passion is there still.
For show reports and pictures see the links below:
The Rolling Stones
Bank of America Stadium
Charlotte NC USA
Thursday September 30, 2021