Memories by Bjørnulf Vik, Norway – Fan since 1971
Charlie Watts, drummer of The Rolling Stones since 1963, sadly died in London Tuesday August 24, 2021. The Rolling Stones and their band members have been an important part of my life for fifty years, since I got their album Sticky Fingers in August 1971. Like so many other fans across the world, I can not find words. Still, I will try my best here, in memory of Charlie Watts. The first picture here is Charlie pointing my way during the final bow in Mexico City 2016.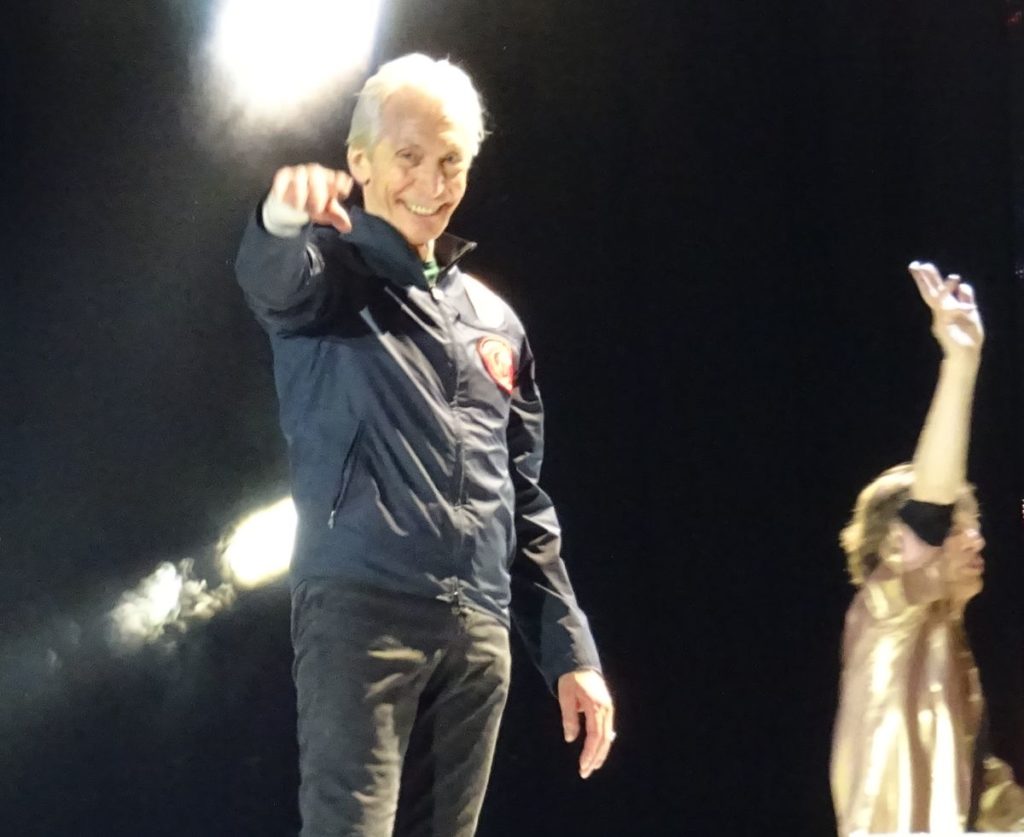 I was a kid age 16 when I got into The Rolling Stones. They became an obsession for me. Once I am hooked, I never do anything 90%. I got all their records from 1963 and on that fall back in 1971. I was a drummer myself in the local school brass band, and I soon became a big fan of Charlie Watts. I thought Charlie was the coolest guy, and I called myself Charlie. All my notebooks from school that year do have "Charlie" scribbled all over them, front pages, inside, everywhere. Two years later, in October 1973, I went to Gothenburg Sweden to see The Rolling Stones with Charlie Watts live for the first time, and since them, many, many times. The Rolling Stones and their band members feels like my 2nd family.
Charlie was never a rock star in the normal way others look at that term. I have met Charlie many times, every time he was so surprised people were interested in him and his band. I think he loved it best in the background, with Keith Richards next to him for most of the shows. Others could take the spotlights and the interviews. When Mick Jagger pointed the microphone to Charlie during presentations, or press conferences, the typical comment from Charlie would be a single word, like "Yes". Then Mick would say – with a smile: "He speaks!"
The tears keep coming to my eyes. It is like I have lost a close friend, even if I never really spoke that much with Charlie. As a fan, I have always been shy, and respected their privacy. Just being in the same room, or being next to Charlie, was all I needed, and expected. The shows, the press conferences, meeting Charlie in the streets, in the VIP Lounges, at his own Jazz gigs, or wherever I ended up close by Charlie, it felt like I was sort of family. I guess that is like being a fan, you love the band and their members, and you feel part of a bigger family.
The picture below was taken by me in New York City August 18, 1997, during the Bridges To Babylon Press Conference. I may be shy, but that day, like some other days, I was not that shy. Even if we arrived late, with one of the record company coaches from the Times Square area, I aimed for the front, and I ended upon row one with Jane Rose on my one side and the Sprint Manager (tour sponsor) on my other side. I took the pictures up front with my little pocket camera, and when I look at all the pictures I took, I see the Charlie Watts I have always known – a man of many faces, smiling, wondering, thinking, well dressed, still a rock star in my mind.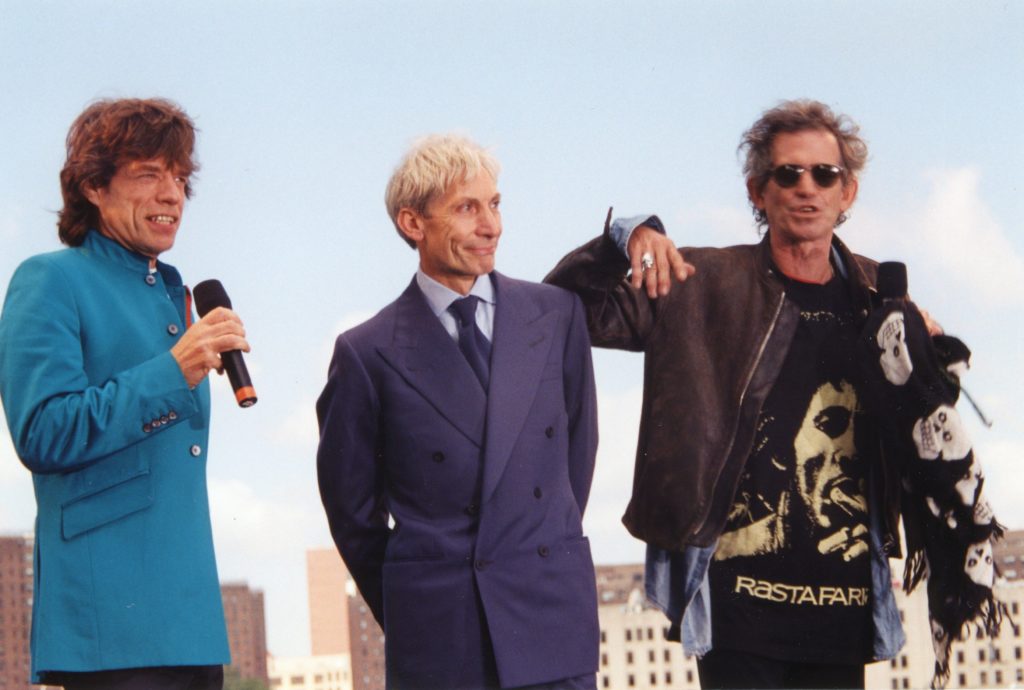 Charlie did not have any personal security, not until recent years, when they just grew mega big, and insurance probably demanded security also for Charlie. Charlie was able to take care of himself, and most people would not even bother him. I remember meeting Charlie walking on the Chicago sidewalk between the two shows, on September 24, 1997. I was with tour pal Paul. We had a great chat with Charlie, who was a bit surprised about meeting fans as usual. We told him how much we loved the opening show of the tour last night. Then we told him we were looking forward to the next show tomorrow. He was so surprised, he could not really understand why we would go and see another show, since we had seen the show already… That was how Charlie was to me, he was always a gentleman, polite, still surprised about the fact that some of us just had to see him and his band again and again.
For a private person like Charlie Watts, the way I got to know him, I am so impressed the way he met us all polite and respectful. Thank you Charlie Watts for all the many years with great music and memories.
Below some pictures I took during the final show with Charlie Watts and The Rolling Stones, live at Hard Rock Stadium, Miami Florida USA, Friday August 30, 2019. Then the last two pictures are taken by Jim Pietryga, also from the Miami show, the final bow with Charlie, and then, Jim's final picture from that show, Charlie in the pouring rain, smiling!