Sensira Resort & Spa Riviera Maya was my choice of hotel when I was going to Cancun Mexico for two weeks, in order to get access for further travel to USA. I booked just six nights initially, but I stayed at the Sensira for two weeks. It turned out to be paradise for me. I needed a home away from home, and I got all of that.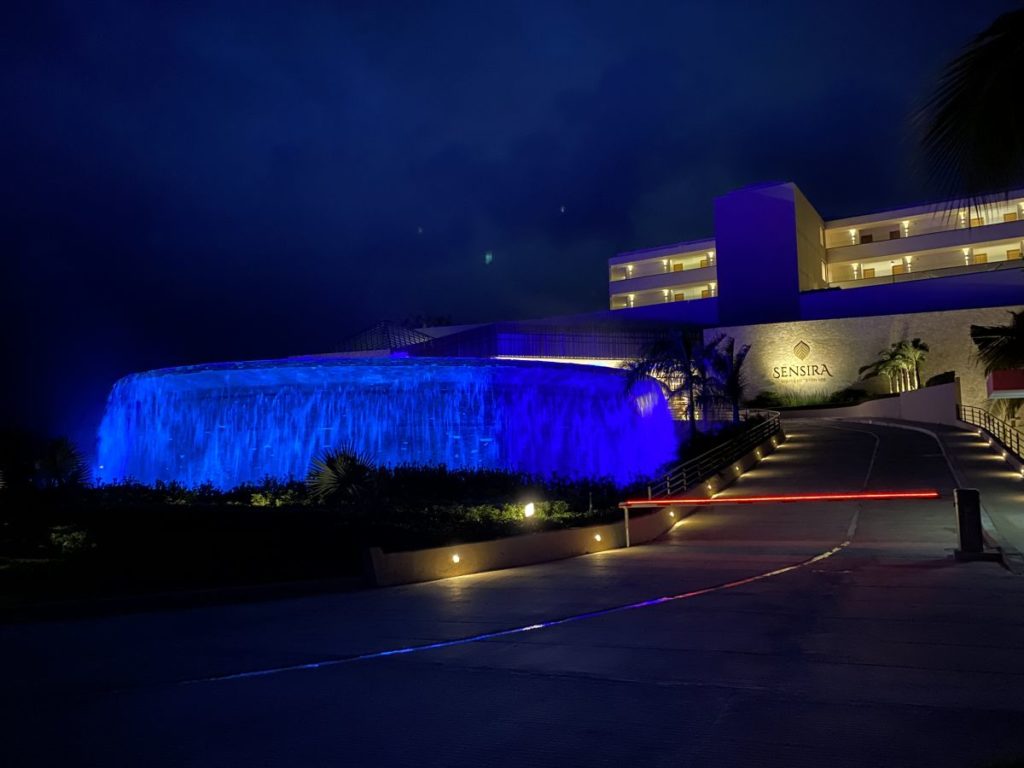 Cancun Mexico was a stop over for me when I went from Los Angeles USA via Mexico City to Havana Cuba some twentyone years ago, for a short side-trip with friends. Since then, I thought of Cancun Mexico as a place tourists from USA travel to, because it is just two hours flying south of Houston Texas, also less than two hours flight south of Miami and the other southern parts of USA.
I knew I had to stay for two weeks in Cancun, as part of my travel from Norway to USA, for the Rolling Stones US Tour 2021. Mexico City was an option too, but then I would have a longer travel from Europe, also a longer travel up to the East Coast of USA, so Cancun was my choice.
How do you find a safe and great place to stay in Cancun Mexico? I use hotels.com for checking hotels, then I look at ratings. If a hotel is ranked high, and also is high priced, it means it must be great. Some cheap hotels are ranked high simply because people feel they get a lot for a small amount of money, so I always look at the total.
Sensira Resort & Spa Riviera Maya came up on my hotels.com searches with a ranking of 9.2. Meaning Superb. Very few hotels do get 9 and above. The best ones do have 8.0 and up. Then I browsed through all the pictures on the web sites. I needed many restaurants outside, due to Covid-19 safety, also, I needed lots of space for walking and moving around, a large hotel, and finally, I needed a hotel with on-site Covid-19 testing, high quality testing with full PCR test, on site, because it is required for US entry.
I booked six nights at the Sensira Resort & Spa Riviera Maya initially, as I did not know if the place was as expected. Some times it looks better in pictures than for real. When I arrived into the hotel just after 10pm, following my 24 hours long travel from home in Norway to Mexico, I had no idea about how this place was. I was so tired. I was impressed by the large blue water fountain at the entrance, and the large lobby area, but I was sleeping just minutes after I was settled into my room.
The next days of my stay at the Sensira Resort & Spa Riviera Maya was simply amazing. It is a large modern hotel of some 350 rooms, right on the Caribbean sea of Mexico, but at the time I was there, probably due to Covid-19, also out of season, very few guests were there. Perfect for me, as I needed to stay with a distance from all other guests, I needed space. Later on in September, I am told they are fully booked, but if you are planning to travel in October and on, try them out, they are the best!
Breakfast at 7am. Lots of great fresh food. Papaya and all sorts of other fruits. Bread. Hot food. Everything you do expect from a four star hotel. I have extensive dietary requirements, but breakfast was no problem, I found what I needed in the buffet breakfast.
The Sensira is an all-inclusive non-smoking hotel. Perfect for me, I never paid or signed for any food or drinks, it was all in my pre-paid hotel stay bill. Also, I get sick from cigarette and cigar smoke, so in two weeks I had absolutely no worries about people smoking near me, due to the non-smoking policy.
Lunch and dinner were my worries ahead of arrival. The lunch buffet was massive, even with the few guests booked, but as I have very special dietary requirements, I ordered fresh fish made for me every lunch and dinner. The chefs and the waiters at lunch and dinner were just seamless, perfect. I am usually sick 3-4 out of seven days per week on travel, from food allergy and intolerance. Meat, onion, milk, butter, grain, garlic, spices, seasoning, broccoli, bread, eggs, almost any normal food will make me bad for 12-18 hours, but at Sensira, they took care of me in a perfect way, seamless, with all the chefs and waiters I was in touch with. Thank you so much to Hever, Federico, Alexander, Christian, and all the others who took care of me. Also, thanks to Nataniel, Carlos, Ana, and all the others who served me during early mornings, lunches, by the pool, at the coffee and sweets area, whick I liked a lot, and at dinner.
Once I was in Cancun, I asked about Cozumel, an island 1-2 hours south of Cancun, because I was thinking about one tourist trip during my stay, if it was safe for Covid-19. Then I was told there was a smaller and more beautiful island just nearby, called Isla Mujeres, half an hour ferry trip east of Cancun. I checked on the web, booked two nights there, following my first six Sansira days. The sand and the five star hotels on the north side of Isla Mujeres looked terrific on the web pages, so I said goodbye to the friendly staff at Sensira, packed my bag, and told them, may be I stay up there at Isla Mujeres for nine days, if they are great, otherwise I come back for one more week at the Sensira.
Isla Mujeres turned out to be a nightmare. See my report in the Travel to USA for The Rolling Stones Tour 2021 pages. So two days later I was back at the Sensira, enjoying every day, every minute, of seamless five star quality of this resort hotel. And due to the airport check-in rejection after my 15 days stay, I came back to the Sensira for one more final day and night.
The staff at Sensira asked me if I had been to Mexico before. Yes, I said. I have been to Mexico every time The Rolling Stones have been performing in Mexico. I love Mexico, people are friendly, the food is fresh and great. During these Covid-19 days I was so happy to see that all of the hotel staff were having face masks at all times. The few guests at the hotel were 50% Spanish spoken and 50% English spoken, so it was very different from the "hotel area" of Cancun and Isla Mujeres, where few had masks of the tourists.
As a Stones fans, I got the sad news about the passing of Charlie Watts during my stay at the Sensira. For the rest of my life I will remember the very moment my close friend from London England calling me in my room at the Sensira, as I was briefly up there after lunch at 1pm locally on Tuesday August 24. The hotel staff had no way of understanding my grief and sadness, but they made my many sad moments less painful through their excellent and friendly service.
One special moment will also be in my memory forever. As I had such special requirements for food, one day the chef brough out all of his staff in front of my table, as I got my dinner meal at around 7pm one evening. They all lined up in front of me, 10-12 chefs and staff, thanking me for challenging them and their proffesional skills. I told them I was the one who should be thankful, having no pain or trouble throughout my entire stay. Then on the last day, for dinner, five of them came out for a picture, this time I wanted to take a picture, as seen below. Thank you chef Christian, number two from the right, and Hever, number one from the right, also the waiter Hever on the other picture serving me red wine and water. Seamless service. That means no matter who is serving you, they all know you, they all know what you need, you don't have to tell them again and again and again and again. Thank you Sensira!