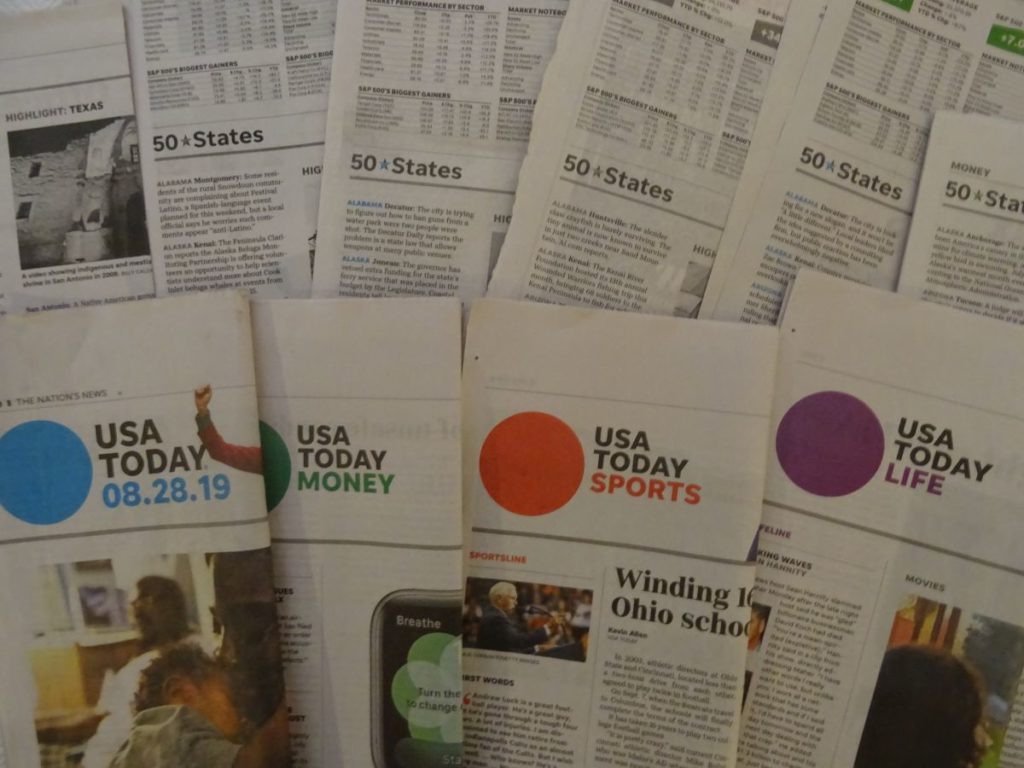 News and what is happening day to day locally is an important part of life for me. Wherever I go, I do always read the local news. Ideally I want the news as told in a printed newspaper, which I can read during breakfast, lunch or dinner. Most hotels do offer a free newspaper, and for most of my stays, that happens to be "USA Today".
The most amusing part of USA Today – the "50 States" pages. Every day, in one entire page, they list, in short, something important, or just special, from each and every of the fifty states in USA. I collectem them all, and made my own "Top 10" list of "50 States" quotes…
SOUTH DAKOTA Sturgis: A woman who recently gave birth to triplets says she didn't find out about her pregnancy until she went to the hospital with what she though were kidney stones. KOTA-TV reports.
ARIZONA Phoenix: The National Weather Service tweeted that Phoenix broke its heat record for Aug 20 on Tuesday afternoon, reaching a high of 113 degrees just after 2 p.m.
RHODE ISLAND Westerley: The Rhode Island fire marshal is offering a $5,000 reward for information leading to the arrest and conviction of whoever is responsible for blowing up two portable toilets last weekend.
WYOMING Cheyenne: A legislative committee has rejected a proposal that would let people be prosecuted for trespassing even if they didn't know they were on private land.
MONTANA Missoula: A man charged with assaulting a boy who didn't remove his hat during the national anthem believed he was doing what President Donald Trump wanted, his attorney says. Lance Jasper told the Missoulian he'll seek a mental health evaluation for Court Brockway, a U.S. Army veteran who "didn't understand it was a crime."
CALIFORNIA Eureka: A man who accidentally tossed $23,000 into the recycle bin reunited with his life savings Saturday after a worker at the recycle facility spotted the shoebox.
NORTH DAKOTA Bismarck: North Dakota are now allowed to shop on Sunday mornings for the first time since statehood.
OREGON Portland: The Harbor of Hope River District Navigation Center homeless center opened Monday in a public-private partnership, the Oregonian/OregonLive reports.
KENTUCKY Lexington: In response to a new state law requiring public schools to display the motto "In God We Trust", Fayette County Public Schools is providing framed $1 bills.
LOUISIANA New Orleans: The Superdome will undergo a $450 million facelift under a financial plan approved Thursday and aimed at keeping the Saints here for decades.