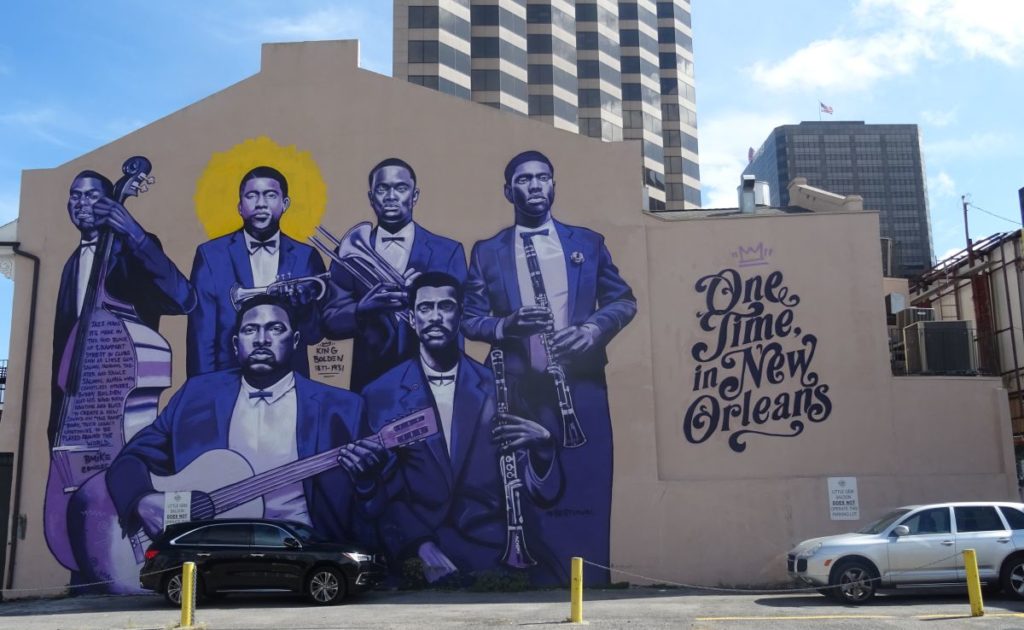 New Orleans has been the home to a Rolling Stones concert five times over the years, every time at the Superdome. The last time The Rolling Stones performed a show in New Orleans was in 1994, i.e. 25 years ago. Hurricanes have been preventing previous visits, and the postponed tour made the Jazz Fest appearance impossible. Then Hurricane Barry turned up, and again there were trouble, but The Rolling Stones said "We are in this together", the show got moved forward by one day, and then New Orleans got Satisfaction on Monday July 15!
I arrived into New Orleans from Boston on Monday July 8. There was a one week gap in the tour schedule, before the show, scheduled for Sunday July 14. Knowing New Orleans is hot, humid and party party party, I had been working for weeks on possible stopover places, like Atlanta, St Louis, Memphis, Nashville, but flights, hotel prices and transportation made everything complicated, so on Monday July 8 I was on a direct Spirit Airlines flight heading for New Orleans, arriving in the later afternoon. Then a cheap and easy E2 bus from the airport to downtown New Orleans, price $2, and a three minutes walk to my hotel for the first few days, Holiday Inn New Orleans Downtown Superdome.
Tuesday July 9 was a great day. I walked the French Quarter, all of the center of New Orleans, it is easy to walk, and daytime it is not as crazy as late evenings. I am not a big party person, so anything after 10pm is late for me, but it was great to see all the nice old buildings, the Jazz references, and of course to have landed the day before into the Louis Armstrong New Orleans International Airport. I knew I was in a place dedicated to jazz and brass music.
Wednesday morning July 10 I woke up to a big flooding. I had breakfast at the basement level restaurant of my hotel around 7am, but shortly after it closed, due to flooding. In the early hours that morning New Orleans received one foot or so of rain. The streets were flooded, cars were stuck, transportation did not work, restaurants closed, shops at ground level, like Wallgreens, closed, and people in the city could not get to work. From my high floors hotel room I could see "dead" cars stuck in the middle of streets. No room service, and the hotel moved their restaurant up to the 8th level with a basic ballroom buffet service for breakfast, lunch and dinner for the rest of the week.
Thursday was fine, sunshine, shops and hotels were pumping out water, but now there were bigger worries, there were warnings about a major bad weather incoming on Saturday, called Hurrican Barry. My hotel handed me a paper saying they were not a safe place, due to open balconies, and I was free to check out at any time. I had booked the Hyatt Regency near the Superdome for Saturday and Sunday, so I decided to move into the Hyatt one day early, on Friday, so that I did not have to change hotel in the middle of the storm.
Moving into the Hyatt Regency on Friday July 12, I read my e-mail in the morning. The Rolling Stones had moved their show forward from Sunday to Monday. I extended my stay at the Hyatt for one more day, meaning I would stay at the Hyatt for four days, and ride off the storm whenever it was coming.
Luckily there was a post office next to the Hyatt Regency. I am mailing postcards to my grandchildren from every city, and I needed new nice looking postage stamps. Now I am all set with stamps for the rest of the tour.
The tropical storm moved some 150 miles to the west of New Orleans, and it did not drop as much rain as expected. I was stranded in my hotel for two days from Friday afternoon until Sunday afternoon, but late Sunday I did some walking in the city, it was ok.
Show day Monday July 15, the hotel and the city is crowded, even if many could not come, because the airport was closed on Saturday, and others had to go home Sunday as originally planned. Anyway, the Rolling Stones delivered a great show on Monday, first show in New Orleans for 25 years. Mick was in super shape, highly energic, and the rest of the band rock solid. For show reports see the links below.
The Rolling Stones – Mercedes-Benz Superdome – New Orleans, LA, USA – Monday July 15, 2019