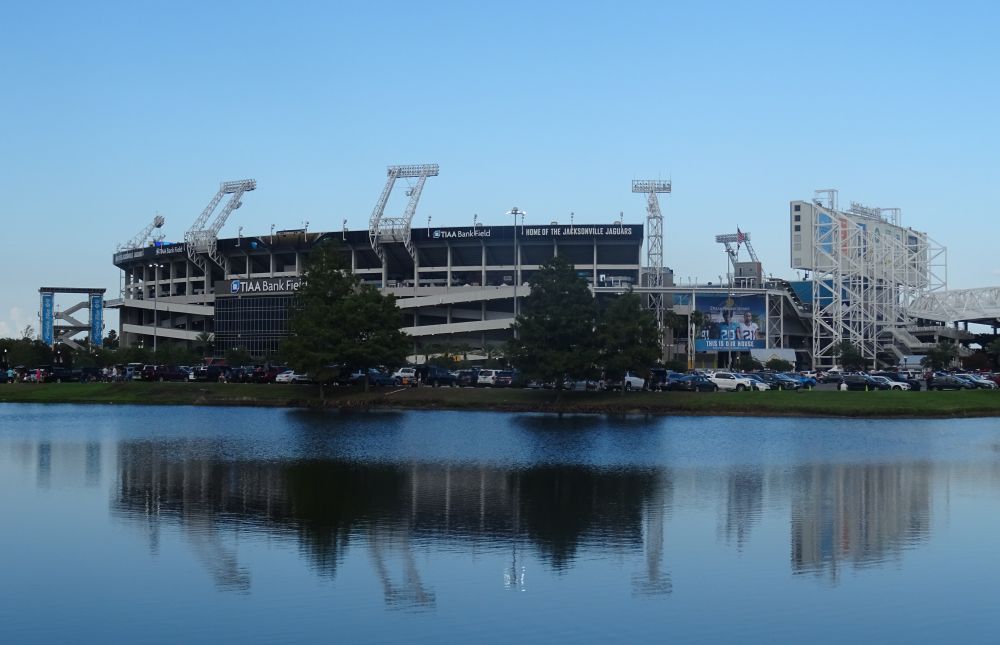 As we walked from the Jacksonville downtown area on our way to the Rolling Stones show at the TIAA Bank Field Friday evening July 19, 2019, we were passing by the Jacksonville Veterans Memorial Arena. I wonder how many of the fans knew this was the location of the now demolished Jacksonville Coliseum, where The Rolling Stones first time played live in Jacksonville May 8, 1965 – fiftyfour years ago – almost three generations in time…
Jacksonville – in the north of Florida USA – is a city not really spoiled by The Rolling Stones performing live there often. Before their show this year, the previous show was 30 years ago, in 1989, and before that, it was back in 1975. With nearby cities like Tampa, Orlando and Gainesville, within 1-2 hours driving, The Rolling Stones have been performing nearby several times. Still, having The Rolling Stones in the city is always special.
Jacksonville downtown is not really a tourist area, as there are mostly modern tall buildings, banks and offices, but there are beaches all by the coast, and there are St Augustine, to the south, and Amelia Island to the north. I was here for four days, staying at the Hyatt Regency, 25 minutes walk to the TIAA Bank Field. After an hour or so I finally found my favorite place to eat and drink during these four days. While a meal and a drink or two cost me $60 at the hotel, my favorite place Super Food and Brew on 11 E Forsyth Street charged less than $20, and the quality was just super. If you are in Jacksonville, then it is highly recommended.
I went to the Jacksonville downtown Visitor Center to find out if there was an old town nearby, or if it was possible to get to Amelia Island, St Augustine, or the beaches, by public transportation. Then I got some great information about the area. Also, as I did not get time to visit any plantations in New Orleans, I asked about plantations in Jacksonville. I was recommended to visit the Kingsley Plantation, but I would need a car.
Beaches were nearby, I was told, so I got a one day bus card at $4 and hopped on the 10 bus heading for the beach. One hour later and another half hour walk, I was by the beach, but not much to do there, except I have seen it. I was hoping to have a beer on a beach terrace, like you can do at South Beach in Miami, but to find that I would have been walking an hour more. I headed back to the city, same procedure, but I had seen the beach!
I spent the next two days walking the downtown, planning the rest of the travels for the tour, celebrating my one month on the tour date on the 17th of July, since I arrived to Chicago on June 17, and having great food and beers at the Super Food place. At the same time, I tried to figure out how to do a road trip without having to hire a car or running a lot of taxi bookings.
Uber was my solution. For years I have avoided Uber, because I think they underpay the drivers, and various other reasons. By checking the Uber cost of my travel plans, I could see it would be possible within my limited budget for doing non-Stones extra activities. So I was in my first Uber drive on show day in the morning, and within the next twentyfour hours, I would do a total of five Uber trips, they were all great pleasure and with friendly great drivers.
Kingsley Plantation was first on my list. It was a 45 minutes drive direction Amelia Island. Zephaniah Kingsley, his African wife Anna, and their three children moved to Fort George Island in 1814 and established the Kingsley Plantation. With an enslaved workforce of about sixty, the plantation produced Sea Island cotton, prized for its very long fibers. We could see the plantation house – the oldest standing plantation house in Florida – and the remains of the 32 slave houses, places in an arc, 3-4 minutes walk from the plantation house and the barn.
Then on to Amelia Island, and the Ritz-Carlton Resort Hotel, I just wanted to see it, and the beach next to it, but it was a brief visit, as it was show day, and I was sort of in a hurry. So I was in the third trip today, on my way to the Historic District – the Old Town.
The Historic District of Fernandina Beach – on Amelia Island – is unique and interesting, due to the many old Victorian style houses from the 1800's. The driver took me to the Welcome Center, which happens to be in the old Train Depot, and they gave me a great little guide with advices and pictures of 42 old houses to visit in the Old Town area, with a map. I did most of the walk, great old and beautiful houses, so different from walking in downtown Jacksonville, still every house and every building have it's purpose. If you ever visit Jacksonville, be sure you get to see the The Historic District of Fernandina Beach.
Friday afternoon 4pm, and I was on my way "back home". I was running two hours late, it is show day, so I ask the driver to drop me off at my favorite place Super Food and Brew. I get my meal and my beer, and plenty of water. Then I ask for another beer, and I get it for free, because I "come there so often"! I am so happy, I give them a tip which is more than the beer cost, and soon after I am on my way to the hotel, and then to the stadium. The Rolling Stones are next, the reason why I am here, but still, after four days in Jacksonville I just love the city and the area around here.
For show reports see the links below:
The Rolling Stones – TIAA Bank Field – Jacksonville FL USA – Friday July 19, 2019