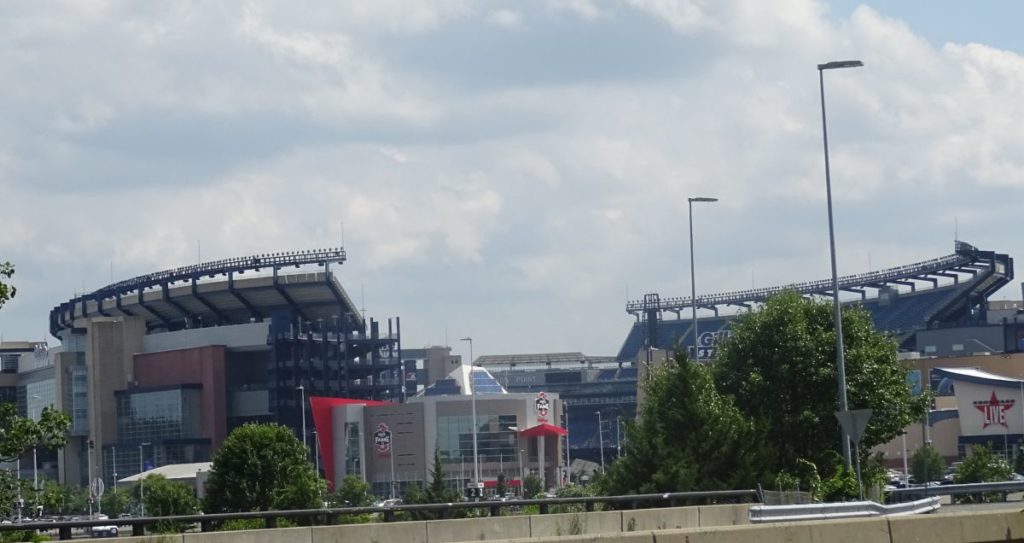 Foxboro travel day! It is Saturday July 6. After a few hours of sightseing in Boston, with my carry-on, very efficient, I was at the Back Bay station. Following detailed travel research, I was on the Franklin line, on my way to Norfolk station. There I should find a bus which would take me near Gillette Stadium, and then it should be a half an hour walt to my new hotel.
It was a great 45 minutes ride by the commuter train, including a stop by the historic buildings at the Walpole station dating from 1886, still there. Then I was off at the next station Norfolk.
No bus anywhere. There was a sign saying "No week-end services". I walked across the parking lot, was thinking about where to call a taxi (I don't go by Uber), then I stopped by a street corner and made a picture of a nice little white painted church. Then a little white van with 10-15 seats stopped, and the driver asked: "Do you need any help?" Sure, I said. I am looking for the bus to Gillette Stadium. "Hop On!" he said. This was actually my bus, I don't know where he was parked, but he found me, by accident, I was lucky, in fact I travel with luck, even if it may be bad luck to say so.
Fifteen minutes later, after having been around to various places, he dropped me off at Patriots Place, which is right next to Gillette stadium. I had a hand written paper with directions from here to my hotel, it should be a mile of walking, and the helpful driver confirmed my plans were right.
I crossed the main highway, and walked on, in the direction according to my notes. Patriots Place is a large area of all sorts of shops, restaurants, in fact it is a small city in itself. There would be no problem to get beers and food there on show day. In fact, I have never seen so many shops and bars and restaurants around a stadium being so remotely placed in general, as we are no far away from the city of Boston.
Half an hour after I left my bus, there was a sign saying I was now leaving Foxborough, entering Walpole, and I was one mile away from Gillette Stadium according to another sign. I had been walking by a number of restaurants and liquor stores, so I will be neither thursty nor hungry during the next 24 hours, before I move on to the show tomorrow afternoon.
Having checked in to my hotel Home2 Suites by Hilton Walpole Foxboro, I asked if there were any restaurants nearby, as there were no such in the hotel, more of an apartment style place. I know there were a few, but to my surprise he said the nearest were a mile away. I did not trust that info, so I went online and checked the area. Being extremely picky when it comes to eating places, I reject nine out of ten, and may only eat may be 5% of what is on the menu, I read every menu of every nearby place. There was one, looking great, just five minutes waking away!
They have a Red Wing logo outside, but I don't think it is connected any way to Detroit Red Wings… So after a quick rest, I was on the walk, but a short one this time. As I approached the place, after passing by a few roadkills, pretty oudated, and the sidewalk had just ended, there it was, a white painted house which looked more like a mix of a private home and a private chuch without a tower! The restaurant is from the 1930's, and I was the only customer who arrived to the place walking, as it seems. This was my 2nd time of luck today, as this place turned out to be the best place for dining so far on the tour, which says a lot. I am picky, very picky. I had a great lobster roll, excellent local Narragansett lager on draft at $3,10, and excellent service all along. In Boston a beer cost typically $8 or so.
RED WING DINER
2235 Boston Providence Hwy
Walpole, MA, 02018
I wish I cound stay in this place forever, the Red Wing Diner is simply a dream place. I should not tell, because it is just like anything which is too great to be true, don't tell, it may be ruined, but I trust there are not so many here who will run down the place and destroy the great home style atmosphere. I will spend all my meals there during show day, I will be in paradise, but sadly I have a flight to New Orleans on Monday, so my time in paradise will be short, at least this part of paradise. But there will be another great paradise coming up inside the stadium Sunday evening, so no worries!
A final comment about "Is it safe?", a question many ask about the areas around the stadiums, both in Washington and here in Foxborough. Sure it is safe. Unless you try to cross the big road in heavy traffic, (then the cars will hit you), you are safe. There is a clearly marked GREEN line with a pedestrian sign on the sidewalk, leading anyone walking all the way from the stadium. There are a lot of parking lots this way, as well as other ways. There will be thousands of fans walking to their cars, also a few to their hotel rooms, after the show.
Then show day, walking 25 minutes or so from my hotel to the venue, I just love to walk to and back from shows, rather than taking special trains, car driving in queue, or having to worry about being there in time. As long as you can see the venue from where you stay, you are fine. The show, of course, was great, it was a warm night, but the temperature was lower than before, I brought my jacket, but I did not really need it. Then after the show, a lot of fans walking my way, most to the parking lots, but also, some staying at my hotel.
Next day, of this long travel via Boston to Foxboro, my last worry was how to get to the train. I could not wait for a bus that may be never came over at Foxboro, so I called a taxi. Twenty minutes later I was on Walpole station, and I was enjoying the great view of this very old building. I saw the picture of it on the Back Bay station, and we passed by it on our way from Boston by the Franklin line, but now I could return to Boston from this station. Then, after Boston, a flight to New Orleans.
Reports and pictures from the show on IORR:
The Rolling Stones – Gillette Stadium – Foxboro MA USA (near Boston) – Sunday July 7, 2019