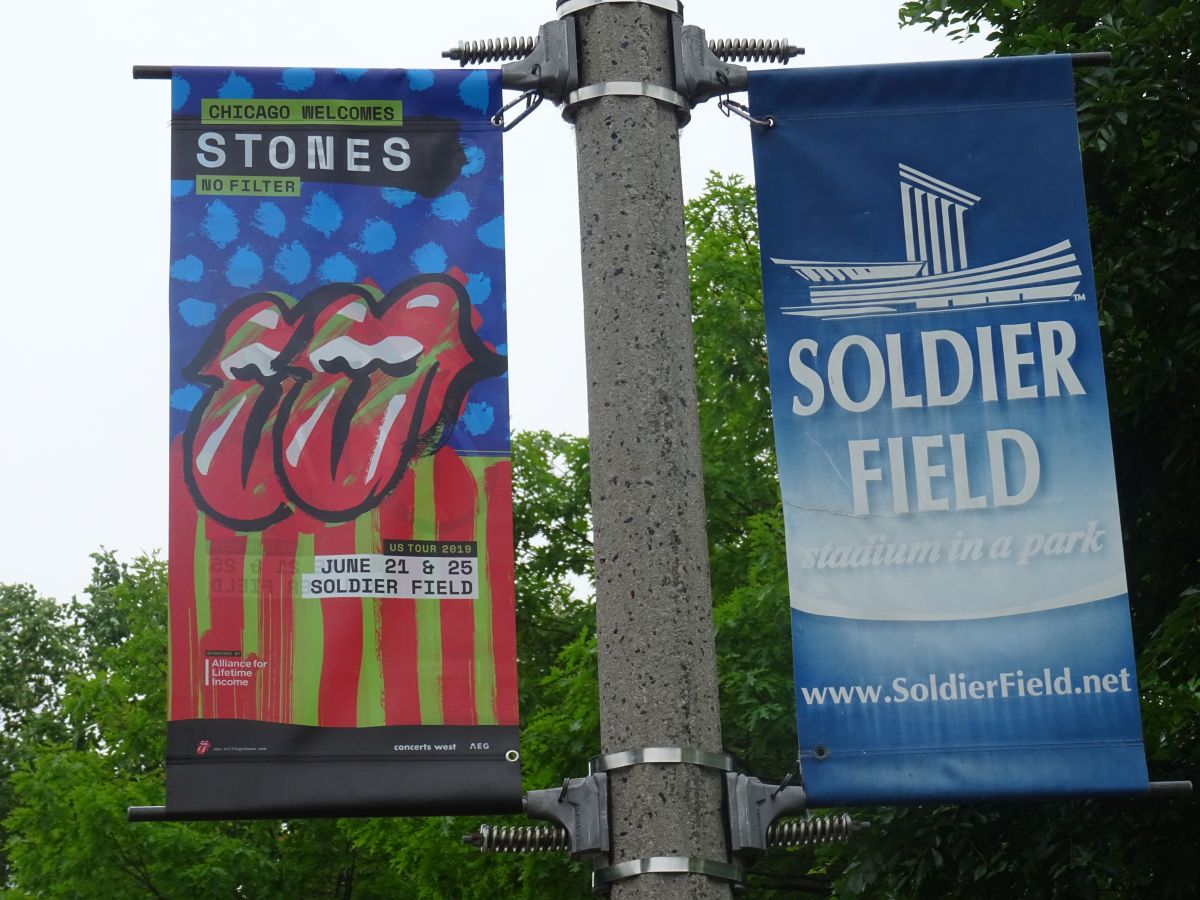 The Rolling Stones prepared for the rescheduled No Filter US Tour 2019 with rehearsals in London UK during late May and early June. They had just started the rehearsals in Miami FL USA late March, but due to reasons we all know, the tour got rescheduled, and new rehearsals dates and locations had to be arranged for. WARNING: Please DO NOT click "Continue reading" and read on if you want the show on Friday to be a big surprise, as there may be song and show details in the text below…

Rehearsals are low profile media wise normally. This time there were no posting on social media, no mention about where they were or what they were doing. I had all my travel plans on hold, for sure going to Chicago at one point, but not until I knew what was going on during the weeks ahead of tour start Friday June 21 in Chicago. I just do not like being too far away from the Stones at any times.
I did not want to make any troubles for the Stones and their rehearsals, so I kept a low profile when I was there, in London, just trying to blend in with the life and the streets. Still, it is hard to be "invisible" when you stay in the same area day after day, week after week. I just wanted to hear a bit, see a bit, and know if there was something important I should know about.
The Stones worked long hours, and they sounded great, from what I could tell from the music through the studio walls, in-between noise from traffic, seagulls, rain, wind, helicopters and other disturbances in the area. I spent long days there every day, some days there were just me, other days two or three others came by. I was afraid we would become a large crowd, then they would simply empty the street and ask us to leave. Luckily everyone who arrived respected their need for work and privacy.
We got to hear a lot of songs. One night they closed up with "Sway". It was so sweet and nice to hear, I can travel far to hear "Sway" at rehearsals, and even if they do rehearse it every time, every year, it is not very likely they will play it on this tour. Well, may be, hopefully. They did also rehearse other favorites like "Memory Motel", "Fool To Cry", "Love Is Strong", "Can't You Hear Me Knocking", "Rocks Off", "Aint't Too Proud To Beg", and many many others, probably 50-60 different songs, but most of them are for their own pleasure and joy, not to be played live. Still, I keep my hopes up, especially for "Memory Motel" and "Sway". Just the chance to hear one of these rarer songs makes me travel around too see as many shows as I can, that moment when they give us these special songs, on that one night, in Boston, Miami, Seattle, Denver or wherever it might happen.
On the final night of the London rehearsals we were lucky to be blessed by an invitation into the studio. We were seven, they let us in for the last four songs, it was nearly half an hour of unforgettable magic. Thank you to The Rolling Stones for inviting us in, it was a memory for life, every day I go to bed, every time I wake up, these days, I have a smile on my face and I think of those moments.
One last week-end at home in Norway, then early wake-up at 4am for the long travel. I was on the SAS flight to Chicago Monday morning, arriving into Chicago at noon. Then an hour or so through immigration. The immigration officer asked what I was doing in Chicago. I said: "The Rolling Stones". Then he said: "They arrived yesterday, but nobody knows where they are". I took the blue line CTA into town, and soon after I was well established in what would be my home for the next nine days in Chicago.
Tuesday June 18 early bird waking up with a jetlag at 5am, I try to sort out the area. I live 20 minutes walk to Soldier Field. I know they will do rehearsals at the venue, so I am out there early afternoon, walking from my hotel next to Grant Park. Half way on the 20 minutes walk I hear they start up the rehearsals. My walk is changing from a twenty minutes normal walk into more like fifteen minutes fast forward, and I find the best spot for listening soon after. Half an hour we are close to ten fans there, listening, enjoying the bouncing still great sound of The Rolling Stones. They do two hours of rehearsals, many great songs I got to hear in London, but now they were much stronger sound wise, and I could start figuring out how the set list would be.
Next day Wednesday June 19 I was earlier out to Soldier Field. They started around the same time as yesterday. Clear powerful sound. Today we get soemthing which obviously is mainly the set list for the opening show in Chicago on Friday June 21. It is a brilliant set, I will not make any song list here, as I know many want to be in for the surprise, but the show on Friday will be a lot more than just the third leg of the "No Filter" tour, that is for sure.
How lucky we are! I started following The Rolling Stones back in 1971, and 48 years later, they are still live and strong. The tour delay of two months, and the hazzle of changing plans, is soon forgotten. They will be on stage in Chicago on Friday and I am so ready, can't be any more ready!
For reports about the rehearsals please see the IORR pages:
The Rolling Stones No Filter US Tour Rehearsals 2019