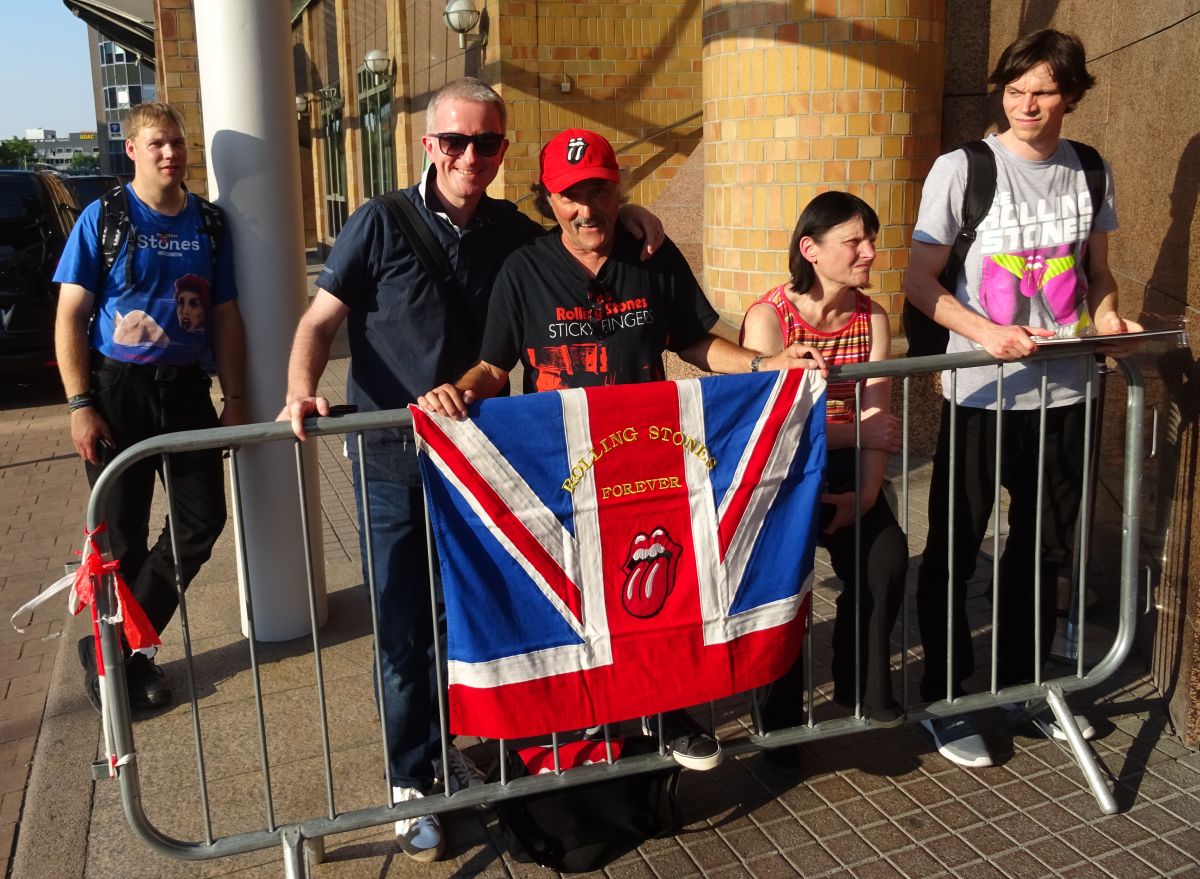 Stuttgart is centrally located in the south west of Germany, within 2-3 hours by car or train from Munich, Nuremburg, Frankfurt, Mannheim, Heidelberg, Ulm and other nearby German cities. Also Zurich Switzerland is close, and the area of France around Strasbourg. In short, with the two German shows in Berlin and Stuttgart on this tour, it was possible for fans both in the north and south parts of Germany, as well as the border area countries, to see The Rolling Stones live this summer, with a little bit of travel.

I arrived back into Stonesland following a two days rest in Strasbourg France, such a lovely city. The first impression of Stuttgart was so different from Strasbourg. The main station of Stuttgart is being completely rebuilt and moved, as it seems. I was booked at the hotel Meridien, which should be a ten minutes walk from the station, also close by i.e. 40 minutes walk to the stadium. As I walked out of the Stuttgart station, all I saw was constructions, cranes, blocked streets and working areas, with large blue water pipes running above and across the streets.
The tourist office nearby helped me with a map of the city, and with a twenty minutes walk, I was at my hotel. Then I headed out to see the new city. I have been in Stuttgart before, on Stones travels, but a lot of water have been running into the sea meanwhile… The city is of course a big city, so you don't find historic buildings on every corner, like in Stasbourg – it is an unfair comparison. It took me a couple of hours of work, then I got to know the city of Stuttgart, again, like in the past, and all the unique areas where people and the city meet.
As I arrived back to my hotel late afternoon, The Rolling Stones had just arrived, so they stayed at the same hotel as I did. Then it was easy to meet many friends, as fans tend to meet up in or near the Stones hotels.
On show day I wanted to go to Ulm, as I had learned that one of the largest chuches in Europe, even larger than the one I just saw in Strasbourg, were in Ulm and Cologne. The Kölnerdome I have seen several times, it is impressing, but now I realized Ulm was one hour away by train. Still, on show day I decided not to break my own rules, which says "Stay close to the venue", always be able to get there on foot or by any taxi in case of traffic emergency. So the nearest I got to Ulm was when Mick asked if anyone were from Ulm during the show…
I had Spätzle with cheese on show day, local beer, and I enjoyed the very hot summer day. Late afternoon I walked to the U-bahn, was at the stadium area within 10 minutes, and found my way into my place in the stadium easily. Even if it was very hot, The Rolling Stones made a great show. For reports and pictures please see the links below.
Show reports and pictures:
The Rolling Stones – Mercedes-Benz Arena – Stuttgart Germany – Saturday June 30, 2018