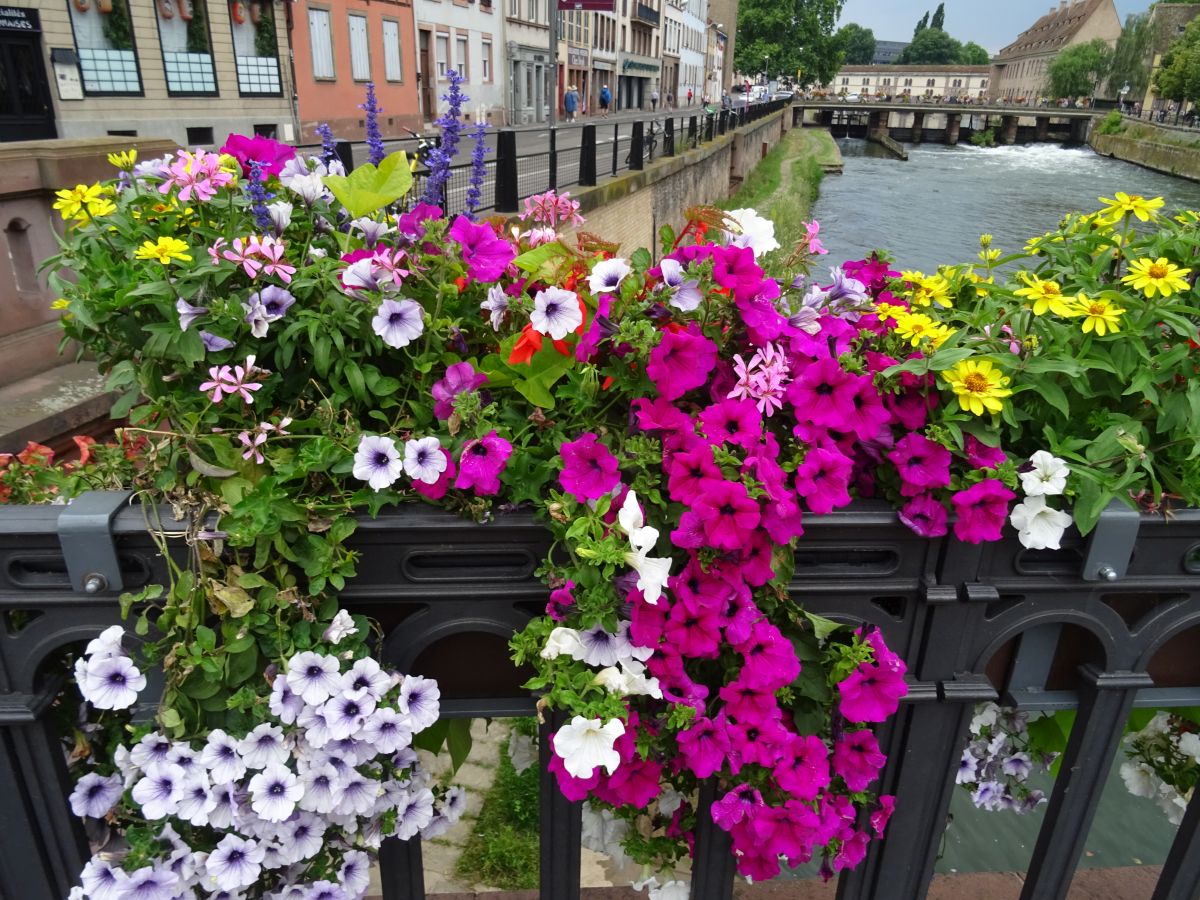 Strasbourg is not on the Stones tour list. Still, it is on my way from the show in Marseille France, to the next show in Stuttgart Germany. With just two weeks left of the tour, I knew that weeks of queuing, standing, working and travel needed an extra "plan B" for the last two weeks. I had flights booked home from Marseille and back to Stuttgart, but it would have taken me two days. Now I changed my plans so that I did not have to stress with airport security and hours of extra travel logistics.

The day after the Marseille show, Wednesday June 27 at 1pm just after noon, I took the TGV train 3.5 hours back to Paris Gare de Lyon, then moved on to Gare d'Est by the Metro, and took another TGV train 2 hours to Strasbourg. I was at the Strasbourg station just after 7pm, with a total travel time of six hours. If I had been going home to Norway I would still have be on travel for a few hours more. Now I took the five minutes walk to the nearby Ibis Hotel Strasbourg Centre Petite France.
The river Ill is flowing through the city of Strasbourg, wrapping in the old city parts in what they call Island Ill, including the Petite France quarter. The historic centre of Strasbourg is on the UNESCO world hetitage list. When you get there, and see all the beauty, all the old preserved buildings, you understand why.
There may be a few beautiful and unique buildings in an average modern city, if you do not count historic cities like Florence, Rome, Prague, where the architectual beauty is spread over a larger area. Strasbourg is a much smaller city, yet there so many unique hundreds of years old historic buildings. At first you get blinded, but as you get used to all the architectual beauty, you just enjoy living and walking in a place that looked probably the same hundreds of years ago.
For anyone who have not visited Strasbourg yet, I would highly recommend it. Strasbourg is a short 1h 45 min TGV high speed train ride from Paris Gare d'Est, or 3.5 hours by train directly from Paris CDG airport, or two hours from Frankfurt. Make sure you spend a couple of nights there, so that you have time to walk the whole historic city centre, with plenty of time to have nice meals and drinks.
I spend two days and nights in Strasbourg, it was the perfect place for taking a rest on the tour. Then it was a quick one hour train ride from Strasbourg to Stuttgart, total travel time less than two hours. Like Keith Richards says: "It is good to be here, it's good to be anywhere".
Strasbourg by Wikipedia – a few words of facts:
Strasbourg is the capital and largest city of the Grand Est region of France and is the official seat of the European Parliament. Located close to the border with Germany in the historic region of Alsace, it is the capital of the Bas-Rhin département.
Strasbourg is one of the de facto capitals of the European Union (alongside Brussels and Luxembourg), as it is the seat of several European institutions, such as the Council of Europe (with its European Court of Human Rights, its European Directorate for the Quality of Medicines and its European Audiovisual Observatory) and the Eurocorps, as well as the European Parliament and the European Ombudsman of the European Union.
Strasbourg's historic city centre, the Grande Île (Grand Island), was classified a World Heritage site by UNESCO in 1988, the first time such an honour was placed on an entire city centre. Strasbourg is immersed in Franco-German culture and although violently disputed throughout history, has been a cultural bridge between France and Germany for centuries.