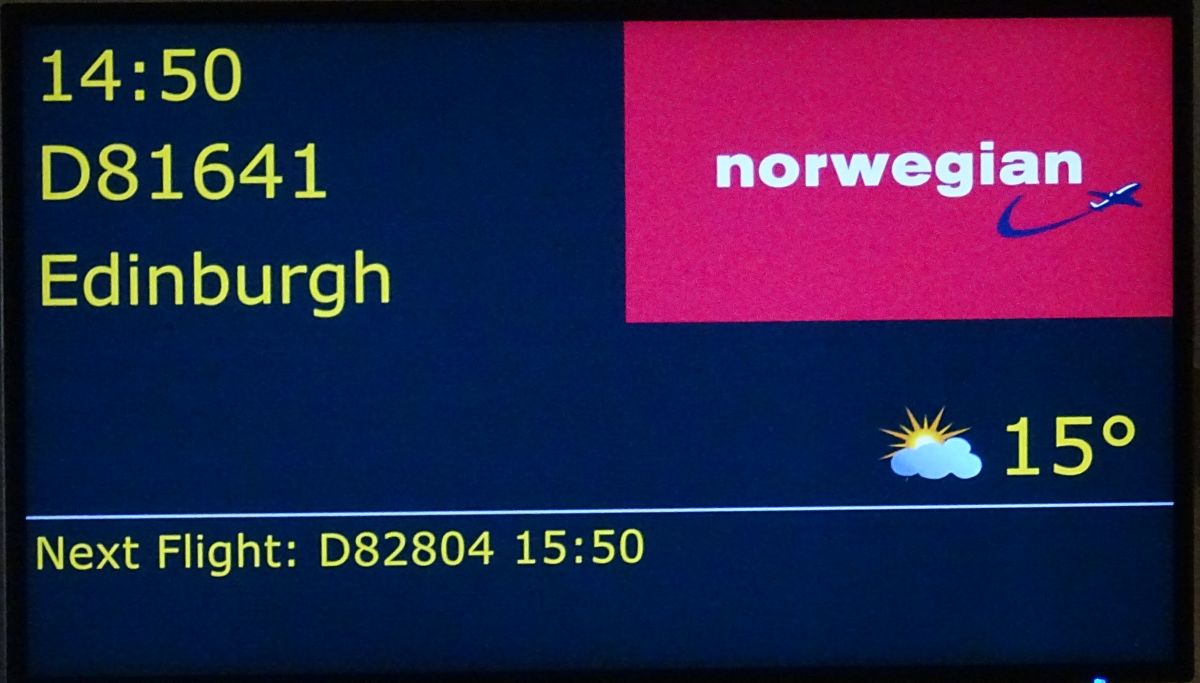 I was back to Edinburgh Scotland to see The Rolling Stones at Murrayfield stadium, a rugby stadium where I also saw the Stones nineteen years almost to the date, as they last played
Murrayfield on June 4, 1999.

I arrived on a direct flight with Norwegian the evening before the show. Normally I fly with Scandinavian Airlines SAS, as I have a lifetime gold card with Star Alliance due to many years of travel, which gives me fast track on airport security and louge access for food, drinks and comfort work, but Norwegian was cheaper, and the flight details better for me. The flight at 14:50 i.e. 2:50pm the day before the show had many fans with Stones T-shirts. With a direct flight and a show on Saturday, while most other shows on this tour are on Tuesday and Friday, this was a popular show for fans from Norway, as it seems. Also, Edinburgh is famous for the beauty, a real tourist city.
For some strange reason I had booked Holiday Inn Hotel Edinburgh – City West, on 107 Queensferry Rd. When booking a lot of hotels in a hurry, the main focus is always walking distance, price and quality of the hotel. Also, as I have stayed hundreds of times at Holiday Inn and the IHG chain equivalents Crowne Plaza, Intercontinental, Hi Express and so on, I have a Platinum card with IHG, so they do always give me late checkout, room upgrades and other extra services. So there I was, with a 30 minutes walk to the stadium, but far away from everything else really. No nearby pubs, just a petrol station and a nearby shopping centre. I wish I had booked in the city centre, for this beautiful city, but here I was, and two days I will survive in the middle of nowhere.
I took the 42 bus which took some 20 minutes into the city centre. Then I walked the 20 minutes or so from the centre to Heymarket, where I was looking for a place where fans could meet up. I ended up in the very nice pub Heymarket, and there I met a couple of workers from Leeds. They were not Stones fans, they were in Edinburgh to do indoor carpeting, so for a change it was great to talk about Leeds, football, travel and everything else in life which both matters and do not matters at all. The pub had an impressing tap line of 12 ales, which you hardly see these days. I tested out a couple of local ales, then headed home.
Next morning I went by the bus to the Stones hotel Balmoral, where there was a large crowd of some 200 fans outside … Well not just fans, I think half of the crowd outside was just normal locals who wanted to see Mick, Keith, Charlie and Ronnie. The waiting paid off, as the Stones did use the front door into their cars. Edinburgh was packed with Stones fans, I could see Stones T-shirts everywhere.
I walk over to the castle and the old town, Edinburgh is a beautiful city, and you see beautiful old buildings everywhere you go. Then back to prepare for the show, and a walk to the stadium. There was a combined walkway and biking path from my hotel to Roseburn, which is right next to the stadium. I just followed the path, and made sure I knew exactly where to enter and exit the path, as it would be different walking back after the show.
The area around the stadium was packed with fans of course. Roseburn Street was blocked for cars by the police. It was a sunny day, so many fans had their drinks in the street, and the pub on top of Roseburn Street was packed inside as well as outside.
Show time… Richard Ashcroft did a great set, like in Mancester. There was a little rain, just a sligh drizzle, nothing to get worried about, and I did not miss my rain poncho, which I left home on this travel.
Like a clockwork, The Rolling Stones start at 8:21pm. Even if the stage was wet, so they had to clean up rain, they were on schedule. We got some rain during the show too, but not much. Mick brought a blue hat for "You Can't Always Get What You Want" and "Paint It Black". It was cold just 12 degrees C or so, Mick even made some ironic comments about the Scotish summer weather. As we were pretty north in Britain, it was not dark as we walked out of the stadim at 10:30pm. Another powerful show!
Now a break of some five days, highly needed for both the band and the fans who travel a lot on this tour. I am looking forward to four days at home now, from late Sunday until Thursday afternoon, when I catch up with the tour for another flight into London and then on to Cardiff.
Show reports and pictures here:
The Rolling Stones – Murrayfield stadium – Edinburgh, UK – Saturday June 9, 2018