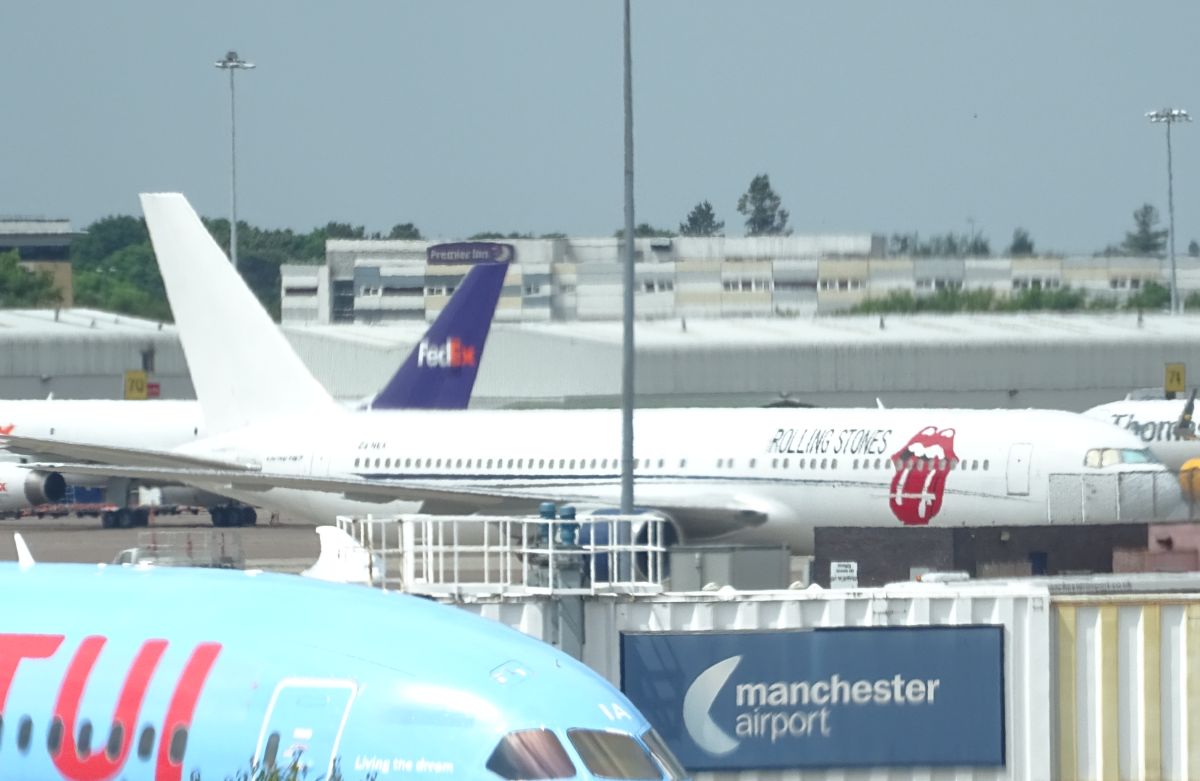 Manchester is a big city. I got to learn the size of the city the hard way. With plans for public transportation from the airport to my hotel, as usual, I bought a return ticket on the Station, boarded the train, and 20 minutes later I was in the centre of Manchester, at Oxford Road station. Then it should be a short walk to the connection train, tube or whatever it was for my final destination Salford Quays. I messed around, did not see any street maps or directions or any signs of my connecting station. After half an hour I gave up, got into a taxi, and twelve minutes later I was at my hotel Holiday Inn Express Manchester Salford Quays.

Salford Quays is a 20 minutes walk from Old Trafford, which I could see just across the canal. The venue for The Rolling Stones show tomorrow is in sight! Then I needed to check out the area for pubs and dining places, for a possible meeting point. The nearby pub "The Matchstick Man" was great, and I picked that one as the meeting point for fans. As the kitchen in the pub had closed, it was 10pm by now, I went to the next door restaurant "Frankie & Benny's". Finally I could have a decent meal in UK, I have been on a fish 'n' ships diet for weeks now in pubs, but here they had salmon!
Show day I took the tram into the city centre. By now I had figured out how the public transportation do work in Manchester. The tram is the thing, it takes you most places! First a trip to the Stones hotel, to meet friends, then as I headed out, I wanted to ecxplore the city a bit. The plan was to follow the tram line on my back back for a while, as it was on the street level, easy to follow. Then after a while I could just hop on to the tram and head back to Salford Quays.
My plan did not work out that well. First the tram went over a bridge and into a curve and over some canals and soon I was completely lost. I messed around in Manchester for two hours. Then I tried to board a train but they said my ticket was only valid for the metro, which is what they call the tram in Manchester I suppose. So I asked where the metro was and they pointed me into a direction. Half an hour later I found a tram track in the street, I followed the track, and there I was at a station. Easy! Shortly after I was at my "home" location, time for food, it was now 3pm and I was hungry like the wolf.
A quick trip to my hotel, concert preparation, then to the show. Old Trafford seemed to be a monster stadium, much bigger than the intimate stadiums we had last week in Southampton and Coventry. Some waiting time, then The Rolling Stones are on stage, almost to the minute these days, at 8:20pm give or take a minute. They give us another great show. Reports and pictures from the show may be found through the link below.
Next morning I headed home. From now on I will fly home and back to the tour for every show. It takes 8 hours travel each time, and I loose a day on each travel, but I need to be home for work, family, I think of "Wild Horses" every time I travel on tours. Two worlds are calling upon me; the tour, with The Rolling Stones and all the fans and friends, and my home with my home, family and work. I do know I can't have both, at the same time, not even if they play in my home town Oslo, but this tour is just a couple of months, I will manage.
Back home it is +30 degrees C hot, there has been a heatwave in the south of Norway for three weeks now, at least it is still there when I arrive home. At night it is down to +17 C which is ok, not too cold, not too warm. Home dear home, the lilac is gone by now, it has been white and lilac on my previous three return travels, everything is so green now, even if it has been so dry for weeks.
Reports and pictures from the show:
The Rolling Stones – Old Trafford – Manchester, UK – Tuesday June 5, 2018