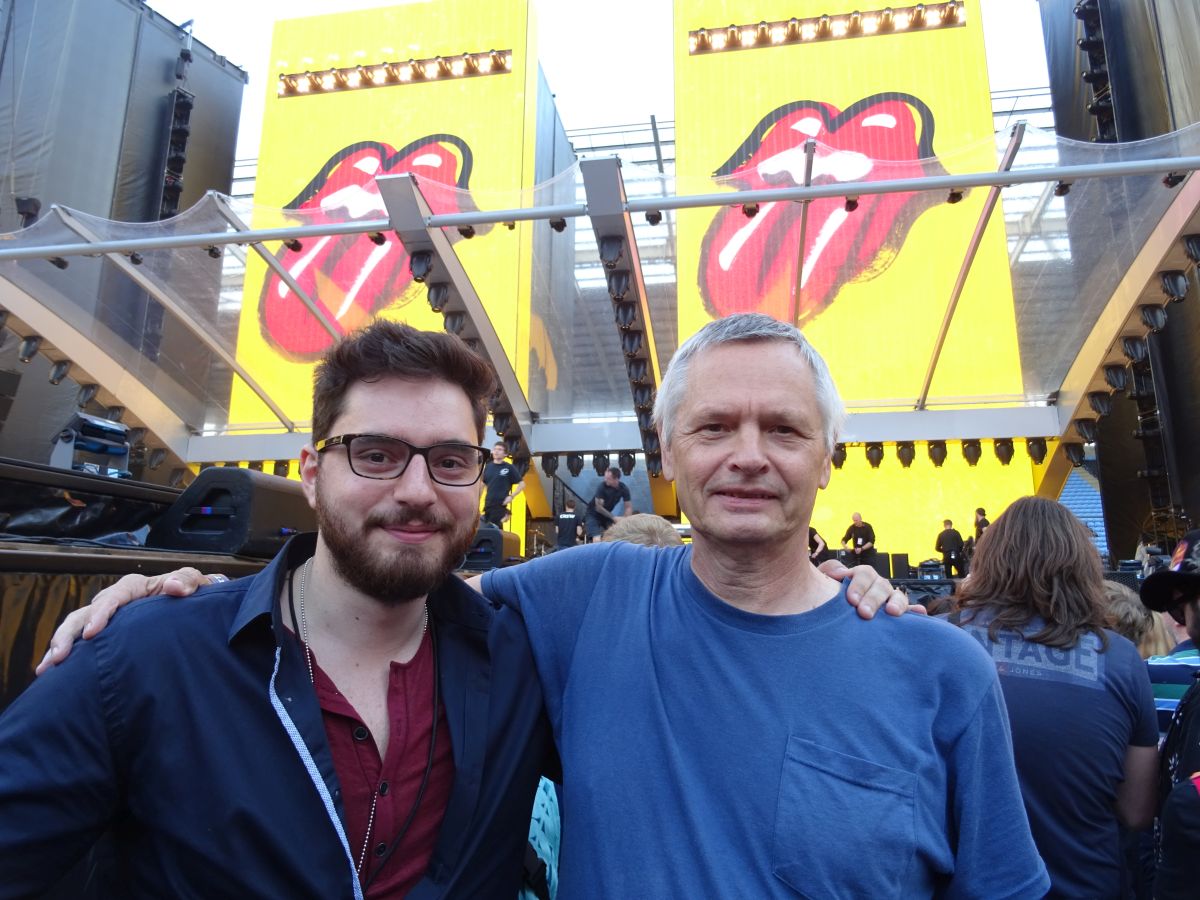 Coventry was an easy travel from Birmingham on show day Saturday June 2. I checked out of my Birmingham hotel by 10:50am, and was in my IBIS Coventry City Centre hotel room 50 minutes later. I just love local train rides and hotels near the stations, they make travel so much more easy and painless. If I had gone home between the Southampton and Coventry shows, I would have spend 8 hours on travel for the Coventry show.

First thing to do in Coventry is to find a nice pub/restaurant for meeting other fans on travel. As I head out into the city, I understand why there is so much car noise around. There is some sort of a car race in a blocked street right next to my hotel. I watch a few cars speeding by, but cars is not my thing, so I head for the city center. Five minutes walk, that is the standard as it seems. Either from my hotel to the train station, or to the city center. Finally I get payback for the hours I spend on the PC looking for the ideal location of the hotel here in Coventry, the days ahead of the announcement of the show.
I did know about the Rolling Stones show in Coventry for quite a while, but I promised not to publish details which would make difficulties, as it was a single source. Show dates of Manchester, Southampton, Coventry, and a possible show in Birmingham was rumours I had for a while, then they rearranged dates for Southampton and Coventry. After a while I published the date with the mention of Midlands. I do believe quite a few fans got to understand the date was held for the Ricoh Arena in Coventry. And here we are in Coventry!
I picked the Wetherspoon pub "The Earl of Mersia" as meeting place. It was right in the centre, easy to find, and as I had got to know the Wetherspoon chain of pubs in Southampton and Birmingham, I know they had great selections of cheap beers and food. I headed back to my hotel and updated the meeting place info. Then I did some work, and an hour or so later I went for the pre-show meal. By then The Earl of Mersia was jam packed, and I was sort of fed up with their standard printed menu, same food every place, so I moved on, and found the nesrby very nice pub "Golden Cross" right next to the Cathedral ruins. I stayed there for an hour, having great food, great drinks, and as I published the location, friends came by, from Norway as well as from England. The places started to get packed, but service was still great, and I managed to get a taste of both of their ales.
Show time! I was prepared for a long walk of an hour plus plus, at least 5-6 km, i.e. 4 miles, but friends told me there was a shuttle bus service at the train station. I went over there, paid 5 pounds, and got a "RETURN" ticket to be used after the show. Twenty minutes later I was by the Ricoh Arena. How convenient!
Meeting friends and new fans is always a great part of Stones travel, and when I found my position, I met one of the fans who I have seen at every show on this tour, also at the rehearsals. There might have been 38,000 fans in the stadium, but the fans who travel seems to meet up at the same places, often close to the stage, or early outside for best positions at the Golden Circle or the General Admission.
The show was great like all the shows on this tour, I have been planning to stop writing show reports now, because it is hard to write when everything is working so great, but many asked, so there is a report, also other reports, as well as pictures on the link below. The pictures I selected were around 30, normally I try to keep the number low, to 15 or 20 max, in order to make the show reports pages load faster, but this time there was so much to tell, through pictures, it was birhday party time both for Ronnie and Charlie, and everybody in the band semed to have such a great time, both musically and personally, in their performance on stage.
After the show I walked out of the stadium, among the thousands of fans, trying to figure out where the return bus transportation was parked. I asked all the service people in yellow jackets assisiting us on our way home, walking 3/4 circle around the stadium, and I must have asked at least 20-30 of them, they all pointed me in the same direction. It is an old trick, by experience, if you ask many and follow the direction most of they point at, you will normally get there. Much to my surprise, they all knew, and nobody pointed me into wrong places. I found my bus, and within twenty minutes I was back at the train station. Many thanks to the Ricoh Arena staff and management for the most efficient show organizing and logistics I have experienced in years. I have been to many shows, but Coventry, Ricoh Arena, you are the best!
I could not sleep after the show, so I headed back to the city center and "The Earl of Mersia" pub. I got my beer, and met friends there. Then some time after midnight I went back to my hotel, checked out pictures, show comments and went to bed, so happy about the great Coventry experience.
Next day I had to be at Heathrow by 3:35pm for a flight back home. Before that I wanted to see the location of the theatre The Rolling Stones played at in 1971 – Coventry Theatre in Hales Street. It was a ten minutes walk, and I was at the Coventry Transport Museum, which now is located where the theatre used to be.
Then a train ride to Euston London, Picadilly line to Heathrow, a flight to Oslo, train and some walking, heading home some hours.
Show reports and pictures from the show this year:
The Rolling Stones – Ricoh Arena – Coventry, UK – Saturday June 2, 2018
Then some interesting reports from The Rolling Stones visit to Coventry in 1971 by Coventry Telegraph:
When The Rolling Stones rocked Coventry (1971)
It's 47 years since the Rolling Stones last played Coventry (1971)