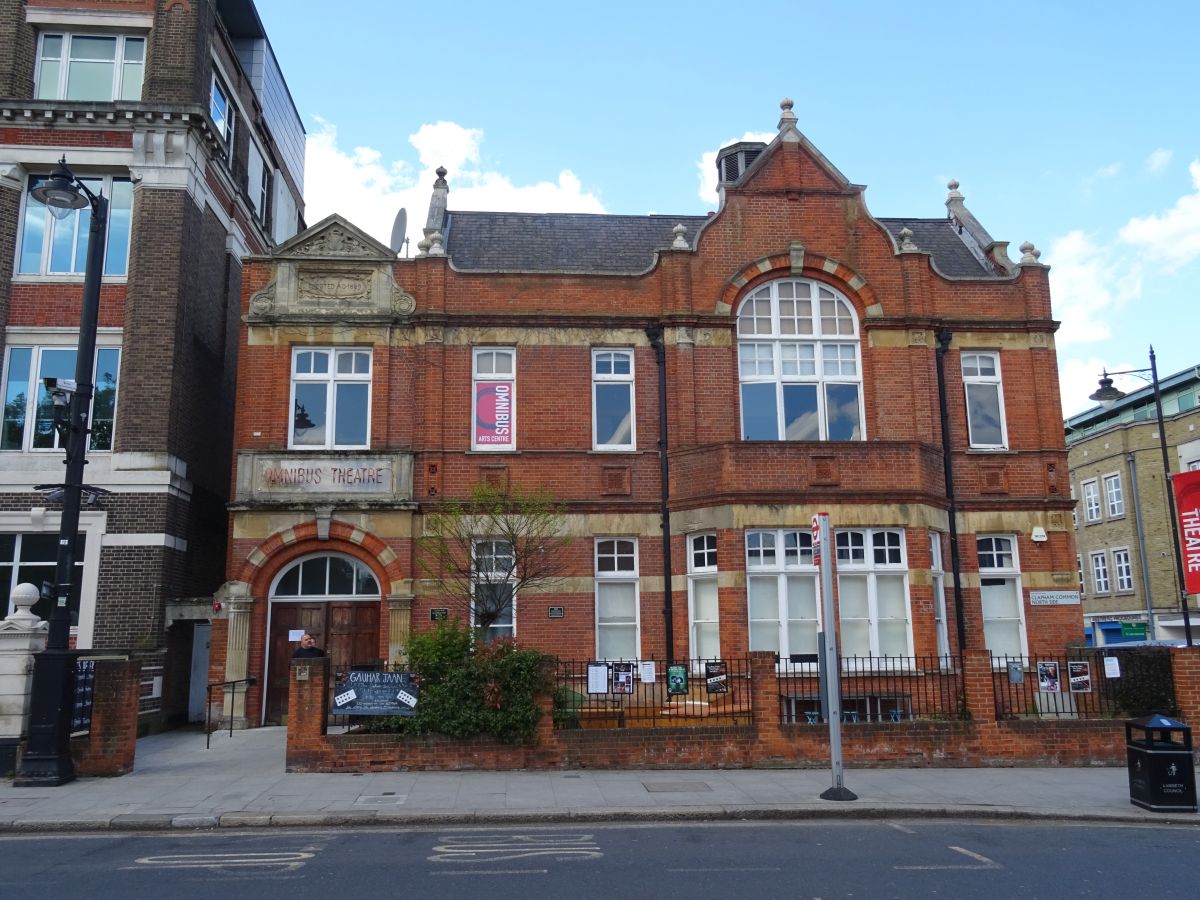 I am flying into London Sunday evening April 29. It is now 18 days until the No Filter Tour start in Dublin May 17, and I have reason to believe The Rolling Stones will start their tour rehearsals in London tomorrow Monday. I have been a Stones fan since 1971, but for for the past twenty or so years I have had this obsession, or habit, of not just going to the shows, but also everything else they do like press conferences, rehearsals and so on. Every time a tour is coming up, or the Stones come together, I must go. My mind does not work properly when the Stones are playing and I am not nearby. So I arrive into London and Clapham to see what was going on.

I check ito the Premier Inn London Clapham. Next morning I work all day, and then I walk the 8 minutes short walk over to the Omnibus Theatre in Clapham Old Town in the afternoon. I have been studying this theatre for a while online, before I left. having rehearsals by The Rolling Stones at this location might work, but security and logistics might be difficult, as it is in the middle of traffic, a bus stop, tiny side roads and regular city life. Anyway, I am here, in the rain, and it is cold, just six dregrees C. Within minutes I realized this is it. The Stones are arriving.
A local guy ask me what is going on here. He says he have seen many black cars arriving. I am not really of any help, I have just picked up a soaking wet Omnibus Theatre programme outside the theatre, and I am studying the schedule. It is listing "no schedule" for this week. On the door there is a sign saying "Closed for maintenance". The Stones are here. The Stones are here. I just can't believe it. I am the only fan around and they are here. Later on I find out the local guy is James Hall, journalist from The Daily Telegraph, he simply lives here, a local, see link below. I am normally "on alert" when it comes to journalists, but being a local guy, and also very friendly and nice, James Hall was great company during the week, when he dropped by.
They start playing "Bitch". The sound is so clear outside I could just as well have been inside. Then "All Down The Line" and "Dead Flowers". Soon we are two fans utside, but for the rest of the week, believe it or not, there will be no more than just the two of us, plus a few locals who walk by and say "It's The Stones!" We get to hear some twenty songs every night. I am in Stones heaven.
Tuesday I have been working hard all day from my hotel room. I have two PCs and it is just like my office, except I have my bed and my office and breakfast and all I need in the same Premier Inn London Clapham location, which makes things efficient, except I have to rush for the rehearsals rather than working late hours. Today they start with "Cry To Me". We will get more from "Out Of Our Heads" during the week.
They do four different songs from their album "Blue & Lonesome", not one time, but several times. So we will probably get two blues songs every show, shifting between these fours songs. They play "Sway" again and again, and they play "Can't You Hear Me Knocking", several times. I just love these songs. I am in a Stones bubble and I have a great time seing the Stones arriving and leaving every day, and some four hours of music.
During the recent years, like in Los Angeles, Jar outside Oslo, and London, including Wembley Arena 2012, they have been rehearsing at locations where it has been impossible to hear or see anything. I had almost given up on having any more rehehearsals memories, but a fan should never give up. Hard work will be rewarded.
They play "I'm Free" and "Play With Fire". Great stuff. "Factory Girl". "Loving Cup". One of my other favorites "Out Of Control" is done several times during the Clapham week, and it just get better and better.
On Friday a couple of locals bring beers and hang around the building listening to the Stones. It is warm and the pubs in the Clapham Old Town square are packed. The two local pals are joined by friends and before the rehearsals are over they are five or so enjoying the music and the beers. Then the moment arrive when the rehearsals are over. I move over to the side door. I am the only one there. Most of the band leaves from behind the tiny little gated area, but Keith do the same walk he has been doing all of the week, walking to his car on the street. I wave discrete to him from across the street, and Keith is waving back to me. Thanks Keith. You made my day. Thanks Stones. You made my week.
Monday May 7 I am back from a short week-end trip back home to Norway. I know they have moved to a new location, and luckily I find it no worries. For the week we get more great music. My Stones friend from the Omnibus Theatre pops by during the week, but often I am on my own. If you walk by you would not know what is going by, but if you listen carefully at the corner of the building, you will hear The Rolling Stones… On Wednesday they closed the rehearsals with "Sway" two takes, then "Can't You Hear Me Knocking", then Keith doing "Slipping Away". How great to finish a set with this combination!
Thursday and Friday more fans arrive,. and by Friday we are a large crowd of some ten fans, from UK, Hungary, The Netherlands, New Zealand and Norway. Four large trucks arrived Thursday. They stayed until Friday. The Rolling Stones run through a complete set list which I do believe will be the show they will do in Dublin next week. A great and unusual set. The crew say "see you in Dublin". I walk back to my nearby hotel. With two great weeks of Stones music and rehearsals I am ready for the real thing – The Rolling Stones live in Dublin!
IORR.org : The Rolling Stones NO FILTER Tour Rehearsals – London April/May 2018
Daily Telegraph Article on Rehearsals : The Rolling Stones rock Clapham: what happened when the world's biggest band turned up on my doorstep