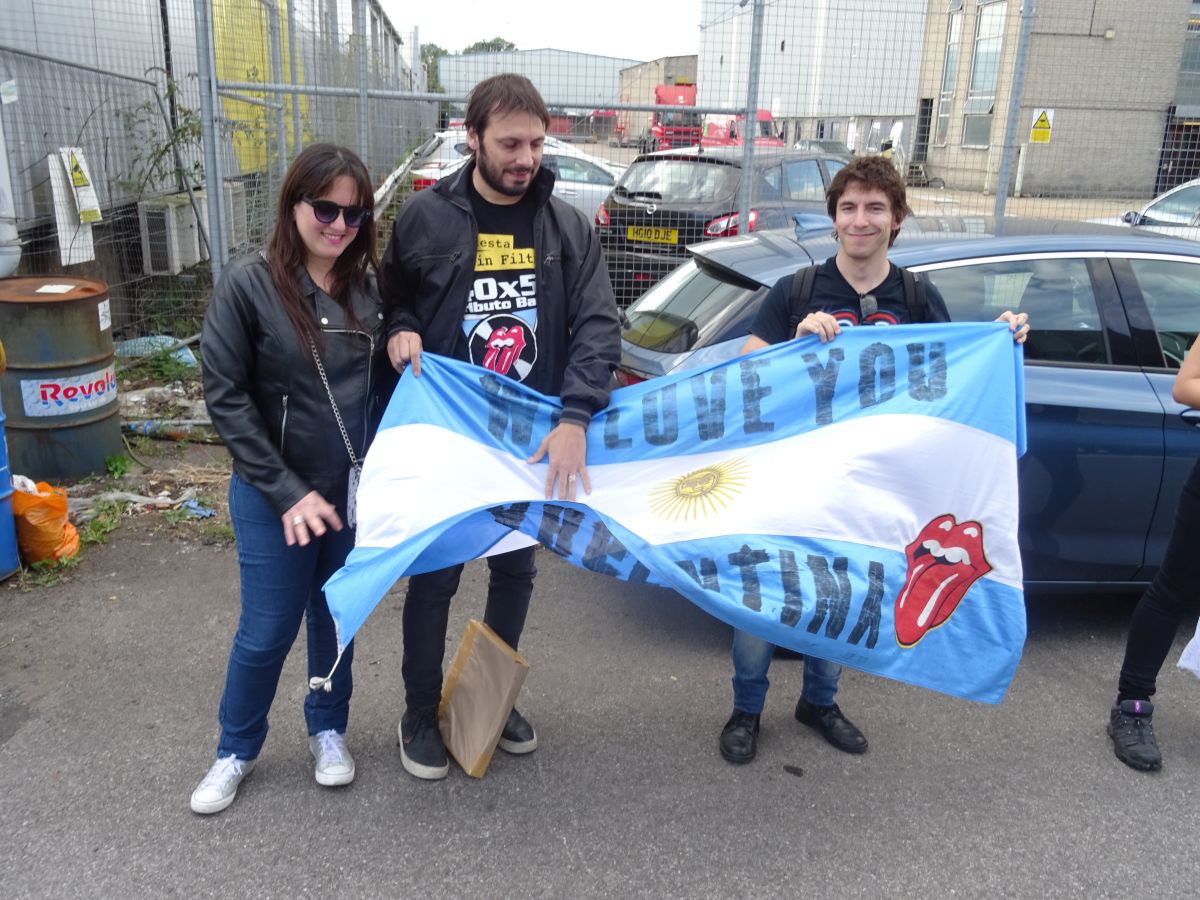 The Rolling Stones do always prepare for a new tour by rehearsing songs, stage arrangements and so on. They might pop up for a guest spot on a song or two outside the Stones, outside touring, but it would be very rare for The Rolling Stones to play a one-off show outside tours, without rehearsing first. Personally I do believe the rehearsals are private, not for the public. Still, there is a lot of interest in these rehearsals. I will try to comment on the rehersals without becoming a "reporter". It is a fine line between reporting and stalking so please be patient with me on the subject. Many parts of the rehearsals are private, still I will try to explain a bit, so that fans may get some satisfaction… Picture on the top of these pages: Fans from Argentina flying in with hopes to see their favorite band at the rehearsals in London. With success…

The Rolling Stones have been rehearsing for two weeks in London, UK, starting Monday August 21. The final London rehearsals were done Friday September 1. The rehearsals were held at a modern rehearsals studio in London. Nothing could be heard from outside the building, unless you placed your ears exactly at the right places, and worked hard. Also, nothing could be seen while the band was there. All in all, there were almost no fans around.
I have been taking my Rolling Stones passion to the extreme over the years, I have to admit that. During the past twenty plus years I did not settle with the shows, I did also want to hear their rehersals, attend press conferences, photo shoots, club shows, any time the Stones were together I wanted to be there. So I have spend days, nights and weeks where there has been rehearsals in Toronto, London, Paris, Los Angeles, Amsterdam, Brussels, Oslo, Munich, Adeleide, Chicago and so on, where the Stones have been preparing for tours and shows.
Most parts of the rehearsals are private. Fans are there private. The band are working in a private way on something that will be public eventually. I do take pictures, for my own memories, of friends and the band, when they allow for it, but I can't publish them in public. The images I am posting here are posted by the band, by Mick, Keith and Carl. You see the large room they used for rehearsals in London. On the last day of the reherarsals in London they invited us all – the ten of us waiting outside – in for a brief moment, and we got to see how they worked in the studio. It was a lifetime experience, and for that I will be forever greatful to The Rolling Stones. We were just ten fans standing out there that Friday evening, often we were just five or even three at times, some arrived late, some left early, some times I was the only one out there. The Rolling Stones are the greatest band on this planet, and they truely take care of their fans. As we walked out of the studio, having seen the final rehearsals of "Gimme Shelter" and "Jumping Jack Flash", there were many tears in our eyes, tears and emotions, bonds that tied us together as eternal Stones fans with something unique in common, the moment when Mick, Keith, Charlie and Ronnie played just for us, the ten of us. This is what I posted when I came home to my London Ealing hotel, sleepless, could not sleep until 3am that night:
"The Rolling Stones are truely an amazing band. They invited ten fans into the rehearsals in London tonight. Thank you Mick. Thank you Keith. Thank you Charlie. Thank You Ronnie. Thank you everyone. Thank you The Rolling Stones. You are the best. Muchas Gracias!"
"When you are up close with the band it gets so emotional. You forget all the hard work and long days and nights. I will have a pint of bitter with my friends in London tonight. Then I will write my memories for myself so that I can read them when I am old and sitting on a fence. Some memories are best kept in your heart and can not be written for others. I have.seen every Stones show in London since 1982 and tonight was a great memory from the band to us. And as it seems this band is eternal. They sound so great!"
…..
As for Hamburg, The Rolling Stones are expected to arrive into the city some days before the show in Hamburg on Saturday September 9. I do not expect any club shows or other special events. Still, they will probably do dress rehearsals, so if you love the Stones, I am sure you know where you should be for some additional memories. And if you don't have a clue, please see the IORR pages. Enjoy the tour!
Links: