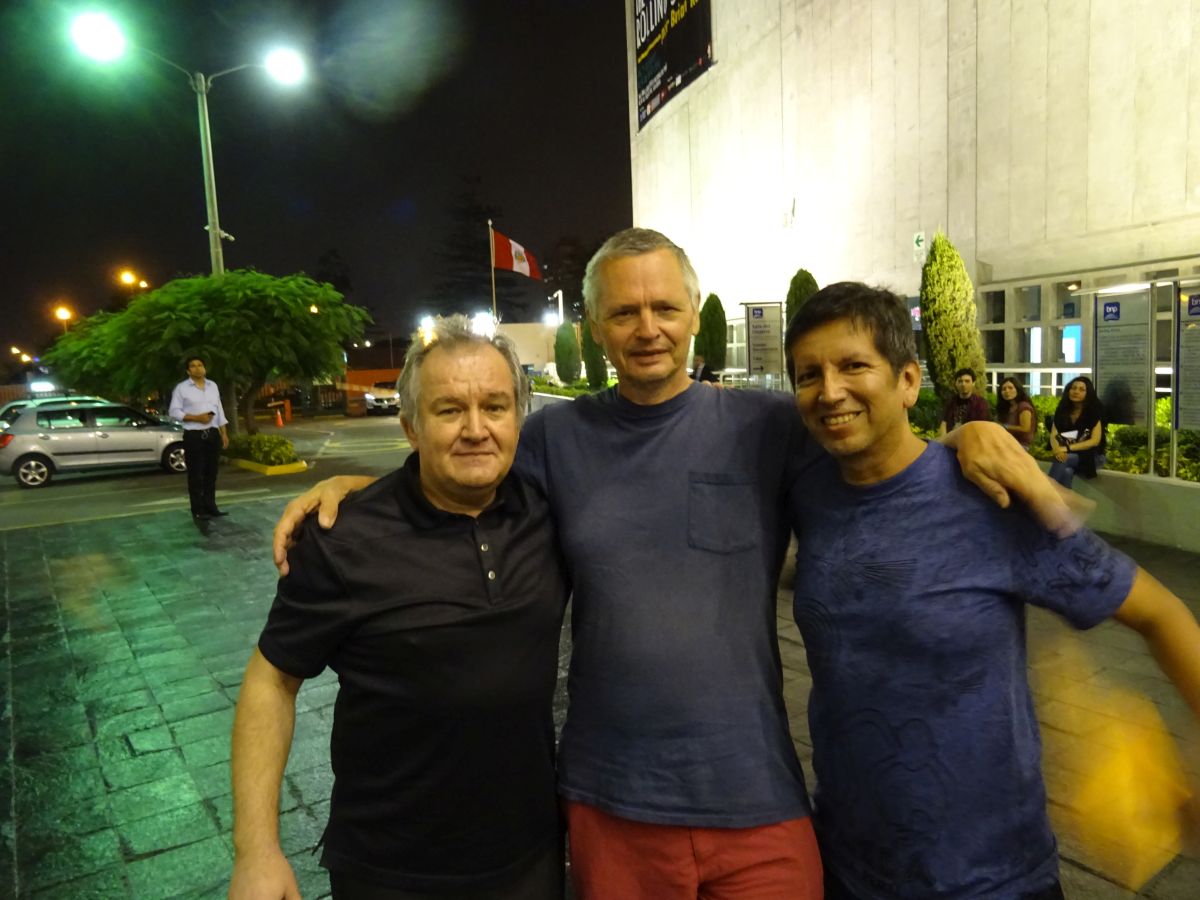 I fell in love with Lima Peru the same evening I arrived into town. How lucky I was to be staying at the Sheraton, right next to the street Jirón de la Unión. I had three different hotel bookings for Lima, did not know where to stay, but by luck I chose the area which was not Miraflores, but as I found out the most beautiful part of the city of Lima.
I walked up and down the Jirón de la Unión several times per day, passing by so many great buildings, many people, Plaza San Martin, Plaza de Armas, and I had to return to the magic of the blue 18th Century Neo-Gothic church Iglesia La Recoleta, Plaza Francia, at least two times every day, sitting down on a park bench there in the morning after breakfast was perfect start of the day, and Sunday morning, show day, there was a ceremony in the church before 9am.
Jorge Ackermann, Stones superfan from Lima, met me the day after I arrived into Lima, and he showed me all parts of his city during my stay in Lima. Jorge is a true fan, and a very unique one. My friend Roy from Argentina told me about Jorge from Peru when I was in Argentina for the shows there in 1998, i.e. 18 years ago. Then Jorge took the bus three nights and three days all the way from Lima Peru via Chile, Santiago de Chile, and over the Andes to Buenos Aires, because he loves the Stones so much. And the same way back home, three more nights and days.
By luck we ran into good old friend Marcelo Sonaglioni from Buenos Aires, Argentina in the streets of Lima. There was an opening of the Brian Rasic photo exhibition in Lima Peru. We were on the guest list, and it was great to see all the fantastic photos by one of the world's greatest Stones photographers.
Jorge told me that Mick Jagger and Keith Richards had been to Lima before, in january 1969. Then they stayed for a week at the Gran Hotel Boliva, which you may see a picture of below. We had to go there, and also, we had to have a drink at the El Bolivar, the very popular next door cafe and bar.
Then we went to the sea and had dinner at the La Rosa Nautica Restaurante, a beautiful location on a pier into the sea. Lima had it all, the beauty, the nice people, the great show, the cars hunking the horns all the time, how can you not love Lima?
On show day Sunday I took a taxi to the stadium. It felt like it was a year since I was at the show in Porto Alegre Brazil, because so much had happened in Lima, but fact is, I was in Lima for just four days.