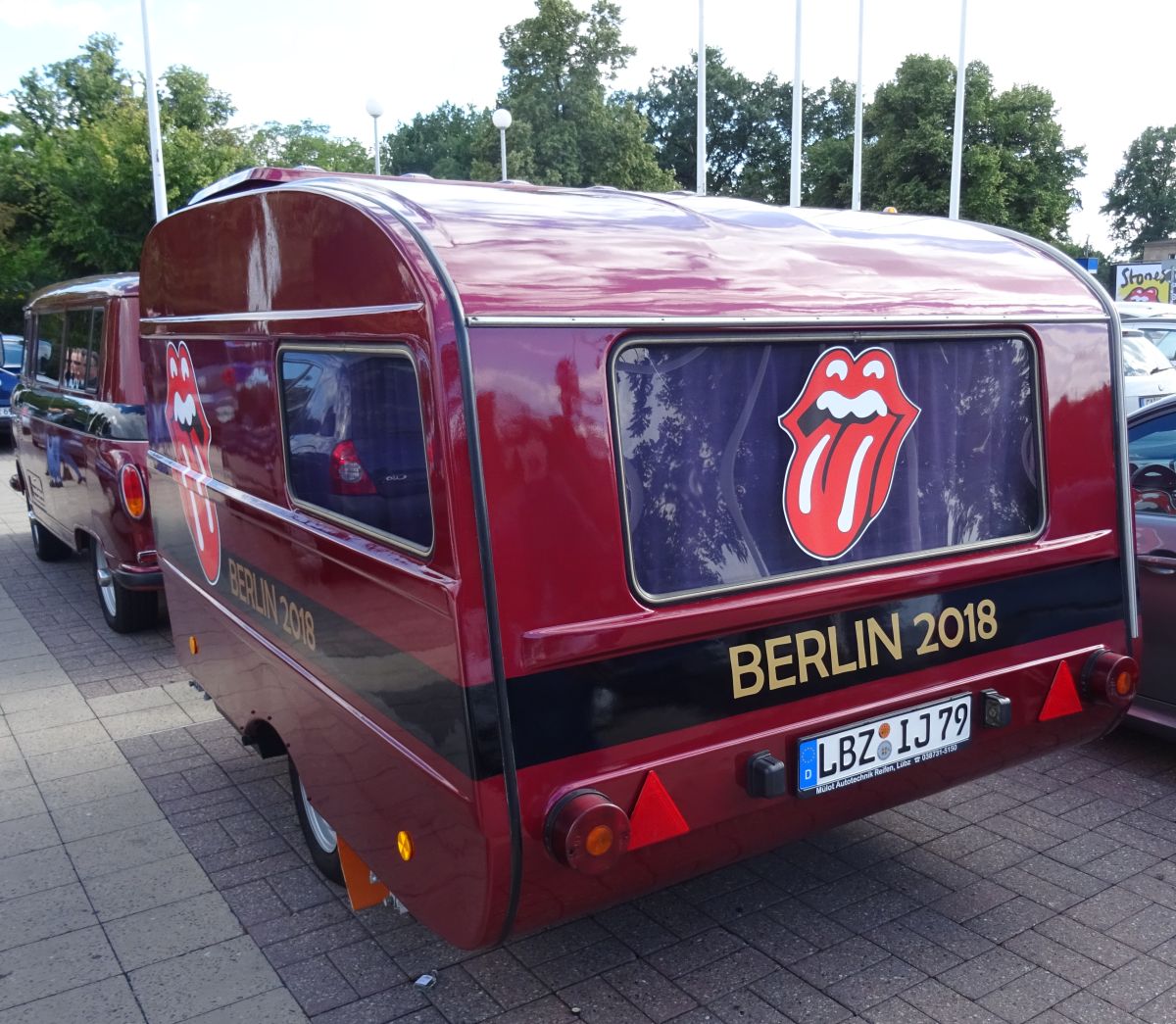 Berlin is one hour thirty minutes flying from Oslo, same time zone, while London is a two hours flight and one hour behind us time zone wise. I thought that would ease my travel logistics, but the combination of the low price airliner Norwegian, the useless low cost airport Berlin Schönefeldt, and the large distances in Berlin, made this travel busy.

I have a favorite hotel in Berlin, especially when The Rolling Stones play there at Waldbühne or at the Olympiastadion. Several times I stayed in the city centre, but on recent tours I have been staying at Holiday Inn Berlin – City West, Rohrdamm 80, in an area which is called Siemensstadt. There are Siemens buildings all over, but also, there is a number of great local restaurants and drinking places.
The Holiday Inn hotel itself is cheap, you get double spaced rooms for a low price as compared to city centre prices, and they usually upgrade me to an even bigger room, with lots of extras. This time they gave me a large room with free fruits and also a free bar. Too bad I don't really drink in my room, only in restaurants and bars, with my meals.
The real reason why I like it here in this area of Berlin is the favorite "Restaurant Stammhaus" on Röhrdamm 24b. It has really become my "stam haus" for sure, and as I see it arriving with my taxi on my way to the hotel, I know I am in the right place. The taxi ride of some 30 km is done in 25 minutes speeding at 110 km/h by the taxi on the ring road in Berlin, I just gave up on public transportation in Berlin, as you have to change between S-bahn and U-bahn and stations and travel through 20-30 stops, it would have taken me 1-2 hours plus my usual messing around.
"Restaurant Stammhaus" is just like it has been every time I visit Berlin. It is a family run cosy place where you feel at home, normal tables and local food. Great beers including Schultheiss beer fom fass i.e. on draft. There is no place on this planet you will get as good pilsner beer as in Germany. The Pilzner may be of Czech origin, but the taste and the tradition of a pilsner glass in Germany still hold in places like this one, where they spend several minutes making the beer, with a proper foam top, even if you don't have to wait the seven minutes standard from the past.
On show day I did a quick trip to dowentown Berlin around Unter den Linden, to see the tourist places in that area, and to meet friends. Also, I had a strawberry cake and coffee at one on the local places in the Unter den Linden area, while writing my usual postcards back home. Then back to "real home" for me in Berlin, the downtown tourist rush is stressful and I don't like it much.
After a great concert meal at Restaurant Stammhaus, I started walking towards the stadium. I do not trust public transportation after shows, and also I can't stand being in the train, tram or tube queue with thousands waiting for an hour or more. As usual, I had prepared my walk with a self-made map, pointing out the most important road names and places to change roads. Unlike the Twickenham London walk earlier this week, this walk should be easy, even if it was long, 5.2 km i.e. 3.5 miles means an hour of walk each way. I found my way easily, and tried to remember all the details of the walk, as it would be dark on my way home, and 20 minutes of the walk was on a path by the river Spree which would be completely dark.
Meeting old and new friends before the show is always great. I was at the stadium by 5:40pm, after a 52 minutes fast walk, so I had three hours of spare time until the show start estimated for ten minutes to nine. On this tour there are more fans and friends who travel to many shows, so there are more friends to meet. Before I knew it the time was ticking closer to 9pm, and we got the famous "Ladies and Gentlemen" announcement.
We got another great show, just like the shows in UK. "She's A Rainbow" is a beauty, a really good song, and the rest of the songs are done with the same high level of energy and passion as during the rest of the tour. Mick is speaking German with assistance from his screen. Keith is getting his usual Ole Ole Ole. Charlie has got yellow and red shirts to match the German flag colours, and Ronnie is smiling and doing great solo playing throughout the show. For reports and pictures see the show links below.
The show finished shortly before 11pm. I walked out of the stadium through the main entrance, where I arrived this afternoon, it was a smooth walk of some 10 minutes across the stadium floor and up the stairs, even if we were thousands walking this way. Then it was just a matter of following the same path on my way back. The only tricky bit was the path in the dark, by the river. I had my night vision working and there were noboby robbing me on my lonely walk through that dark path. I arrived home ten minutes past midnight. Then I took the two beers waiting for me in my free minibar, while I browsed through some of my pictures. For tonight I wanted Ronnie as the headline picture. I was tired but I did not find the right picture. It would have to be a task for tomorrow.
A quick sleep of five hours, breakfast, taxi to Berlin Schönefeldt airport, and then I have one and a half hour to do some work on photos and reports. This airport is a nightmare, I would never use it again. Luckily I find a table at the Marche cafe, so that I can work for a while. Then the chase for the terminal on this useless airport where all departure gates are announced on short notice, when the airplane you are supposed to board has landed. Well I tend to forget about bad experiences, so that airport is now history for me. By the way, last time The Rolling Stones played in Berlin, this must have been Waldbühne 2014, Mick made jokes about the new Berlin airport being delyed. Now four years later the new airport is still nowhere near ready, so Mick mentioned the new airport in a joke this time around as well. I understand it will take years to make the new irport finished. I will fly to Tegel next time I go to Berlin, that is for sure, or arrive by train.
Good news I made it home for the St Hans celebrations, the biggest midsummer day in Norway. I started travel this mornint at 8am, and were home by 3pm, a seven hours travel, not bad. More about the St Hans celebration soon…
Show reports and pictures:
The Rolling Stones – Olympiastadion – Berlin, Germany – Friday June 22, 2018