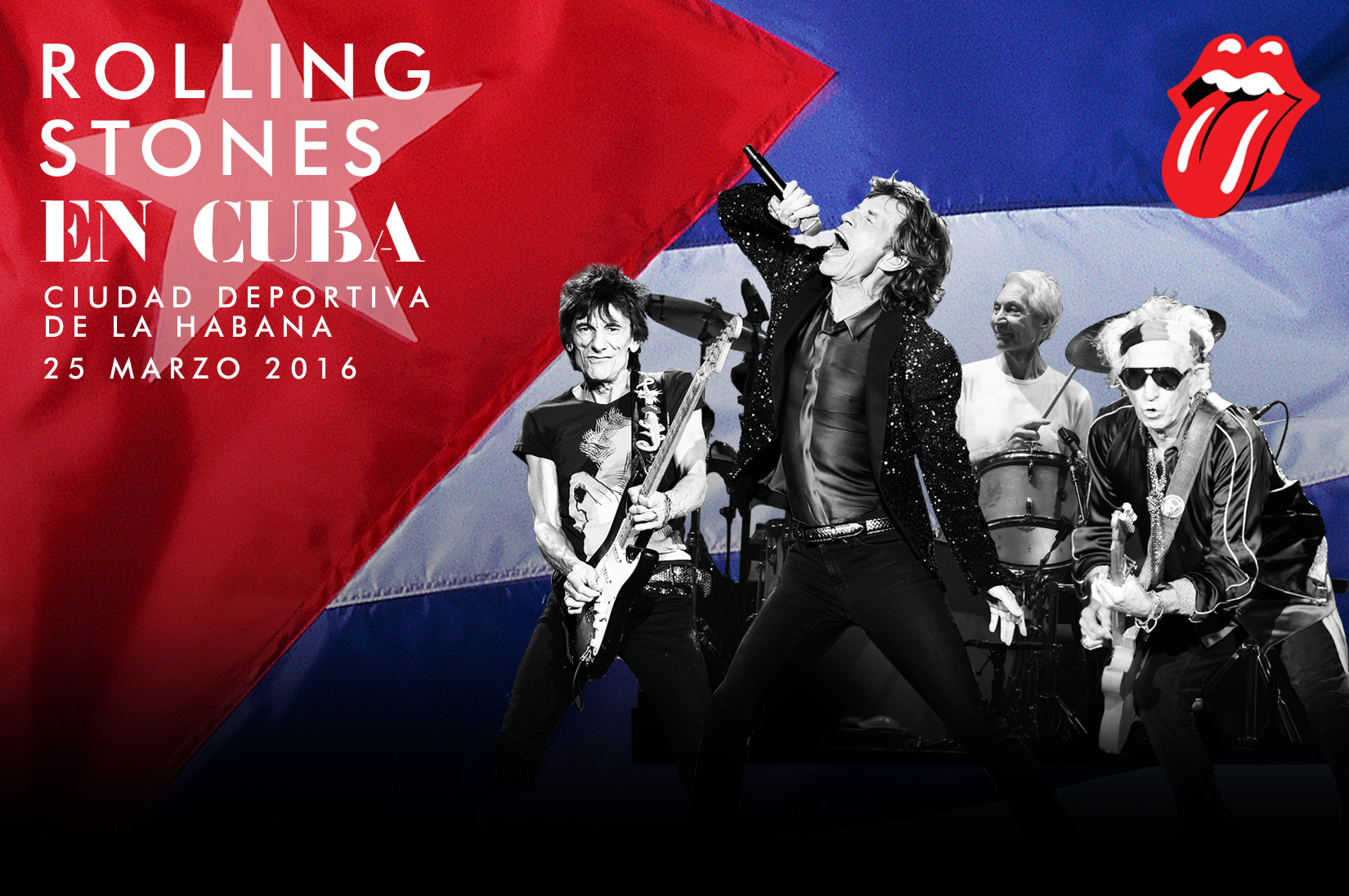 The Rolling Stones in Cuba. It is confirmed. Finally. On Tuesday March 1, The Rolling Stones issued a press release stating they will be performing a free outdoor show at Ciudad Deportiva de la Habana, in Havana, Cuba.
My first visit to Cuba was in April 2000, with friends. I was in Los Angeles California USA for a conference, and I had some days off. I took the night flight to Mexico City and then another early morning flight to Havana. The moment I saw the Cuban coastline right after we left the Mexico coast and Cancun, from my airplane window, I was amazed. I was in Cuba for a brief week. I got to love the Mojito, the great lime and mint drink with rum. A must in Cuba, but only in Cuba. I got to visit one of the worlds largest open air ice cream restaurants, the Heladería Coppelia in Vedato, Havana. Then all the great hotels and Ernest Hemingway hangouts. The Floridita. Ambos Mundos. Angleterre. And Cojimar, where Ernest Hemingway based his eternal novel "The Old Man and the Sea". A must read before you go to Cuba. There is a long list. A great one.
Then the Viazul bus to Trinidad. A colonial city so well preserved and beautiful that UNESCO put it on the list of our world heritage. The nearby Ancon beach. Fresh fruits and juices of all sorts for breakfast. Private meals made by husband and wife small business, many many years before AirBnB happened. I got my hair cut out by the fortress in Havana. I just loved the slow pace of Cuba. But most of all… as the sun set and the streets went dark, all the people who lived in Havana, and in Trinidad, went out in the streets. They played their music. They enjoyed life together. All ages. Young children, teenagers, as well as grandfathers and grandmothers. They were all out in the streets. The music was so easy to hear. I thought in my mind that Cuba would be the perfect place for the Stones. Now sixteen years later a dream comes through.
I returned home and wanted to go back to Cuba. A few years later I went back to Cuba with my wife udring Easter , a real holiday. We flew in via Toronto, had Key West in our clear view from the plane, then the beautiful coast of Cuba. Again Trinidad. Again Havana. Again dreaming of having the greatest rock'n'roll band in this wonderful city.
My third visit to Havana was during a business trip to San Fransisco. I did a stopover in Toronto, a flight to Havana, and returning onwards to San Francisco a few days later. Every time I arrived into Cuba I felt stressed down and loved the atmosphere. Malecon. Love is in the air. The music in the warm nights. The Mojito. A taxi ride in a 50's American convertible. The Cohioba sigars. I don't smoke but I do still have them at home. Hand rolled. The Havana Rum bottle. Still not opened.
When the rumour was out last summer, that the Stones were looking into a show in Cuba, I knew it would happen. When I got the date during the fall I booked my hotel in Havana for nine days during the Easter holiday. My long flight for the entire tour was via Toronto both ways, outbound to Santiago de Chile, returning from havana. Early January this year I booked my flight from Mexico City into Havana set for March 18. The last minute President Obama visit to Cuba around the same time as the Stones had planned their show for March 20 made some extra work for the Stones organization. Still, they are professional, and on Tuesday March 1 they announced the official Havana Cuba show date set to Friday March 25. A free show. For everyone. Just like the megashom on Copacabana in Rio de Janeiro, Brazil 2006. But still different. I am looking forward to my 4th visit to Cuba, just like kids are looking forward to Christmas. I am like a child. Every show is a gift. The Cuban show will be a very special gift.
For details and updates regarding the show in Cuba please see the IORR pages Cuba Rolling Stones 2016 show – Confirmed For March 25.