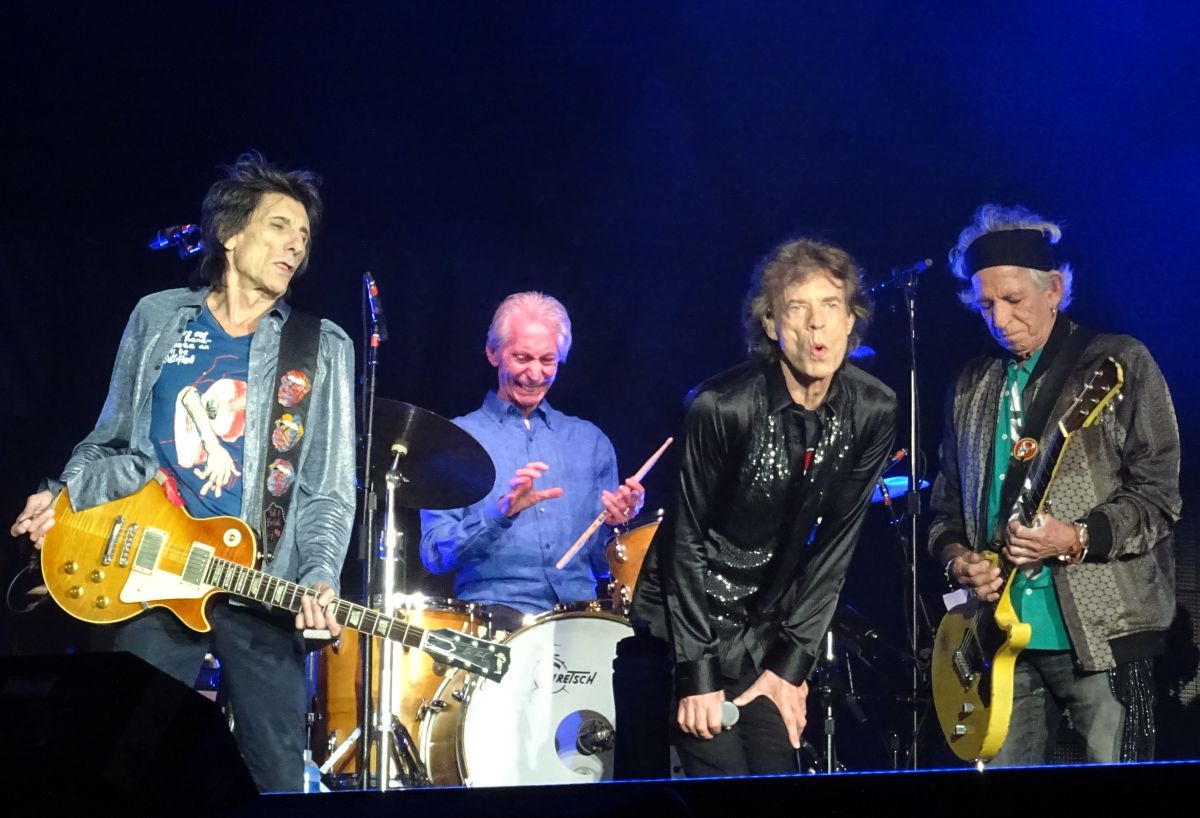 London Stadium was built for the London Summer Olympics 2012. The stadium was originally called Olympic Stadium, but later on they changed the name to London Stadium. The stadium is located in a park called "Queen Elizabeth Olympic Park". According to friends, the area used to be wasteland, then it was renovated for the Summer Olympics. I moved into Stratford for the week, The Rolling Stones are in London, that is why I am here.

I booked the Stratford London Hotel Ibis, before the shows were anounced, so that I could get a good rate, less than 100 pounds per night, and also to be close to the London Stadium. Google Maps told me I could walk the distance in 28 minutes. After having walked to and from the first of the two shows on Tuesday, it is safe to say that it takes exactly 20 minutes, as my Gate for the entrance and exit is on "my" side of the area.
My first impression of Stratford, when I checked out maps and locations, was it is in the middle of nowhere. Every week up to arrival, almost every day during the week before, I looked for options, to replace the IBIS, but there were no options. So I took the long way, flying into Heathrow Monday evening, Heathrow Express to Paddington, and a taxi from Paddington all the way to Stratford. It took 45 minutes and cost 40 pounds. I might have been better off just taking the Central Line all the way to Stratford Station, but it was close to midnight and I was tired.
It takes typically 24 hours to get used to a new place. When you are on travel, you need proper breakfast, lunch, dinner, drinks, and something nice to see or go to when you have some spare time. I did find all of that right on my doorstep here in Stratford, and after a day or so I could not really move away from the place at all. I loved my "local" pub The Goose, which is located on 78-102 Broadway, just across the street from my hotel, next to the St John's Chuch. On show day Tuesday I walked over to the pub, and I realized it was also the Shidoobee meeting place, as I met Stonesdoug there, nice to be with friends!
The Rolling Stones! That is why we are here in London this week. I walked over to London Stadium at 6pm on Tuesday. It was a quick and easy walk of some 20 minutes. I was inside the stadium in a couple of minutes, the security was easy, and there were no queues where I had my entrance. Meeting up with many friends was great, but I had to move to my position early. Liam Gallagher was a great opener, and it seemed like the crowd liked the opening act too. Then they cleared the stage at 7:45pm. There were a large number of crew in activity for approx 10 minutes, and by 8pm they were ready. The next half hour was basically waiting, teasing us with guitar tuning every five minutes, and at 8:24pm exactly they were on.
ANNOUNCEMENT:
Ladies and Gentlemen – Welcome home – The Rolling Stones!
Then they rocked right into "Street Fighting Man"…
Well what can a poor boy do
Except to sing for a rock 'n' roll band
'Cause in sleepy London town
There's just no place for a street fighting man
There is a link at the end of this section to loads of show reports, including my own, as well as pictures. For details please use that link. As for the show I will just repeat what I said in my report about "Fool To Cry":
The real highlight of the show was "Fool To Cry". Mick was rolling up hos shirt again and again, he was tense, focused and ready. He said to Chuck: "Are you asking me if I am ready? Yes I am ready". Then they started "Fool To Cry". It is a rare song to be heard live. They did it in 1997 Winnipeg, 1999 Pittsburgh and Philadelphia, and I have been hearing it quite a few times at rehearsals, but now, tonight, we get it for real. Live! And it is growing and growing. Mick's vocals. The guitars. It is simply outstanding. A great long version.
The rest of the show was just a big winner, I don't have words. Like a two hours "home run" if I was American, or 17. mai and Christmas Eve at the same time, like we say in Norway, when something is just as good as it can get. I walked out of the stadium so happy. Twenty minutes later I was at my Ibis hotel, still high and pumped from the show, and I ordered a beer. Luckily every pub, hotel and bar here in Stratford have good old English Bitter, something they don't have anymore in the tourist areas of London. Then I went to my room, checked out my pictures, picked the best ones for publication, wrote a short report, and went to bed at 2am. Sweet sleeping with memories from one of the best shows I have seen in London.
Wednesday, Thursday and Friday in Stratford has been work work work for me. I work from my hotel room, as long as I have Internet and proper space for my PCs I can do my work. I walk around in the center of Stratford during the evenings. It is a city and an area I can like, in fact I like it a lot. There are old buildings fromm the 1700's, and there is new large shopping center where I don't like it at all. I prefer to be outside, not inside shopping machines with no history or no fresh air.
On Thursday evening I thought may be I should go to the city to see Chris Jagger at the Ealing Club. I had a ticket at the box office, and I went on the Central Line, knowing it is a long ride. When looking at the tube map, sitting on the tube, seeing all the stations from Stratford to Ealing Broadway, I realized I would spend at least two hours on the tube, an hour each way. I was tired, I was homesick, my home was now Bradford, so I left the tube on the 2nd stop, and went into the area of Bethnal Green.
Bethnal Green was nothing like I expected. My idea was a "green" place. There was a telephone box right there in the center of Bethnal Green, like there are these red telephone boxes all over London, even these days. The telephone box at Bethnal Green was filled with at least a foot of trash. It must have taken weeks or months to fill it like that. There were pubs there but I could not see any of them serving food like fish and ships. I realized I was really better off at my "home place" Stratford so I took the tube the two stops back home and ordered my fish and ships and pint of bitter at my favorite pub The Goose. I felt at home.
The pictures on these pages are all from the Stratford city center area. I just love the place. There is a mix of all cultures here, cheap food, drinks, a decent two star hotel – The Ibis – with the quality of a three start hotel, typically IBIS quality, and a friendly staff.
There are some real old buildings in the area, like the 1700 buillding "The Old Dispensary", and the pub "King Edward VII", which is said to be a building dated from 1765. After my "tourist walk" I checked out Internet for information about Stratford, and I found out I had just walked through a lot of old and historic buildings age 200 to 300 years old, i.e. older than the combined age of Mick, Keith, Charlie and Ronnie, for those who are into combined age calculations! More about the Stratford area in the Exploring East London article STRATFORD, WEST HAM.
Back to The Rolling Stones… For reports and pictures from the two shows at London Stadium May 22 and 25, 2018, please see the following links.
The Rolling Stones – London Stadium show #1 – London, UK – Tuesday May 22, 2018
The Rolling Stones – London Stadium show #2 – London, UK – Friday May 25, 2018